Stories From Home
Dmae Roberts talks with Polo Catalani of the Colored Pencils Art and Culture Council about their "Stories From Home" event featuring immigrant and refugee writers and musicians. We'll be featuring two of the artists at the event–Palestinian American writer Mohammad Bader and a special feature on Bhutanese poet Moti Rizal as part of "Migrations" – Dmae's series focusing on immigrant and refugee artists.
(Aired 11am Tues 8/12 on KBOO 90.7FM)
Featured music: Parfait Bassale at ParfaitOnline.com.

More about the artists of the Stories From Home event taking place Saturday, August 16, 2-4 pm at the Midland Library: 805 SE 122nd Ave. in Portland.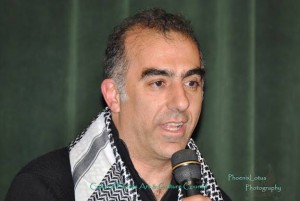 Palestinian American author Mohammad Bader will read from "The Traveler." Mohammad Bader was born in East Jerusalem and much of his poetry reflects his experience as a first generation immigrant. He is Division Director for Multnomah County Developmental Disabilities Services Division and is a published author. His recent book of poetry "The Traveler" published in 2011 by Lulu Press.

Moti Rizal also reads at the evvent. As part of her "Migrations" series, Dmae features Bhutanese poet and writer Moti Rizal's poetry and his "Life at Refugee Camp in Bhutan." 
Moti Rizal wrote a book in Nepali in poetry style. It contains his stories as a Nepali-Bhutanese refugee, about his life in Bhutan as a farmer and how the Bhutanese government forcibly removed Nepali-Bhutanese from their homes and lands and forced them to leave the country. Rizal spent 18 years as a refugee in Nepal while trying to get his lands back. While promoting Bhutan as "the last Shangri-la," the king of Bhutan at the time expelled more than 1/6th of the Nepali-Bhutanese since 1991 because they wanted to keep their language and culture. We'll hear Moti Rizal's poetry in Nepali and hear some of his stories in the refugee camp. He'll also be at the "Stories From Home" event.  PHOTOS OF MOTI RIZAL BY NISA' HARON.
The "Stories From Home" event also features music and stories from: Parfait Bassale 
"The Story and Song Centered Pedagogy" 
Born in Benin (West Africa), Author, singer- songwriter and educator Parfait Bassalé began using music to process his emotional states at a young age. Because his father worked for an overseas company, Parfait faced the challenges related to migration early in life (language barriers, cultural differences, integration etc…). Parfait continues to use his life story as a catalyst for his groundbreaking research on a song centered approach to education. A framework designed to help teach empathy to various audiences.


Gauri Rajbaidya and rock n' roll, blues, reggae Nepali band which comprised of Bikram Vaidya, Manoj Kansakar, and Gauri Rajbaidya. Gauri Rajbaidya is an immigrant from the Newa ethnic group in Nepal. His past social involvements include helping found a non-profit organization in Nepal called the Society for Urban Poor; leading a grant to increase diversity at his undergraduate college in US; evaluating outreach program that aimed at increasing first-generation-college bound students from the rural communities of Indiana. He is also involved with Asian and Pacific Network of Oregon as a Board Member, ACE Mentor program and Environmental Professionals of Color. Currently, he works with SERA Architects overseeing the design and construction of the Edith Green Wendell Wyatt Federal building in Portland.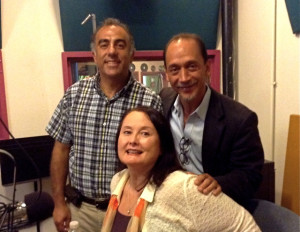 "Stories from Home"
Saturday, August 16, 2-4 pm
Midland Library: 805 SE 122nd Ave., Portland, OR 97233

For any questions regarding this event, please contact Anna Gindlesperger at eventdirector@coloredpencilsart.org

This project is part of a year-long series on immigrant and refugee artists called Migrations with funding from the Regional Arts and Culture Council. http://racc.org/  To find out more about the Migrations  series visit us on Facebook at https://www.facebook.com/MigrationsArts


You can hear Stage & Studio on:
 
Podcast: Play in new window | Download