Box Marked Black + Futility of Nicknames
Dmae spotlights two different writers: Damaris Webb who's performing her autobiographical play The Box Marked Black about growing up mixed race and Matt Kolbet, a writer in Newberg who's just published his debut novel The Futility of Nicknames which is inspired by some elements of his life but is an entirely fictional story. Two varied stories: one real, one imaginary on the next Stage & Studio.
(Aired 11am Tue 2/24/15 on KBOO 90.7FM)
Music by Parfait Bassale. Hear more of his music at ParfaitOnline.com.
Podcast: Play in new window | Download
Damaris Webb is a performer, director and teaching artist who recently (re) relocated to Portland, OR after 26 years making and producing work in New York City. Ms Webb holds her MFA from Naropa's Contemporary Performance Program, and her BFA from NYU's Experimental Theater Wing.  Her original work is often seen in non-traditional performance venues such as late night parties, warehouses and church basements, it is sometimes epic and may involve zombies, superheroes or sock puppets. Recent projects include directing Rich Rubin's "Cottonwood in the Flood" staged reading for the 2015 Fertile Ground. In Portland, she offers Contemplative Dance Practice through Be Space and is a coach for PlayWrite, Inc.  For more info: www.DamarisWebb.com.
The Box Marked Black is a tender solo performance piece, tracing the experience of growing up mulatto in the pre-Huxtable era. With only Jenny Willis from The Jeffersons as a guide, our multi-disciplinary storyteller creates narrative from the perspective of both sides of her interracial family, embodying multiple characters, childhood memories (including a Roots sock puppet re-enactment) and fantasy.
Written and performed by Damaris Webb. Directed by Debra Disbrow and Dramaturgy by Ashley Hughes
THE BOX MARKED BLACK: Tales from a Halfrican-American growing up Mulatto by Damaris Webb on Friday, March 6th, 7 p.m. at Westminster Presbyterian Church, 1624 NE Hancock Street. Reservations are requested; e-mail secretary@westprespdx.org by March 3rd.
Admission: a can of food or other non-perishable item welcome at the door (to be donated to Northeast Emergency Food Program)
Note from Dmae: Damaris gave a really great reading from her show. She also told me that she'll have another performance of the show on April 15th at Oregon Episcopal School in Portland! So check in for more details to her website at DamarisWebb.com.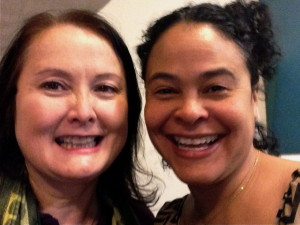 __________________________________________________________________
Matt Kolbet is a father, teacher and writer. He has taught in England, Missouri, Wisconsin and Newberg, Oregon, where he currently resides.
His debut novel The Futility of Nicknames tells the fictional story of Martin Epich a teacher in a small town who shares a first name with his best friend, but that's where the similarity ends. His friend Marty is more attractive, more successful, and more popular with women. Worse, he has better stories to tell. Just weeks before Marty's wedding day, a car crash takes his life. Soon, Martin is trying to remake himself: changing jobs, pursuing a young woman he shouldn't, and consciously vying for a nickname. Martin begins to research the violent past of the small town where he lives and if history repeats itself, one death may not be enough.
Matt Kolbet of The Futility of Nicknames
Published by Champlain Avenue Books
Meet The Author/Book Signing -Â Friday, March 6th, 6-8pm
Chapters Bookstore
701 E. 1st Street, Newberg
www.chaptersbooksandcoffee.com/
Chapters bookstore has new and used books for children and adults, as well as cards and coffee products. This will be during the First Friday Art Walk in Newberg, when businesses downtown offer wine tastings and art showcases.
Newberg Artwalk:Â http://www.newbergartwalk.com/
___________________________________________
You can hear Stage & Studio on: