Mary Stuart
Dmae talks with three powerhouses of Portland theatre, Elizabeth Huffman, Luisa Sermol (pictured left) and Lorraine Bahr. They're collaborating on favorably reviewed production of Mary Stuart a Portland premiere of an adaptation about the doomed Queen of Scots and her fabled meeting with Queen Elizabeth I.  The show runs through March 29th and is a co-production of Northwest Classical Theatre Company and Cygnet Productions. We'll learn about early English and Scot history, find out how it is to tell stories of powerful women and to hear more about their veteran careers in Portland theatre.
Photos by Jack Wells.
(Aired 11am Tues 3/10/15 on KBOO 90.7FM and podcast on StagenStudio.com)
Podcast: Play in new window | Download
Some highlights from the podcast!
Beautiful scene from Mary Stuart performed by Luisa Sermol and Lorraine Bahr.
Why young women found outrage about the timelessness of the play's depiction of political manipulations.
Behind the scenes character research into the actual history of these two powerful queens.
Thoughts about the state of roles for women in theatre and how to be "taken seriously" as an artist.
Advice to young women by all three guests to "Be patient, tenacious and have faith in yourself. And continue to work. Work as much as you can. You will continue to learn by the work you do!"
More about the play:
Mary Stuart by Peter Oswald's is a brilliant adaptation of the classic play by Friedrich Von Schiller. Nominated for 7 Tony awards in 2009 this taut political thriller examines the cost of choosing between power and love.  Mary Stuart, a staunch Catholic, is imprisoned in England—nominally for the murder of her husband, Darnley, but actually because she has pushed her claim to the throne of England currently held by her cousin, Queen Elizabeth I. Elizabeth's advisors urge her to sign the death warrant before Mary's supporters succeed. The pen is poised when a request from Mary to meet her in person arrives, offering Elizabeth a possible way out and a chance to meet her famously beautiful cousin who threw her power away for love.
Directed by Elizabeth Huffman
A Co-Production with Northwest Classical Theatre Company and Cygnet Productions
Runs through March 29, 2015 , Thursday-Saturday 7:30pm, Sundays 2pm
For more info visit:Â  nwctc.org
Mary Stuart stars multi-Drammy Award winning actresses, Luisa Sermol who plays Mary, Queen of Scots and Lorraine Bahr who plays Queen Elizabeth I.
Also featured is an original score, composed by musicians Gayle- Stewe Neuman and Philip Nueman and a cast of NWCTC seasoned veteran actors
Set Design: Megan Wilkerson
Lighting Design: Brian Guerrero
Costume Design: Russel Twelerp
Sound Design: Sharath Patel
Original Score composed by Gayle Stuwe-Neuman and Philip Nueman
Shoebox Theatre located AT 2110 SE 10th Ave. in Portland.
For more info call 971-244-3740 or email nwclassical@hotmail.com
For more info: metroartsinc@gmail.com
___________________________________________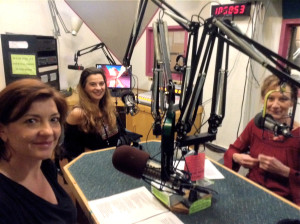 You can hear Stage & Studio on: