Olga Sanchez News
Dmae Roberts talks with Olga Sanchez, artistic director of Milagro Theatre in Portland. After 12 years of strengthening the Spanish language shows, creating world premieres and raising Milagro's profile as a premiere Northwest theatre company, she's stepping down to pursue her doctorate degree in theater. We'll find out why she's made this new life choice.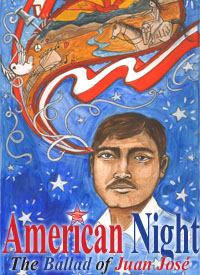 And we'll hear about and offer tickets to Milagro's current show American Night: The Ballad of Juan Jose by Richard Montoya as well as to Milagro's next season.
Though she is currently writing a new play for Milagro and will be returning to work on it for next season, Olga Sanchez is saying goodbye officially in September when she steps down.More info at:Â www.milagro.org.
Also available are tickets to Portland Center Stage's Three Days of Rain by Richard Greenberg. This1960s mystery stars GRIMM: Silas Weir Mitchell (Monroe) and Sasha Roiz (Captain Renard). That show runs May 17-June 21. More info at: www.pcs.org/threedays/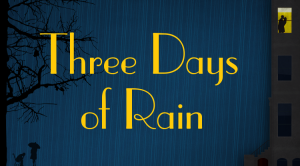 Also on hand is Caren Calderon who reviews Grounded at Coho Productions. Grounded by George Brandt stars Rebecca Lingafelter as an F-16 fighter piolot who gets reassigned when she becomes pregnant. the show runs through May 23rd. She also tells us about The Lion at Portland Center Stage which runs through June 14. It's a one man musical show about love, loss and healing power of music.
Tune in for this membership drive edition of Stage & Studio.
Podcast: Play in new window | Download
Olga Sanchez is an actor, director, writer and educator. A graduate of Hunter College, C.U.N.Y., her directorial work has been seen in Portland, Seattle, NYC, Martha's Vineyard, Peru, Venezuela and Cuba. She served as Co-Artistic Director of the People's Playhouse in New York City, and Artistic Director of Seattle Teatro Latino, and was a founder of La Casa de Artes, a Seattle-based non-profit organization dedicated to celebrating the beauty of Latino arts and cultural heritage. She holds an MA in Human Development, specialization in Bicultural Development, from Pacific Oaks College NW. In 2005, she received a Portland Drama Critics' DRAMMY award for Excellence in Direction for Miracle's production of Lorca in a Green Dress by Nilo Cruz.  She is a founding member of Portland-based Latino writers group Los Porteños, and currently serves on the Executive Committee for Theatre Communications Group's Board of Directors.  She is on the Steering Committee for the Oregon Latino Agenda for Action, a member of the Greater Portland Vancouver Indicators Diversity and Arts & Culture committees, and a graduate of the Hispanic Metropolitan Leadership Program.
AMERICAN NIGHT: The Ballad of Juan José 
A Wild Odyssey through American History
By Richard Montoya
Directed by Elizabeth Huffman
ABOUT THE PLAY
As Juan José feverishly studies for his citizenship exam, his obsession to pass takes him on a fantastical odyssey through U.S. history guided by a handful of unsung citizens who made courageous choices in some of the country's toughest times. American Night: The Ballad of Juan José is a provocative, irreverent, and hilarious mix of past and present, stereotype and truth.
ABOUT THE PLAYWRIGHTÂ 
Richard Montoya is a playwright, actor, and co-founder of the collective performance trio, Culture Clash which was formed in 1984 in San Francisco. Montoya is the son of well-known artist, poet, and activist José Montoya, a co-founder of the Chicano artistic collective known as the Royal Chicano Air Force. While growing up, Montoya witnessed his family's involvement in the civil rights movement and the United Farm Workers movement as artist activists. Richard Montoya continues that legacy through his career as a playwright and actor. Through comedy and satire, Montoya's writings relate real-life experiences of everyday people as they confront racism, discrimination, and the difficulties and dangers of living in the margins of American society and on the Mexico-U.S. border.
You can hear Stage & Studio on: