Theatre Diaspora
For Asian Pacific American Heritage month, Host Sarika Mehta introduces Theatre Diaspora, the first Asian American/Pacific Islander theatre company in Portland. Ensemble members Samson Syharath, Wynee Hu and Larry Toda will talk about the genesis and need for AAPI representation in a city that has more than 200 theatre companies. Dmae Roberts joins via phone to talk about their first 2015 staged reading, a performance of her play Breaking Glass at Artist Repertory Theatre on May 9th at 2pm and Portland Center Stage on May 17th at 2pm. More info at: Theatrediaspora.org
 (Aired 11am Tues 5/5 on KBOO 90.7FM & Stagenstudio.com.)
More about Theatre Diaspora:
Podcast: Play in new window | Download
Theatre Diaspora is committed to fiercely celebrating and creatively advocating for the Asian Pacific American experience through stage work. MediaRites' Theatre Diaspora project is a series of staged readings focusing on Asian American identity and cultural issues and expanded to generate awareness of the Asian experience to all communities.The project helps establish Asian American theatre artists and playwrights dedicated to giving Asian American theatre more visibility, and to engage the public in insightful talkback discussions on cultural diversity.
______________________________________________
Breaking Glass by Dmae Roberts
Dates and Venues:
May 9th at 2:00pm at Artist Repertory Theatre
May 17th at 2:00pm at Portland Center Stage
Featuring
Zoë Anderson, Bruce Burkhartsmeier, Tonya Jone Miller, Elaine Low, Samson Syharath
Tickets are $5 to $10 depending on your level of support for Theatre Diaspora. Tickets are available at the door depending on availability. No one will be turned away because of cost. Reservations for the May 9th reading at Artists Repertory Theatre can be made via (503) 241-1278 or boxoffice@artistsrep.org. Reservations for the May 17th reading at Portland Center Stage can be made via (503) 445-3700,boxoffice@pcs.org or visit http://www.pcs.org, or by clicking HERE
More about the play
First produced in 1995 by Portland Repertory Theatre, Breaking Glass is by Oregon Book award and Drammy-winning playwright Dmae Roberts. Based on her experiences growing up in the only interracial family in a rural Oregon town. The play is sent in 1980 and focuses on the fractured family dynamics between the Caucasian father, Taiwanese mother and the two biracial children as they deal with isolation and racism. Roberts wrote this as an exploration of the inner life and its ability to help one survive and her belief that a person's resilience is determined by family, culture, environment and the enigmatic qualities that make up a human personality.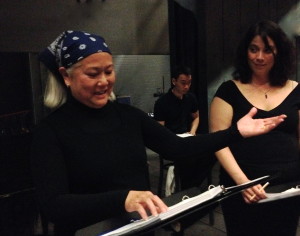 The cast includes Elaine Low reprising the role of Mei Jen the mother; Samson Syharath (Theatre Diaspora core member) as Jimmy the son; Bruce Burkhartsmeier (Third Rail Repertory ensemble member) as Buddy the father; Zoë Anderson (PHAME student) as Monica the visitor; and solo-show artist Tonya Jones Miller as Ricki, the daughter.
Keep posted via their Facebook page.
You can hear Stage & Studio on: