Rope + DHH
Dmae talks with director Rusty Newton Tennant about ROPE, an early play that Alfred Hitchcock turned into one of his most experimental films. The original play is about to open at Bag & Baggage Productions in Hillsboro. Then we catch up with Tony-award-winning playwright David Henry Hwang about his latest productions. Theatre Diaspora is producing his one-act play The Sound of a Voice on Oct. 17th at 2pm and Oct. 25th at 7pm at Portland Center Stage.
(Aired 11am Tues 10/6  on KBOO 90.7FM or always on stagenstudio.com.)
Podcast: Play in new window | Download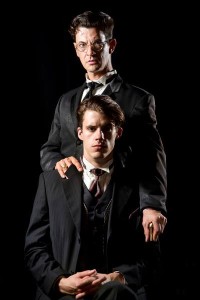 Rope By Patrick Hamilton, the play that inspired the Alfred Hitchcock classic
Directed by Rusty Newton Tennant
October 8, 9, 10, 11, 15, 16, 17, 18, 22, 23, 24, 25,
29, 30, 31, & November 1.
The Venetian Theatre
253 E Main Street, Hillsboro 97123
Thur/Fri/Sat at 7:30pm  & Sunday at 2:00pm
503 345 9590 or www.bagnbaggage.org
Background from the Wiki page:  Rope is a 1948 American psychologicalcrime thriller film directed by Alfred Hitchcock, based on the 1929 play of the same name by Patrick Hamilton and adapted by Hume Cronyn[2] and Arthur Laurents. The film was produced by Hitchcock andSidney Bernstein as the first of theirTransatlantic Pictures productions. Starring James Stewart, John Dall andFarley Granger, this is the first of Hitchcock's Technicolor films, and is notable for taking place in real time and being edited so as to appear as a singlecontinuous shot through the use of long takes.[3] The original play was said to be inspired by the real-life murder of 14-year-oldBobby Franks in 1924 by University of Chicago students Nathan Leopold and Richard Loeb.
______________________________________________
The Sound of a Voice by David Henry Hwang is directed by Samson Syharath of Theatre Diaspora. The cast is comprised of Chisao Hata and Larry Toda, also core ensemble members of Theatre Diaspora. Actor Mariko Kajita provides narration. The play features shakuhachi (Japanese flute) music performed by Larry Tyrrell of Moonbridge music, a master shakuhachi player who performed with the Okayama Hogaku Ensemble and now performs in the Northwest.
The Sound of a Voice will be performed at Portland Center Stage (located at 128 NW Eleventh Avenue, Portland, Oregon 97209) on Saturday, October 17 at 2:00 p.m. and on Sunday, October 25 at 7:00 p.m. Playwright David Henry Hwang will join the audience for a Skype talk at the October 17th 2pm performance. Tickets are $8 each. A financial hardship discount code is available by emailing TheatreDiaspora@gmail.com. Tickets can be purchased in advance at Portland Center Stage. http://www.pcs.org/blog/item/the-sound-of-a-voice/
More info on Theatre Diaspora:Â www.theatrediaspora.org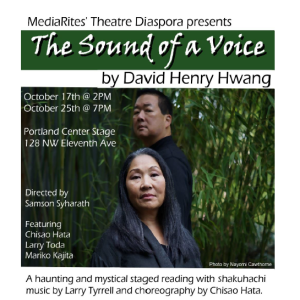 More about the play: Inspired by Japanese folk stories, films, and Noh theater, The Sound of a Voice is Hwang's fifth play and is an original ghost story about loneliness, isolation and human connection between two middle-aged strangers. The play centers on the woman who runs an inn in a desolate area of Japan and the man who stumbles upon her home, seeking refuge for the night as he searches for his missing comrades. They are hungry for human interaction since they are both lonely and isolated, comforted by "the sound of a voice." But strange things happen as they foster their relationship – attraction, desire, intrigue, desperation and deception.
More about David Henry Hwang: This Tony-award-winning playwright's work includes the plays M. Butterfly, Chinglish, Yellow Face, Kung Fu, Golden Child, The Dance and the Railroad, and FOB, as well as the Broadway musicals Aida (co-author), Flower Drum Song (2002 revival) and Disney's Tarzan. He is also America's most-produced living opera librettist, who has worked with composers Philip Glass, Osvaldo Golijov, Bright Sheng, Unsuk Chin, Huang Ruo, and Howard Shore. Hwang is a Tony Award winner and three-time nominee, a three-time OBIE Award winner and a two-time Finalist for the Pulitzer Prize in Drama. His screenplays include Possession (co-writer), Golden Gate, and M. Butterfly. He currently works as a writer/producer for the Golden Globe-winning television series The Affair, and is developing an original series, Shanghai, for Lionsgate and Bravo. Hwang won the 2011 PEN/Laura Pels Award, the 2012 Inge Award, the 2012 Steinberg "Mimi" Award, a 2014 Doris Duke Artist Award, and the 2015 IPSA Distinguished Artist Award. He attended Stanford University and Yale Drama School; holds honorary degrees from the American Conservatory Theatre, Columbia College, Lehigh University, and USC; and serves as Head of Playwriting at Columbia University School of the Arts. Hwang was recently the Residency One Playwright at New York's Signature Theatre.
 You can hear Stage & Studio on: