Passin' Art + Remme's Run
Dmae Roberts talks with Passin' Art Theatre about their explosive show on race dialogue in Tommy J & Sally by acclaimed playwright Mark Medoff with director Andrea White and actors Marcus Mauldin and Sarah McGregor.  And in the second half of the show, we hear from playwright Wayne Harrel about the world premiere of his play Remme's Run Coho Productions about Oregon history, featuring a man who raced from Sacramento to Portland.
(Aired 11am Tues 10/27 on KBOO 90.7FM or always on stagenstudio.com.)
Podcast: Play in new window | Download
Tommy J & Sally
By Mark Medoff
Directed by Andrea White
Performances are at the Interstate Firehouse Cultural Center -5340 N. Interstate Ave, Portland Oregon
Runs through November 8, 2015
Friday, Saturday 7:30 pm & Sunday Matinees 3pm
https://www.boxofficetickets.com or go to www.passinart.net
for tickets or call 503.235.8079
Purchase ticket online only the code "Community"
Code is valid through November 1, 2015 Â Contain some strong language, not recommended for children.
More about the play:Â Is TJ who he says he is? Is Sally who she says she is? Or is each who the other says the other is? A black man invades a white woman's life, claiming she's someone she says she isn't. The results are a racial and personal conflagration that changes both the intruder and intruded upon. A modern twist on Sally Hemings and Thomas Jefferson that unleashes a tsunami of anger and emotion leading to cleansing.
About the playwright: Â Mark Medoff is a playwright, screenwriter, and director. He received a Tony Award for CHILDREN OF A LESSER GOD as well as London's Olivier Award for Best Play. He was nominated for an Academy Award and a Writers Guild of America Best Adapted Screenplay Award for the film script of CHILDREN and for a Cable ACE Award (now EMMY) for his HBO Premiere movie, APOLOGY. He received an OBIE Award for WHEN YOU COMIN BACK, RED RYDER.
_____________________________________________________________________________

Remme's Run (A full-length world premiere new play based on a true Oregon story)
by Wayne Harrel
Directed by  Jamie M. Rea
Technical Direction by Jerry Green
Produced by CoHo Productions with Wayne Harrel
Runs through Saturday, November 7, 2015
Showtimes Thursday – Saturday 7:30pm and Sunday 2pm
All shows are at CoHo Theater 2257 NW Raleigh St. Portland, OR
TICKETS:Â www.cohoproductions.org
or call box office at (503)-220-2646
$28Â Adults
$22.50Â Over 65/Under 30
$15 Thursdays and for Groups of 10+
More about Remme's Run: A high-tech, wild west performance based on the true story of French-Canadian frontiersman Louis Remme who raced on horseback from Sacramento to Portland in six days to rescue his life's savings from a bank gone bust in 1855. Meanwhile, Remme's trailhand pals escort his faro-dealing lady love north by steamboat, making their own justice with wit, cunning and crooked cards. This anticipated world premiere is a daring, diverse and interactive adventure ride.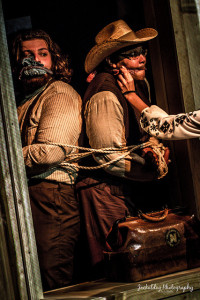 You can hear Stage & Studio on: