Fertile Ground 2016
Dmae features the Fertile Ground Festival, Portland's largest performing arts festival returning for its 8th year for 11-days. We'll hear from festival director Nicole Lane about the new works features. She'll be joined by two of the original shows debuting new work: Solo performer Faith Helma of I Hate Positive Thinking and playwright Sue Mach and actress Grace Carter of The Yellow Wallpaper.
(Aired 11am Tues 1/10/16 on KBOO 90.7FM and StagenStudio.com.)
Featured music: Molly Bauckham at HarpMolly.com.
Also featured:  Buried Fire, Music & Lyrics by Dave Fleschner. Book by Wayne Harrel Festival Dates: Jan 21, 22 @ 7:30pm (Michelle's Pianos) and Jan. 20  @ 7:30pm (O'Connor's Vault) Purchase tickets: fertilegroundpdx.org
______________________________________________________
You can hear Stage & Studio on: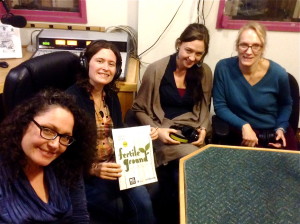 Podcast: Play in new window | Download
FG16 brings dozens upon dozens of new artistic works from Portland's teeming jungle of artists to thrive on stages, nooks and crannies all over Portland for 11 days from Thursday, January 21 to Sunday, January 31, 2016.
Portland's 8th Fertile Ground Festival
January 21 – 31, 2016
65+ acts of creation in
theatre, dance, circus, clown, music, animation multidisciplinary arts
46+ producers across Portland for 11 days
ABOUT THE FESTIVAL
Fertile Ground 2016 is a 11-day arts festival that will be held January 21 through 31 in Portland, Oregon. This city-wide festival is focused on new work in the Arts. It will feature world premiere projects, staged readings, developing works and a myriad of other arts events from the Portland creative community. The 2015 Festival included more than 75 Portland-generated new works. From fully staged world premieres in theatre, to ensemble and collaborative driven work, dance, comedy, visual art and film…this festival spans the spectrum of creative endeavor and seeds the next generation of creation through artist conversations, workshops, lunchtime readings and more.
___________________________________________________________________________
FAITH HELMA PRESENTS Â I HATE POSITIVE THINKING
(a solo performance / manifesto for creative living in an alternate world)
Faith Helma –local theatre-maker, Hand2Mouth member and performance artist turned life
coach & creative guide – presents her solo performance / manifesto at Portland's
Fertile Ground Festival. She's been crafting this solo performance for over a year, testing it in
various forms in such places as the NW New Works Festival in Seattle and
Risk/Reward in Portland.
Now she's ready to present the full show in all its flawed glory to Portland.
Join Coach Helma on an expedition into an alternate world, in which we find
freedom through failure, speaking truth to power and dancing like jackasses.
(Note: no one in the audience will be asked to dance like a jackass. That is a
challenge Coach Helma undertakes on your behalf.
January 22 – February 7, Fridays – Sundays, 7:30 pm
(Jan 22, 23, 24 / Jan 29, 30, 31 / Feb 5, 6, 7)
Shout House, 210 SE Madison (http://www.shouthousepdx.com)
TICKETS: $15-20, purchase at http://faithhelma.com
___________________________________________________________________________
CoHo Productions presents
The Yellow Wallpaper
By Sue Mach
Conceived by Grace Carter and Directed by Philip Cuomo
Festival Dates: Jan 21, 22, 23, 28, 29, 30 @ 7:30pm; Jan 24, 31 @ 2pm
Additional Run Dates: Jan 15, 16 @ 7:30pm; Jan 17 @ 2pm; Feb 4, 5, 6 @ 7:30pm
Venue:CoHo Theatre, 2257 NW Raleigh St.
Tickets: $28; $22.50 over 65/under 30; $17.50 Thrifty Thursday
Purchase tickets: cohoproductions.org|503-220-2646
The new expressionistic performance adaptation of The Yellow Wallpaper by Sue Mach and conceived by Grace Carter is based on the American short story by Charlotte Perkins Gilman. The story follows Charlotte, a woman confined to a single bedroom for three months in 1890 – a "rest cure" for her postpartum depression. Isolated and under-stimulated, Charlotte turns to an interior world of imagination, obsessing on the room's ghastly wallpaper, until a trapped woman appears to her in the pattern. This multi-disciplinary installation descends to Charlotte's inner landscape, following her "mad" journey through constraint, to creativity, transformation and freedom. This world premiere co-production features performances by Grace Carter, Christy Bigelow and Chris Harder as part of CoHo's 20th Season: Great Journeys in Small Spaces. "Mach's plays, tackle dense social and political issues with the clarion voice of both a teacher and a formidable storyteller." – Portland Monthly. "Gripping…defies dramatic conventions…tantalizingly elusive." – The Oregonian of Carter's 4.48 Psychosis.