Ophelia+Deception+Hazardous Beauty
Dmae features three staged readings starring African American actresses. First we hear about S. Renee Mitchell's new play Ophelia in Oblivion, her personal tale of surviving family trauma. We'll also feature Bonnie Ratner's Hazardous Beauty, about two writing partners in a memoir class and Nancy Moss' Deception featuring a story about a biracial young woman passing for white in 1880s Portland. All three plays are part of the Fertile Ground Festival 2016.
(Aired 11am Tues 1/19 on KBOO 90.7FM and StagenStudio.com.)
You can hear Stage & Studio on:
Podcast: Play in new window | Download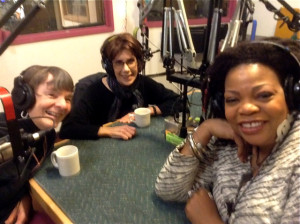 __________________________________________
Ophelia in Oblivion by S. Renee Mitchell and directed by Bobby Bermea

Part of the 2016 Fertile Ground 11-­day festival, Ophelia in Oblivion began as a dare for Mitchell to write a 10-­minute play during a Portland Center Stage writing class. For more than two months, playwright and poet S. Renee Mitchell, a former award-winning columnist for The Oregonian, expanded it into a 90-­minute theatrical exploration designed to make audience members think, laugh, wonder and question, with a bombshell ending that will surprise.
Cast includes:Â Â Damaris Webb, Skeeter Greene and Jacque Dixon.
Staged reading of the full-length play "Ophelia in Oblivion"
Friday and Saturday, Jan. 22-23, 2016, 7:30 p.m.; Sunday, Jan. 24, at 2:30 p.m.
Celebration Tabernacle, 8131 N. Denver Ave. (in Kenton neighborhood)
MORE INFO: S. Renee Mitchell, 971-279-3058, reneemitchellspeaks@yahoo.com
______________________________________
Winner of Portland Civic Theatre Guild's 2014 playwriting prize, Deception by Portland Playwright Nancy Moss tells the story of Anne Winter (Damaris Webb), a young biracial woman who crossed the Oregon Trail and settled in 1880's Portland. As a single woman who owns a hat business, she is a light-skinned African American who is passing as white. When her half-brother Caleb (Joe Gibson) comes to Portland, he threatens to expose her secret unless she gets him into a high stakes poker game. Meanwhile, Conrad Ryan (Spencer Conway) secretly harbors affection for Anne. He gets her involved in a plan to spy on European investor Gerhard Schull (Gary Brickner-Schulz) to learn which railroad he plans to finance. Anne's maid and confidante Becky (AmyNewman) develops an interest in Caleb. But all comes to a climax on one fateful night.
At its heart, Moss has crafted a love story between Anne and Conrad. Deception also shines a light with historical accuracy on Oregon's exclusion laws and describes a pivotal time in Portland when entrepreneurs pinned high hopes on a railroad that would connect the city to the world at large.
Cast includes: Damaris Webb, Spencer Conway, Joe Gibson, Amy Newman, Gary Brickner-Schulz and Wynee Hu.
Dates: January 28, 29 and 31
Times: January 28 and 29, 7:30 pm; January 31, 2:00 pm.
Place: Lincoln Hall, PSU
To Purchase Tickets:
Or call: 503-725-3307
Or Visit: Smith Memorial Student Union Broadway Entrance – on the West side of the street between Montgomery and Harrison Streets. (see a map of the Smith Center first floor).

Nancy Moss's play Deception won Portland Civic Theatre Guild's 2014 playwriting contest. Her play Will the Real Charlie Chan Stand Up? – about the Honolulu police detective who inspired the fictional Charlie Chan – had a successful run at Honolulu's Kumu Kahua theatre in 2012. Her ten-minute play The Pilot, about a drone pilot, was part of Oregon Contemporary Theatre's 2013 April festival in Eugene, Oregon. The Actors Group in Honolulu produced her play Anna: Love in the Cold War, about the Russian poet Akhmatova, in 2002 and 2012; it had a showcase in Abingdon Theatre in New York City in 2011. Her play Hostage Wife, about the Iraq War, won Abingdon Theatre's Wolk Award in 2005 and had a 2007 production at Kumu Kahua Theatre in Honolulu. Her musical Infinite Jest had a 1998 production in Honolulu and a 2002 showcase in New York City.
 __________________________________________________
The play features Skeeter Greene and Bonnie Ratner. The action of the play flows from the women being assigned as writing partners. But they're writing memoirs, so what starts out as a writing critique soon grows very personal.
The play will be presented January 29 and 30 at 7:30 p.m. on both nights at Portland Abbey Arts, 7600 N Hereford Ave, Portland, OR 97203. A post-show conversation will be co-facilitated by Jane Vogel, Age and Gender Equity in the Arts, and Professor Roberta Hunte of Portland State University.
Tickets are available online through Box Office Tickets at bit.ly/hazbeaut