Who Am I Celebrating Me + James Canfield
Dmae talks with Shalanda Sims about the Who I Am Celebrating Me performance highlighting African American history through theatre and dance. She'll be joined by two high school seniors, Kyra Orr and Isaiah Sims, participating in the performances. And in the latter part of the show, James Canfield returns to Oregon Ballet Theatre after 15 years with Romeo & Juliet.
You can hear Stage & Studio on:
_____________________________________________
Who I Am Celebrating Me is a community of youth and adult artists exploring history through theater. From soul-encompassing singing and dancing to heartfelt poetry and prose, the production highlights a montage of African-American figures and movements of past and present.
Formed ten years ago by Shalanda Sims (
shalandasims.com)
in response to the lack of celebratory events in Portland during Black History month,
Who I Am Celebrating Me
dared to fill a void.
Not only were there little to no events at the time but the topic was not widely discussed in schools so in an effort to educate youth, show them something they could be proud of and celebrate all year long, educators, business owners, youth, adults, senior citizens, artists, community members gathered to sing songs, recite poetry, and share oral history.
To date, Who I Am Celebrating Me has helped educate over ten schools, more than 2500 students, five businesses and their employees about the rich history and contributions of African-Americans.
February 20 (2PM) & 22 (7:30PM) at Portland Center Stage, 128 NW 11th Ave, Portland, OR
______________________________________________
Following an absence of over 15 years,
Oregon Ballet Theatre
presents the return of James Canfield's beloved production of
Romeo & Juliet
to Portland's Keller Auditorium February 27th through March 5th. The work, created by Canfield in 1989 for Pacific Ballet Theatre, was immensely popular as soon as it appeared and continued to be so when Pacific Ballet Theatre merged with Ballet Oregon to become OBT in 1990. Romeo & Juliet was performed many times during Mr. Canfield's tenure as Artistic Director and is rightfully restored to the OBT repertory this season.
Canfield's passion for Romeo & Juliet began when he first performed the role of Romeo in John Cranko's production for the Joffrey Ballet. At six-foot-three he felt his physical presence was at odds with the look of an innocent teenage boy in love. He worked that much harder on developing the character and conveying youthful exuberance, love, and despair through every movement.
In his own approach to the work Canfield digs deeper into the development of every character. During rehearsals he has the dancers switch roles to better understand the motivation and complexity in a scene. The focus is on telling an emotionally rich and complex story in a way that is clear and very real to the audience, at the same time enhancing the feeling of passion between the two lovers with an ethereal quality that ballet uniquely provides. Two incredible casts will alternately perform the production's iconic roles. Principal Artist Xuan Cheng who charmed audiences as Cinderella last season will be partnered by Soloist Peter Franz who debuted with Oregon Ballet Theatre last fall.
Soloist Ansa Deguchi will be partnered by Principal Artist Brian Simcoe. This pair was featured last season in the roles of Romeo and Juliet receiving high praise for their performance of the bedroom scene during OBT25. Among the many incredible male roles in the work Principal Artist Chancey Parsons and Soloist Michael Linsmeier will alternate as Mercutio raising swords against Tybalt alternately danced by Company Artists Jordan Kindell and Thomas Baker.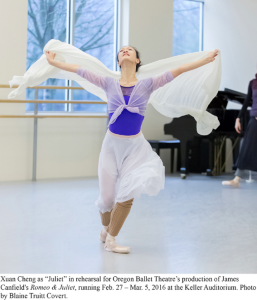 Drawing the audience further into the production is the glorious score by Sergei Prokofiev which guides the story all the way through to its tragic end. Prokofiev "created themes that identify the characters, or the power of what was going on — and brilliantly," says Canfield. "From a dance standpoint — to me, that's the ultimate."
Oregon Ballet Theatre is thrilled to have the OBT Orchestra performing live at every performance.
Showtimes and ticket info:
James Canfield's Romeo &  Juliet
February 27th – March 5th | Keller Auditorium
Saturday, February 27 – 7:30 orchestra
Sunday, February 28 – 2:00 orchestra
Thursday, March 3 – 7:30 orchestra
Friday, March 4 – 7:30 orchestra
Saturday, March 5 – 2:00 orchestra Saturday, March 5 – 7:30 orchestra
Tickets start at $29