Milagro + Vertigo
Dmae presents Daniel Jáquez, Interim Artistic Director of Milagro Theatre to who's co-directing Into the Beautiful North by Karen Zacarías. The play is about a young woman, inspired by The Magnificent Seven enlists seven men to help her save her small Mexican village. And in the latter part of the show, we'll hear from Tom Mounsey of Theatre Vertigo who's producing Caryl Churchill's Love and Information.
You can hear Stage & Studio on:
 
Into the Beautiful North
By Karen Zacarías, based on the novel by Luis Alberto Urrea 
Runs April 28 – May 28, 2016
Thursday – Saturday at 7:30PM, Sundays at 2PM
Thursday, April 28, 7:30 PM — Preview
Friday, April 29, 7:30 PM — Opening Night with reception catered by Sandoval's Mexican Grill
All shows are at: El Centro Milagro, 525 SE Stark Street, Portland, Oregon 97214
Adult tickets are $25 in advance, $30 at the door. Tickets available at www.milagro.org or 503-236-7253. Discounts for students, seniors, veterans, groups 15+, and with the Oregon Trail card through the Arts for All program.
MORE INFORMATION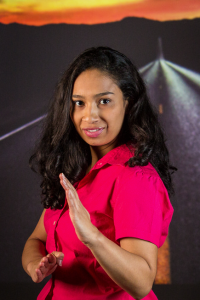 ABOUT THE PLAY: A hip, heroic comedy that blends The Magnificent Seven and American pop culture with modern Mexican experiences. Inspired by the classic film, Nayeli and her two friends journey north to Los Yunaites in search of her father and seven strong men to save their small Mexican village of Tres Camarones, which is currently under threat of narco-traficantes and extinction. This new play, commissioned by Milagro, is written by Karen Zacarías, award-winning playwright of How the Garcia Girls Lost Their Accents and Mariela in the Desert, and is based on the novel Into the Beautiful North by Pulitzer Prize Finalist Luis Alberto Urrea.
 Sunday May 8, 2016 4-5 PM
Talk-back with Cast and Creative Team of Into the Beautiful North
Milagro will be hosting a series of conversations on Sundays after the performance. These are free and open to the public. This program was made possible in part by a grant from Oregon Humanities (OH), a statewide non-profit organization and an independent affiliate of the National Endowment for the Humanities, which funds OH's grant program.
Sunday May 1, 2016 4-5:30 PM
Theme: Young Latina Empowerment
Panelists: Luis Alberto Urrea, novelist; Olga Sanchez, director; Gloria Pinzon Marin, Las Mujeres, PSU
Sunday May 15, 2016 4-5:30 PM
Theme: Displacement and its Consequences
Panelists: Marc Rodriguez, Chicano/Latino Studies, PSU; Toni Kelich, Immigration Attorney; Renault (Polo) Catalani of NW Communities Counsel.
Sunday May 22, 2016 4-5:30 PM
Theme: Movies as Catalyst for Change
Enie Vaisburd, Media Arts, Pacific University; Maria Osterroth, Portland Latin American Film Festival
___________________________________________________
Theatre Vertigo presents…
 Love and Information by Caryl Churchill:
 Directed by Michelle Seaton
Love and Information premiered at the Royal Court Theatre in London in 2012 and had its US premiere at New York Theatre Workshop in 2014.
 Someone sneezes. Someone can't get a signal. Someone won't answer the door. Someone put an elephant on the stairs. Someone's not ready to talk. Someone is her brother's mother. Someone hates irrational numbers. Someone told the police. Someone got a message from the traffic light. Someone's never felt like this before. In this fast moving kaleidoscope, more than a hundred characters try to make sense of what they know.
Performances are through May 7th at Shoebox Theatre
2110 SE 10th Ave, Portland, ORÂ 97214
Thursday – Saturday @ 7:30pm
Sunday @ 2:00pm, with additional 7:30pm performances on April 24 and May 1 (there is no Sunday performance on April 10)
Adult tickets are $20, Student tickets are $10
All Thursday performances are pay-what-you-will
Or call us at (503) 482-8655 or email tickets@theatrevertigo.org to make a reservation. More info at:
http://www.theatrevertigo.org/