Fall KBOO Special
Dmae presents a fall membership drive one-hour edition of Stage & Studio. First up, we feature with Alexis Tidwell (Crystal) and Johari Nandi Mackey (Chiffon)who make up the dynamic trio chorus in Little Shop of Horrors  at Portland Center Stage.  We'll find out what it's like to work on this iconic hit musical based on a B-movie by Roger Corman currently running till Oct. 16th. 
Then we'll hear from Jeanne Sakata who's returning to Portland with the solo show she wrote, Hold These Truths, about civil rights hero Gordon Hirabayashi who fought against Japanese-American Internment during WWII. Jeanne first appeared in Portland in David Henry Hwang's M Butterfly in 1993. The show opens at Portland Center Stage on Oct. 1st and runs through Nov. 13th.
And in the last part of the one-hour special, we'll talk with Lobsang Tenzin, a Tibetan-American actor and Barry Hunt, artistic director of Sowelu Theatre.  Tenzin won the Best Actor category at the Oregon Independent Film Festival in The Lower Rooms. The film screens Sept. 23rd at 9:45pm at Clinton Street Theater.
We'll offer tickets to both Portland Center Stage productions and a pair of tickets to The Lower Rooms film. We also have a copy of Nisi Shawl's book Everfair and Peter Ho Davies' The Fortunes (featured last week) . 
Podcast: Play in new window | Download
_____________________________________________________
More about Portland Center Stage's productions:
Portland Center Stage at The Armory's 2016-2017 season kicks off with the hilarious and rockin' sci-fi musical, Little Shop of Horrors,  based on the film by Roger Corman, with book and lyrics by Howard Ashman and music by Alan Menken. The demonic plant will take over the U.S. Bank Main Stage with preview performances beginning September 10; an opening night on September 16; and performances running through October 16. Bill Fennelly directs a cast featuring Nick Cearley, Gina Milo, Jamison Stern, Chaz Rose, David Meyers, Ebony Blake, Johari Nandi and Alexis Tidwell.
September 10* – October 16, 2016 - Tuesday through Sunday evenings at 7:30 p.m. (excluding September 25 and October 2); Saturday and Sunday matinees at 2 p.m. (excluding September 10, 11, 17 and October 1); and Thursday matinees at noon (excluding September 15).

Regular tickets range from $25 to $75. Rush tickets are $20. Students and patrons who are 30 or younger may purchase premium seating areas for $30. Discounts for groups of 10+.
For more info or reservations visit:   www.pcs.org. Or call  503.445.3700, 12–6 p.m. PCS is located at 128 NW Eleventh Avenue, Portland.
Little Shop of Horrors is recommended for ages 12+. Contains theatrical haze and mature content. Information at https://www.pcs.org/littleshop.
________________________________________________________
The Northwest Stories series debuts at The Armory with
Hold These Truths, a play about civil rights hero Gordon Hirabayashi
Previews Begin Oct. 1st. Opening Night is Oct. 7th and closes Nov. 13th
TICKETS STARTING AT $25!
Jeanne Sakata's Hold These Truths, a play inspired by the life of civil rights hero Gordon Hirabayashi, a Seattle native who was posthumously awarded the 2012 Presidential Medal of Freedom.
Hold These Truths opens in the Ellyn Bye Studio on October 7, with previews beginning October 1 and performances running through November 13. Hold These Truths is directed by Jessica Kubzansky, who directed the world premiere at East West Players in Los Angeles. Actor Ryun Yu, who originated the role of Hirabayashi at East West Players, will once again play the role in Portland.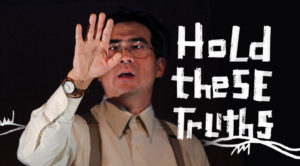 ABOUT THE PLAY: During World War II, University of Washington student Gordon Hirabayashi fights the government's orders to forcibly remove and mass incarcerate all people of Japanese ancestry on the West Coast. As he struggles to reconcile his country's betrayal with his passionate belief in the U.S. Constitution, Hirabayashi journeys toward a greater understanding of America's triumphs — and a confrontation with its failures. Hold These Truths was first produced in 2007 by East West Players in Los Angeles under the title Dawn's Light: The Journey of Gordon Hirabayashi.
Regular tickets start at $25. Tickets may be purchased at www.pcs.org, 503.445.3700, or in-person at the box office (128 NW Eleventh Avenue, Portland, OR). Recommended for ages 14+; contains mature language. Information at https://www.pcs.org/truths.
_______________________________________________________
The Lower Rooms is a collaboration of Sowelu Theater and and The Narrative, a local production company run by Nate Wilson and Tyler Warren for the Best Drama award and nominated for Best Picture, which will be announced at the awards ceremony on the 24th.
The Lower Rooms is adapted from a stage play by Eliza Anderson and directed by Barry Hunt and Nathan Wilson. Featuring Kelly Tallent, Jena San'Cartier, Kelly Lambert and Ty McCallister. Friday September 29th at 9:45 PM, The Clinton Street Theater, 2522 SE Clinton St. Portland, OR 97202. Tickets are $12.00
See the trailer!
The Lower Rooms Film – Teaser 1 from The Narrative on Vimeo.