The Fortunes + Everfair
Dmae Roberts talks with two authors beginning their book tours for KBOO's membership drive show. First up, we'll hear a short preview from Seattle author Nisi Shawl whose new book combines narratives from Belgium, Great Britain, the Congo  and an imaginary utopia called Everfair in a neo-Victorian novel. And then author Peter Ho Davies  joins us to talk about The Fortunes, his epic novel tells four stories of Chinese American history from the Gold Rush up to contemporary times. Dmae will offer both these books as thank you gifts for the membership drive.
Support your community radio station and local programming by calling in 877-500-5266 (KBOO) or join online at KBOO.FM.
(Airs 11am Tues 9/13/16 on KBOO.FM and StagenStudio.com)
You can hear Stage & Studio on:
Hear today's show. We still have Peter Ho Davies'The Fortunes available if you want to donate online at KBOO.FM or call 877-500-5266 and request the book for a $75 membership  or a pair of tickets to "Little Shop of Horrors" at Portland Center Stage for a $90 membership. 
Podcast: Play in new window | Download
_____________________________________________________________
The Fortunes captures over a century of Chinese American history in novel form. Inhabiting four lives over four eras that each bear witness to a significant moment in the evolution of the Chinese American community:
Ah Ling, the son of a prostitute and a white man is sent from his homeland to make his way alone in California.
Anna May Wong, the first Chinese film star in Hollywood, is forbidden to kiss a white man on screen. Shut out of leading roles, cast only as Dragon Lady or Butterfly, she must find her place between two worlds and two cultures.
Vincent Chin, aspiring all-American, is killed by a pair of Detroit auto workers simply for looking Japanese. He becomes the symbol for a community roused to action in the face of hatred.
John Ling Smith, a biracial Chinese American who visits China for the first time to adopt a baby girl.
Building fact into fiction, spinning fiction around fact, Davies uses each of these stories—three inspired by real historical characters—to recast the story of America through the lives of Chinese Americans.
Peter Ho Davies is the author of two novels, The Fortunes and The Welsh Girl (long-listed for the Man Booker Prize), and two short story collections, The Ugliest House in the World(winer of the John Llewelyn Rhys Prize) and Equal Love (A New York Times Notable Book). His work has appeared in Harpers, The Atlantic, The Paris Review, The Guardian and Washington Post, and anthologized including selections for Prize Stories: The O. Henry Awards and Best American Short Stories. Davies has received fellowships from the Guggenheim Foundation and the National Endowment for the Arts, and is a winner of the PEN/Malamud Award.
Born in Britain to Welsh and Chinese parents, he lives in the US. He has taught at the University of Oregon and Emory University, and is currently on the faculty of the Helen Zell MFA Program in Creative Writing at the University of Michigan in Ann Arbor.
_____________________________________________________________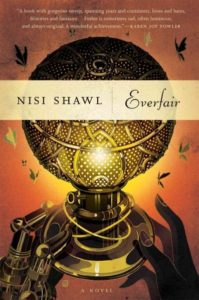 Everfair is Nisi Shawls debut novel, a  Neo-Victorian alternate history novel that explores the question of what might have come of Belgium's disastrous colonization of the Congo if the native populations had learned about steam technology a bit earlier. Fabian Socialists from Great Britian join forces with African-American missionaries to purchase land from the Belgian Congo's "owner," King Leopold II.
This land, named Everfair, is set aside as a safe haven, an imaginary Utopia for native populations of the Congo as well as escaped slaves returning from America and other places where African natives were being mistreated.
Everfair is told from a multiplicity of voices: Africans, Europeans, East Asians, and African Americans in complex relationships with one another, in a compelling range of voices that have historically been silenced.
Nisi Shawl is a writer of science fiction and fantasy short stories and a journalist. She is the co-author (with Cynthia Ward) of Writing the Other: Bridging Cultural Differences for Successful Fiction.
Her short stories have appeared in Asimov's SF Magazine, Strange Horizons, and numerous other magazines and anthologies. Shawl is a member of the Science Fiction Writers of America and a 1992 graduate of the Clarion West Writers Workshop. She is a board member of Clarion West and one of the founders of the Carl Brandon Society. Her stories have been shortlisted for the Theodore Sturgeon Award, the Gaylactic Spectrum Award, and the Carl Brandon Society Parallax Award, and Writing the Other received special mention for the James Tiptree, Jr. Award. In 2008, she won the James Tiptree, Jr. Award for Filter House,which was also shortlisted for a World Fantasy Award. In 2009 hernovella "Good Boy" was additionally nominated for a World Fantasy Award.