Tim Dang + ConFest
Dmae talks with Tim Dang, cialis one of the most influential Asian American/Pacific Islander theatre leaders in the country. After 23 years,  Dang recently stepped down as artistic director of East West Players in Los Angeles, the longest running professional theatre of color in the U.S. Dang was also instrumental in co-founding the Consortium of Asian American Theaters and Artists Alliance (CAATA). Every two years CAATA has a weeklong ConFest, a conference and festival. This year the 5th ConFest is  October 1-9 and hosted by the Oregon Shakespeare Festival in Ashland. 
This year's theme, Seismic Shifts: Leading Change in the American Theater, will engage attendees and local communities in passionate dialogues about social injustice and inequity in American culture. See the schedule!
(Aired 11am Tues 8/30/16 on KBOO.FM and StagenStudio.com)
You can hear Stage & Studio on:
More about Tim Dang:
Through his 23 years of leadership,East West Players moved from a 99-seat black box space in the Silverlake area to the professionally equipped 240-seat David Henry Hwang Theater located in Little Tokyo Los Angeles in 1998.  Tim has been challenging the American theatre (with the 51% Preparedness Plan for the American Theatre) to implement policy within each theatre's strategic plan setting goals for more equity, diversity and inclusion in their artistic programming. This past November, the Society of Directors and Choreographers recognized Tim with the Zelda Fichandler Award for transforming the regional theatre arts landscape through theatre. Tim is Co-Chair on the LA County Board of Supervisors Advisory Committee on Cultural Equity and Inclusion.
East West Players directing credits include, LA CAGE AUX FOLLES, BEIJING SPRING, A LITTLE NIGHT MUSIC, CHESS, KRUNK FU BATTLE BATTLE (World Premiere), MYSTERIOUS SKIN (Los Angeles Premiere), IMELDA: A NEW MUSICAL (World Premiere/New York Premiere), PIPPIN, EQUUS, VOICES FROM OKINAWA (World Premiere), PASSION (Los Angeles Premiere), NISEI WIDOWS CLUB, PACIFIC OVERTURES (Ovation Award) SWEENEY TODD (Ovation Award), and INTO THE WOODS. Tim has also directed at Singapore Repertory Theatre, PanAsian Repertory Theatre (New York), Asian American Theater Company (San Francisco), Mark Taper Forum New Works Festival, Celebration Theatre, West Coast Ensemble and Perseverance Theatre (Juneau, Alaska). Tim wrote the book and lyrics for the musical BEIJING SPRING, the lyrics for the musical CANTON JAZZ CLUB, and was co-writer on the trilogy of comedies, THE NISEI WIDOWS CLUB, THE NISEI WIDOWS CLUB: HOLIDAY ON THIN ICE and THE NISEI WIDOWS CLUB: HOW TOMI GOT HER GROOVE BACK.
The Consortium of Asian American Theaters & Artists (CAATA) is dedicated to advancing the field of Asian American theater. Their 2016 National Asian American Theater Conference and Festival (ConFest)will be held October 1-9 in Ashland, Oregon
This year's ConFest is the fifth such national convening since the group's first gathering in Los Angeles in 2006 and the first time the event will take place in Ashland in partnership with the Oregon Shakespeare Festival.
The Conference, held for the first three days of ConFest, will include several notable plenary speakers and breakout sessions addressing topics including casting and union representation of Asian American performers, ending yellowface, immigrant and refugee community-based theater, expanding the classical canon through international collaborations, and building the next generation of professional leadership in the field. Pre-conferences will include a gathering of Western & Central Asian American theatre leaders and allies, as well as a "Beyond Orientalism" cohort.
The Festival, taking place throughout the nine days of ConFest, will feature six CAATA-presented fully-staged productions, five new play readings, and free community programming as part of Oregon Shakespeare Festival's Green Show series.
The six CAATA-presented productions include:Â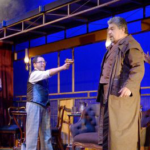 HOT ASIAN EVERYTHING: A SEISMIC EXTRAVAGANZA
Presented by CAATA
An evening of seismic proportions featuring steampunk cowboys, an exotic oriental murder mystery, an epic Cambodian ballet, and a ride through the lives of taxi drivers across the globe — all hosted by the illustrious Emi Macadangdang and Jasmine! Kick off ConFest 2016 in style with a collection of excerpts, special performances, and guest appearances by some of our closest CAATA friends, old and new. Lineup includes excerpts from:
The Tumbleweed Zephyr, Pork Filled Productions
Han Ong's Chair and a Long Table, Ma-Yi Theater Company
Charles Francis Chan, Jr.'s Exotic Oriental Murder Mystery, NAATCO
Global Taxi Driver, TeAda Productions
Cambodian Dream Ballet from Cambodian Agonites, Pan Asian Rep
Tot, the Untold, Yet Spectacular Story of (a Filipino) Hulk Hogan, 2G & Mu Performing Arts
Performance by Golda Supernova, Campo Santo and Youth Speaks
And a forthcoming selection from East West Players
ELEVEN REFLECTIONS ON SEPTEMBER
Written, Directed & Performed by Andrea Assaf
Art2Action, Inc
Collaborating Musicians: Eylem Basaldi, Violinist; April Centrone, Percussionist; Lubana Al Quntar, Vocalist
Eleven Reflections on September is a spoken word and multimedia performance on the Arab American experience, Wars on/of Terror, and "the constant, quiet rain of death amidst beauty" that each autumn brings in a post-9/11 world. The poems, accompanied by an all-women music ensemble and immersive media design, progress from lyrical to abstract and broken as they span the fall of the Twin Towers, the on-going wars in Iraq and Afghanistan, the beginning of Arab Spring, and the revolutions and conflicts now sweeping through Western Asia. Eleven Reflections on September was originally commissioned by Pangea World Theater's Alternate Visions Festival and the New York premiere was produced by La MaMa.
EMPIRE OF THE SON
Written and performed by Tetsuro Shigematsu Directed by Richard Wolfe
Vancouver Asian Canadian Theatre
Empire of the Son is the story of two generations of broadcasters, and the radio silence between them. As father and son, Akira and Tetsuro Shigematsu shared the same profession– each of them communicating with millions of their listeners, but never with each other. Based on a series of audio interviews with his father, former CBC broadcaster Tetsuro Shigematsu combines cinematography with the raw immediacy of live performance to magically conjure entire worlds: from the ashes of Hiroshima to present-day Vancouver.
MUTHALAND
Written and Performed by Minita Gandhi
Directed by Heidi Stillman
The life of a young woman is changed forever on a trip to India when she unearths family secrets, encounters a prophet, and discovers her voice within a culture of silence. In this dark comedy inspired by true events, Minita Gandhi inhabits over twenty characters with great depth and charisma to guide us on a journey through time and place where the familiar and the foreign swap roles.
THE WONG STREET JOURNAL
Written and performed by Kristina Wong
Directed by Emily Mendelsohn
Part plushy TED lecture, part amateur hip-hop extravaganza, and part travelogue, The Wong Street Journal breaks down the complexities of global poverty, privilege and economic theory using uneasy-to-read charts, live hashtag wars, and riveting slideshows from post-conflict Northern Uganda. In this new solo theater work, Kristina Wong tells the story of how she – a not-so-white savior – became a hip hop star in Northern Uganda.
P
URPLE CLOUD
Written by Jessica Huang & Directed by Randy Reyes
Mu Performing Arts
In Purple Cloud, three generations of Huangs deal with the many facets of their multiracial identities as they embark on a mythical journey from China to Minneapolis and back again — accompanied by four Jade pieces along the way. Through three intertwining stories, the Huang family navigates through the messy and beautiful business of acculturation.