2 Chinese-American Vets
For Veteran's Day, Dmae presents two stories of Chinese-American vets from different American wars. First up she talks with Eddie Fung, a WWII vet who was forced to work hard labor in  Japanese POW camp and helped to build the famed "Bridge on the River Kwai." We'll hear about his memoir written with his editor (and wife) historian/author Judy Yung. And then in the latter prat of the show we'll hear about Thomas Sylvanus, (Ah Yee Way) who fought during the U.S. Civil War. Author Ruthanne Lum McCunn has written poetic biography of this American veteran.
(Airs Nov. 8th on KBOO 90.7FM or always on stagenstudio.com and always on iTunes)
Featured music by Erling Jan Sorensen performing Lorena. Find out more at https://www.youtube.com/watch?v=04LZL8H4-SU and http://www.erlingmusic.dk.
The Adventures of Eddie Fung: Chinatown Kid, Texas Cowboy, Prisoner of War 
Eddie Fung has the distinction of being the only Chinese American soldier to be captured by the Japanese during World War II. He was then put to work on the Burma-Siam railroad, made famous by the film The Bridge on the River Kwai. In his moving and unforgettable memoir written with his wife,historian/author Judy Yung, Eddie tells how his childhood in San Francisco's Chinatown and young manhood as a Texas cowboy helped him survive.
____________________________________________________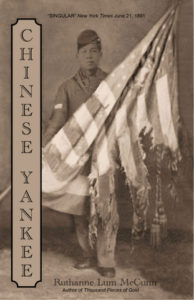 Chinese Yankee – A True Story from the U.S. Civil War
Chinese Yankee by Ruthanne Lum McCunn  (author of Thousand Pieces of Gold) tells the true story of Hong Kong born Thomas Sylvanus (Ah Yee Way), an orphan brought to America for schooling in the mid-1850s, but enslaved in Baltimore.
Only sixteen at the outbreak of war, Thomas ran north, joined the Freedom Army, and was blinded in the first major campaign. He failed to fully recover his sight and, deemed incapable of performing the duties of a soldier, was discharged. Yet he reenlisted twice, saved his regiment's colors during the bloodbath of Spotsylvania, was lamed at Cold Harbor, and survived 9 months imprisonment in the dreaded Andersonville stockade. His health broken, but his spirit intact, he battled for survival and justice for his family and himself until his death in 1891.
___________________________________________________________________________
See an excerpt of Eddie Fung's book reading.