Black Nativity
Dmae speaks with artistic director Jerry Foster and cast member Laurene CoCo Jackson of PassinArt: A Theatre Company about their upcoming performances of the Gospel play Black Nativity, December 2nd to December 18th. We'll hear about the history of this Langston Hughes works for the holiday season.
(Aired Nov. 15th on KBOO 90.7 FM or always on stagenstudio.com and always on  iTunes)
Podcast: Play in new window | Download

PassinArt: A Theatre Company brings back Black Nativity, their holiday show, for two weeks only, December 2nd to December 18th.  Originally produced off-Broadway in 1961, Black Nativity is Langston Hughe' self-described "gospel song play."
Black Nativity uses a cultural lens to retell the classic holiday Biblical story through scripture, interpretive dance and singing—roof-raising, awe-inspiring singing.  Traditional holiday favorites like "Come All Ye Faithful" and "Hark the Herald Angels Sing" are joined by gospel tunes like "There's a Meeting Here Tonight" and folk spirituals like "Go Tell It on the Mountain."
http://www.passinart.net/news/category/Black-Nativity
Black Nativity first featured famed dancer Alvin Ailey when it was originally called Wasn't It a Mighty Day?  Since then the musical play has been performed internationally Spoleto Festival of Two Worlds in Italy and annually for many years in cities such as Boston and Seattle. According to PassinArt, the plays is performed "as an opportunity to build bridges across Portland communities during the season of brotherhood and peace."
PassinArt: A Theatre Company presents…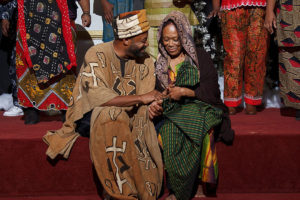 Black Nativity by Langston Hughes
Directed by Jerry Foster
All shows are at the Greater St. Stephens Missionary Baptist Church, 3605 NE Mallory Ave., Portland  For Tickets, visit this link: http://www.passinart.net/black-nativity
More Info: PassinArt: A Theatre Company is an African American producing theatre company whose mission is to entertain, educate, and inspire artists and audiences while addressing critical issues facing our community; and to celebrate our history and culture.