A Civil War Christmas
Dmae talks with three stellar actors, Susanna Mars, Ayanna Berkshire and John San Nicolas  from Artists Repertory Theatre's A CIVIL WAR CHRISTMAS. The show runs  November 22, 2016 – December 23, 2016 and features a diverse cast and music adaptations from top-notch contemporary musicians
(Airs Nov. 22nd on KBOO 90.7 FM or always on stagenstudio.com and always on  iTunes)
Podcast: Play in new window | Download
Artists Repertory Theatre and Staged! presents…
A CIVIL WAR CHRISTMAS: AN AMERICAN MUSICAL CELEBRATION
By Paula Vogel, Pulitzer Prize-winning playwright.
Original score by Daryl Waters
Directed by Paul Angelo
Music Directed by Andrew Bray
A collaboration with Staged!
November 22, 2016 – December 23, 2016
Alder Stage
More Info: Staged! Resident Artists/faculty members PAUL ANGELO (Director), ANDREW BRAY (Musical Director), and KRISTEN MUN (Movement Director) are at the helm of this Northwest premiere.
Set during a time when the country is divided by conflicting ideologies and convictions following a contentious presidential election, Vogel's sweeping, music-rich story plays out one frigid Christmas Eve on the banks of the Potomac River. Amid the hubbub of holiday preparations, an array of abolitionists and assassins, slaves and freemen, Union and Confederate soldiers, along with President Lincoln and Mary Todd, all pursue their paths to liberation. Propelled by traditional American songs, marches and spirituals — all revitalized for this production by luminary Portland musicians — Artists Rep says "A CIVIL WAR CHRISTMAS is a lively reminder for people of all beliefs about humanity's potential for compassion, reconciliation and hope."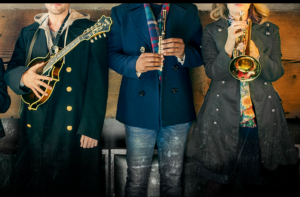 RUN TIME: approximately 2 hours with one 15 minute intermission.
Best-suited for school-age children and up. Children under 5 are not allowed.
The production features the new and stylistically diverse arrangements of luminary Portland musicians Darrell Grant, Holcombe Waller, Mark and LaRhonda Steele, Okaidja Afroso, Edna Vázquez, James Beaton and Brian Adrian Koch of Blitzen Trapper. Click HERE to see a full song list of the newly arranged compositions of the period songs in the play.
These Makers from Art Design Portland (ADX) and Portland Apparel Lab (PAL) created pieces for A CIVIL WAR CHRISTMAS:
Dawn Moothart, Textile Artist, Portland Apparel Lab (fabric backdrop and sliding curtains)
Thomas Phillips, ADX Director of Fabrication (Piano/Harp)
Bill Wessinger, ADX Fabrication Technician (Piano/Harp)
Rio Wrenn, Textile Artist, RAW Textiles, (fabric backdrop and sliding curtains)