Nisi Shawl's Everfair
Dmae Roberts talks with  Seattle author Nisi Shawl whose new epic debut novel combines narratives from Belgium, Great Britain, the Congo  and an imaginary utopia called Everfair in a neo-Victorian novel with steampunk elements of airships. With depth lyrical prose, compelling characters and stories steeped with rich history, Everfair spans 1889-1919 while looking at Western colonialism, African independence and complex racial relationships.
(Aired 11am Tues 12/13/16 on KBOO.FM and StagenStudio.com)
Podcast: Play in new window | Download
You can hear Stage & Studio on: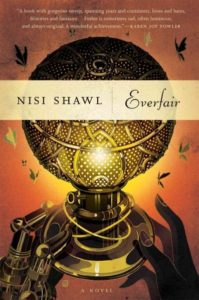 Everfair is Nisi Shawls debut novel, a  Neo-Victorian alternate history novel that explores the question of what might have come of Belgium's disastrous colonization of the Congo if the native populations had learned about steam technology a bit earlier. Fabian Socialists from Great Britian join forces with African-American missionaries to purchase land from the Belgian Congo's "owner," King Leopold II.
This land, named Everfair, is set aside as a safe haven, an imaginary Utopia for native populations of the Congo as well as escaped slaves returning from America and other places where African natives were being mistreated.
Everfair is told from a multiplicity of voices: Africans, Europeans, East Asians, and African Americans in complex relationships with one another, in a compelling range of voices that have historically been silenced.
Nisi Shawl is a writer of science fiction and fantasy short stories and a journalist. She is the co-author (with Cynthia Ward) of Writing the Other: Bridging Cultural Differences for Successful Fiction.
Her short stories have appeared in Asimov's SF Magazine, Strange Horizons, and numerous other magazines and anthologies. Shawl is a member of the Science Fiction Writers of America and a 1992 graduate of the Clarion West Writers Workshop. She is a board member of Clarion West and one of the founders of the Carl Brandon Society. Her stories have been shortlisted for the Theodore Sturgeon Award, the Gaylactic Spectrum Award, and the Carl Brandon Society Parallax Award, and Writing the Other received special mention for the James Tiptree, Jr. Award. In 2008, she won the James Tiptree, Jr. Award for Filter House,which was also shortlisted for a World Fantasy Award. In 2009 hernovella "Good Boy" was additionally nominated for a World Fantasy Award.