La Belle
Dmae features the most ambitious Imago show in their theatre, La Belle, Lost in the World of the Automaton. We'll hear from Carol Triffle and Jerry Muoawad about their largest show more than three years. Much lauded since opening, La Belle has delivered an artful collaboration based on an 1740 novel by French writer Gabrielle-Suzanne Barbot de Villeneuve. Imago's artists include composers Elissa and Amanda Payne as well as puppetry and automatons created by fabrication director Lance Woolen and mechanical engineer Roger Nelson. On this episode, you can hear two original songs sung life by actors Jim Vadala and Justine Davis. 
(Aired 11am LIVE on Dec. 6th  on KBOO 90.7 FM or always on stagenstudio.com and always on  iTunes)
Podcast: Play in new window | Download
LA BELLE
LOST IN THE WORLD OF THE AUTOMATON
HOLIDAY FAMILY SPECTACLE!
DEC 9, 2016 to Jan 8, 2017
TICKETS: Imago Theatre Call at 503.231.9581 or TicketsWest.com 503.224.8499
More info:Â http://www.imagotheatre.com/
MEZZANINE
$19.50 Kids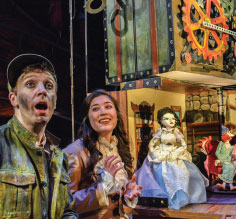 $32.50 Youth/Senior
$37.50 Adults
ORCHESTRA
$24.50 Kids
$37.50 Youth/Senior
$42.50 Adults
Written, Designed and Created by Jerry Mouawad & Carol Triffle; Starring Jim Vadala & Justine Davis; Co-Writer & Verse Devin Stinson; Director of Fabrication Lance Woolen; Fabricators Erin Chmela, Bruce Bowman, Bryan McIntyre; Original Music Amanda & Alyssa Payne, Lydia Ooghe; Mechanical Engineer Roger Nelson; Wood Mechanics Brad Saby; Painters Tim Smith, Elecia Beebe.
More on La Belle: Creators Carol Triffle and Jerry Mouawad, Artistic Directors of Imago, began to adapt Beauty and the Beast in 2013. Imago will premiere their adaptation La Belle, Lost in the World of the Automaton December 9 through January 8 at Imago Theatre, 17 SE 8th.
The company's adaptation is based on the original novel written by French writer Gabrielle-Suzanne Barbot de Villeneuve, published in 1740. Her lengthy version was abridged, rewritten, and published by Jeanne-Marie Leprince de Beaumont in 1756. It is Beaumont's version that was primarily used as inspiration for the plays and films of Beauty and the Beast in the 20th century. Imago has returned to the original version for their inspiration for La Belle.
Triffle and Mouawad have taken the story and wrapped it inside a second story set in a 1920s engine room on a steamship sailing on waters somewhere off the coast of Europe. Only two human characters appear, Lady Rose (Justine Davis) and Sam Stoker (Jim Vadala), yet a multitude of puppets, shadows and effects are at the center of the work. Imago created FROGZ, which toured worldwide for over 35 years. "After so many years of mask theatre, it was time for us to take a stab at another genre," says Mouawad.
La Belle's set is a giant ship that is a kinetic playground for the company, and that means a lot of playing. Water wheels turn, giant stacks pump and whistles chirp. Puppets magically appear from holes in the hull and reveal back stories of curses and spells brought on by good and evil fairies. Imago has challenged itself by trying to incorporate the art of the automata – little figurines brought to life with clockwork mechanics. In Imago's play, the automatons have been built by Sam Stoker "from things left behind" by the vacationers on the steamship. Complicated gear systems were created by Lance Woolen, Director of Fabrication, and Roger Nelson, Mechanical Engineer. Think Willy Wonka and the Chocolate Factory, The Wizard of Oz, Steamboat Willy and Beauty and the Beast and you come close to what Imago is mashing up with La Belle.
A giant steamer trunk that winds up and becomes a large music box is home to Belle, her foster father and, of course, three wicked sisters. The show uses real and faux automata. "By faux we mean that it is meant to be taken as a real automaton, but it is actually operated by two hidden puppeteers," says Triffle. The puppeteers Erin Chmela and Lance Woolen joined the project in early 2015 and worked with a team to create the array of characters designed by Mouawad and Triffle.
From the Creators of the play: "When we wrote the script, we were quite ambitious. Reality set in after we postponed the show twice and realized how complex the execution was going to be. It's quite a large project for little Imago. The title has the word automaton in it, but many of the more engaging puppets are brought to life without mechanics. Relying on mechanics alone proved to be too stiff and, as the play develops, we leave the world of the automaton," says Mouawad. Lady Rose, a vacationer on the ship, discovers Sam Stoker and his engine room when she escapes a storm. Enamored by the myriad of magical effects Sam has created, Lady Rose soon joins him to play out the story of La Belle et la Bête. Ultimately, Sam and Rose parallel Belle and the Beast and fall in love.
"I don't think we've left any genre behind that we have not romped in – comedic and dramatic theatre, movement, mask, puppetry, shadow theatre, song and experimentation. Imago commissioned three composers—Amanda and Alyssa Payne with their trip-hop sound, and Lydia Ooghe who wrote the opening and closing songs that have a ragtime feel. The creators co-wrote the script with Devin Stinson who is a hip hop artist and contributed verse to the text.
"Our goal is to create a moment-by-moment visual playground, keeping the young ones engaged while taking older ones and adults on a visceral and romantic journey. Despite it being a big and long journey for Imago, we hope the show is enchanting and quaint." – Triffle/Mouawad .