Tea Girl of Hummmingbird Lane
Dmae welcomes back NY Times best-selling author Lisa See who has just released her new book The Tea Girl of Hummingbird Lane. Lisa See spends a couple of years researching and writing her books. Since Dmae spoke with her in 2014, the author has been researching the Akha, an ethnic people  in the Yunnan region of China and the famed tea they have been growing for centuries. Lisa See has written a powerful book focusing on the Akha, the healing traditions of Pu'er tea and a mother's search for the child she had given up to adoption because of her village's cultural traditions.
Lisa See will be reading from her new book at Powell's Books at Cedar Hills Crossing, Wed., 7pm at 3415 SW Cedar Hills, Beaverton, OR 97005 . More info at http://www.powells.com/
Podcast: Play in new window | Download
(Aired 4/11/17 on KBOO 90.7FM or always on stagenstudio.com and always on  iTunes)
More about the book:
The Tea Girl of Hummingbird Lane, (Scribner, March 21, 2017), a new novel by New York Times bestselling author Lisa See, and the first novel by See to be published by Scribner. See's previous books, including China Dolls, Dreams of Joy, and Snow Flower and the Secret Fan, have been celebrated for their authentic, deeply researched, lyrical stories about Chinese characters and cultures;
The Tea Girl of Hummingbird Lane explores the bonds between a Chinese woman from the Akha ethnic minority and the daughter she gives up for adoption.
Li-yan and her family align their lives around the seasons and the farming of tea in their remote Yunnan village. There is ritual and routine, as there has been for generations. When Li-Yan has a baby outside of wedlock, rather than stand by tradition and kill her daughter (which Akha custom deems "a human reject"), she wraps the baby girl in a blanket, with a tea cake hidden in her swaddling, and takes a perilous journey to the nearest city. There, although devastated, she abandons the infant, hoping someone else can care for her.
Li-yan slowly emerges from her grief and begins to look beyond the security and insularity of her village. As she encounters modern life, her daughter Haley grows up a privileged and well-loved California girl. Despite Haley's happy home life, she wonders about her origins, and Li-yan longs for her lost daughter. They both search for and find answers in the tea that has shaped their family's destiny for generations.
See, who grew up in a large Chinese-American family in Los Angeles, incorporates impressive research on international adoption; the history of the Akha people in China; and Pu'er tea farming and customs to tell a powerful story about a family separated by circumstances, culture, and distance. The Tea Girl of Hummingbird Lane paints an unforgettable portrait of a little known region and its people and celebrates the bond that connects mothers and daughters.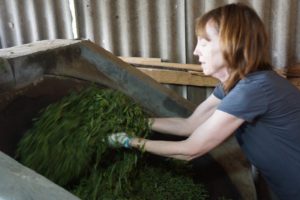 About the author:  Lisa See is the New York Times bestselling author of The Tea Girl of Hummingbird Lane, Snow Flower and the Secret Fan, Peony in Love, Shanghai Girls, China Dolls, and Dreams of Joy, which debuted at #1. Ms. See is also the author of On Gold Mountain, which tells the story of her Chinese American family's settlement in Los Angeles. Ms. See was honored as National Woman of the Year by the Organization of Chinese American Women in 2001 and was the recipient of the Chinese American Museum's History Makers Award in fall 2003.
See photos and links about Lisa See's research with the Akha people and the tea they painstakingly grow:Â http://www.lisasee.com/insideteagirl/
Hear Akha girls singing:Â https://www.youtube.com/watch?v=87Rjjqlo3YQ