Two World Premieres
Dmae talks with director Rose Riordan about the world premiere play Lauren Weedman Doesn't Live Here Anymore at Portland Center Stage at the Armory through April 30th. Always personal and funny, Weedman turns life's pain into memorable stories and this time songs as she takes on the alter ego of a country singer named Tami Lisa. Hear her previous Stage & Studio interview about her book Miss Fortune. We'll also talk with Wayne Harrel of Northwest Theatre Workshop's world premiere plays Jaffa Gate  and Noisemaker by Ciji Guerin.
(Aired 4/4/17 on KBOO 90.7FM or always on stagenstudio.com and always on  iTunes)
Podcast: Play in new window | Download
Lauren Weedman Doesn't Live Here Anymore
A World Premiere By Lauren Weedman
Directed by Rose Riordan
Runs through April 30, 2017
Performance Times:
Evenings: Tuesday – Sunday at 7:30 p.m.*
Matinees: Saturday and Sundays at 2 p.m.,
Thursdays at noon*
*Note: These are general performance times. Certain productions may have exceptions. View the season calendar for more information.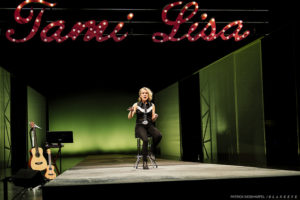 Synopsis: What do you do when your heart is broken? When your world seems to be falling apart, one frustration at a time. Grab a guitar, hitch up your jeans, and sing about it! From the star of HBO's Looking and The People's Republic of Portland at The Armory, Lauren Weedman (and her alter ego Tami Lisa) are ready to take you on a journey of heartbreak, laughter and fresh starts. Lauren will be joined by a band of fine musicians; and we're pretty sure her hair will be bigger than ever. Run Time: Approximately 80 minutes; no intermission. Note: Recommended for ages 17 and up. Contains mature content, explicit language, strobe-like effects and adult situations. Children under 6 are not permitted at any production.
Check out Dmae's previous interview about Weedman's book Miss Fortune.
 ____________________________________________________________________
Northwest Theatre Workshop presents
Jaffa Gate by Wayne Harrel, directed by Eric Lyness and Noisemaker by Ciji Guerin, directed by Michelle Seaton.  Shows run through April 8th  Thursday-Saturday evenings, plus weekend matinees and late nights.
JAFFA GATE plays Friday 7:00 p.m.
Saturday 4:00 p.m. and 9:30 p.m.
And
NOISEMAKER plays Thursday 7:00 p.m.
Saturday 1:00 p.m. and 7:00 p.m.
More info at nwtw.org.
All shows are at Shaking The Tree Warehouse Theatre at 823 SE Grant Street in Portland.