3 Indigenous playwrights
Dmae features three Indigenous, female playwrights whose plays are being produced by the three top theatre companies in Oregon this spring. We'll hear about Manahatta by Mary Kathryn Nagle (Cherokee) at Oregon Shakespeare Festival Mar. 28 – Oct. 27. And we'll feature in-studio guests DeLanna Studi (Cherokee) who will talk about her play And So We Walked at Portland Center Stage at the Armory running through May 13 and Larissa FastHorse (Sicangu Lakota) who will preview and preview and premiere her new work The Thanksgiving Play at Artists Repertory Theatre on Apr. 1 – Apr. 29.
(Aired 11am 4/3/18 on KBOO 90.7 FM or always on stagenstudio.com and always on  iTunes)
Podcast: Play in new window | Download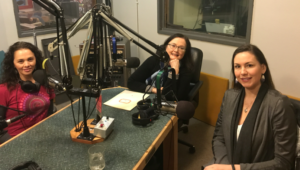 An historic convergence of award-winning, distinguished playwrights will have a panel discussions around Portland this week.
April 9 at 7:30pm – RESPONSIBILITY TO REPRESENT Panel Discussion
with Larissa FastHorse (Sicangu Lakota), Mary Kathryn Nagle (Cherokee) and DeLanna Studi (Cherokee)
Held at: Native American Youth and Family Center (NAYA)
5135 NE Columbia Blvd, Portland OR 97218
Moderated by Alyssa Macy (Confederated Tribes of Warm Springs)
Presented by Artists Repertory Theatre. Sponsored by NAYA.
Full panel schedule listed below. More information attached.
And
SOCIAL JUSTICE: Telling Native stories to re-humanize Native people
moderated by Jacqueline Keeler
Monday, April 9, 2 – 4 p.m. at the Old Church Concert Hall (1422 SW 11th Ave, 97201)
Presented by Advance Gender Equity in the Arts
And
Tuesday, April 10 at 5:30 PM - 6:30 PM at Portland Center Stage.
Moderated by Managing Director Cynthia Fuhrman, the panel will discuss women's voices on stage as a national theater movement — how did we get here and what are the challenges still ahead?
More about the playwrights and the plays:Â 
Larissa FastHorse (Sicangu Lakota) is an award winning playwright, director and choreographer.  Larissa's produced plays include What Would Crazy Horse Do? (KCRep, Relative Theatrics), Urban Rez (Cornerstone Theater Company, ASU Gammage, NEFA National tour 2019-20), Landless and Cow Pie Bingo (AlterTheater), Average Family (Children's Theater Company of Minneapolis), Teaching Disco Squaredancing to Our Elders: a Class Presentation (Native Voices at the Autry), Vanishing Point (Eagle Project) and Cherokee Family Reunion (Mountainside Theater).  Larissa directed the critically acclaimed play, Our Voices Will Be Heard (Perseverance Theater Company) and is developing several new projects to direct with an emphasis on cross cultural community engaged work between Indigenous nations. Larissa won the PEN USA Literary Award for Drama, NEA Distinguished New Play Grant, Joe Dowling Annamaghkerrig Fellowship, AATE Distinguished Play Award, Inge Residency, Sundance/Ford Foundation Fellowship, Aurand Harris Fellowship, the UCLA Native American Woman of the Year and numerous Ford, Mellon and NEA Grants.   She is a proud officer of the Board of Directors for TCG and represented by Jonathan Mills, Paradigm NY  www.hoganhorsestudio.com
THE THANKSGIVING PLAY
by Larissa FastHorse (Sicangu Lakota)
World Premiere. Table|Room|Stage Commission.
WHO: Artists Repertory Theatre
WHAT: THE THANKSGIVING PLAY
by Larissa FastHorse (Sicangu Lakota)
Directed by Luan Schooler
WHEN: April 1 – April 29, 2018
Preview Performances: April 1, 3, 4, 5, 6
Opening Night/Press Night: Saturday, April 7 @ 7:30pm
Regular run April 1 through April 29: Wed-Sun @ 7:30pm, Sun @ 2pm
Artists Repertory Theatre, Morrison Stage, 1515 SW Morrison St., Portland
TICKETS: $50 regular price; $25 preview/student/under 25
Buy Tickets: 503.241.1278 or online. More info:Â https://www.artistsrep.org/onstage/201718-season/the-thanksgiving-play/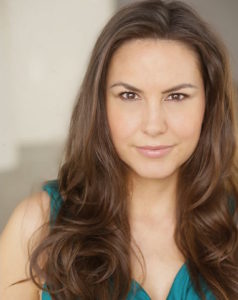 DeLanna Studi (Cherokee) is originally from Liberty, Oklahoma. As an actor, her theater credits include Off-Broadway's Informed Consent at the Duke Theater on 42nd Street, major Regional Theaters (Oregon Shakespeare Festival, Portland Center Stage, Cornerstone, and Indiana Repertory Theater), the First National Broadway Tour of Tony Award and Pulitzer Prize winning play August: Osage County, and numerous community settings across Indian Country. DeLanna has originated roles in over seventeen World Premieres including fourteen Native productions written about and by Natives. DeLanna has toured for over ten years (with over 800 performances) in the Encompass "Compassion Play" KICK, a one-person show, written by Peter Howard, which explores the power of images, stereotypes, and Native American mascots. Her television roles in the Hallmark/ABC mini-series Dreamkeeper and Chris Eyre's Edge of America have won her numerous awards. She has been an ensemble member of America's only Equity Native American Theater Company Native Voices at the Autry for over 15 years. She has served her community for over eight years as the chair of SAG-AFTRA's National Native Committee, where under her leadership they have produced an award-winning industrial film about American Indians in the entertainment industry and have created a "Business of Acting" workshop that tours Indian Country. Her greatest achievement is helping other artists create their own stories, especially Native youth. She has been a mentor for the Mentor Artist Playwright Program, Young Native Playwrights, and the American Indian Film Institute's Tribal Touring Program.
ABOUT THE PLAY
And So We Walked: An Artist's Journey Along the Trail of Tears is a frank, funny and sometimes misguided story of a contemporary Cherokee woman who goes on a six-week, 900-mile journey with her father along the Trail of Tears in search of her heroic self. The journey retraces the path from North Carolina to Oklahoma that her great-great grandparents took in the 1830s during the forced relocation of 17,000 Cherokee from their homelands, during which as many as 6,000 perished along the way. Through this personal odyssey, her sense of identity — both as a Cherokee and as a woman — is tested by the people and places she encounters. This multi-faceted dramatic memoir draws on extraordinary interviews, historical research, and the artist's personal experiences to convey the complexities and conflicts with which the Cherokee wrestle.
Runs through May 13, 2018*
Evenings: Tuesday – Sunday at 7:30 p.m.*
Matinees: Saturday and Sundays at 2 p.m.,
Some Thursdays at noon
Where: In the Ellyn Bye Studio at The Armory
128 NW Eleventh Ave., Portland, Ore., 97209.  More Info: www.pcs.org/walked
Mary Kathryn Nagle (Cherokee) is an enrolled citizen of the Cherokee Nation. She currently serves as the Executive Director of the Yale IndigenousPerforming Arts Program. She is also a partner at Pipestem Law, P.C., where she works to protect tribal sovereignty and the inherent right of Indian Nations to protect their women and children from domestic violence and sexual assault. Nagle has authored numerous briefs in federal appellate courts, including the United States Supreme Court. Nagle studied theater and social justice at Georgetown University as an undergraduate student, and received her J.D. from Tulane Law School where she graduated summe cum laude and received the John Minor Wisdom Award. Nagle is an alumn of the 2012 PUBLIC THEATER Emerging Writers Group, where she developed her play Manahatta in PUBLIC STUDIO (May 2014). Productions include Miss Lead (Amerinda, 59E59, January 2014), and Fairly Traceable (Native Voices at the Autry, March 2017). Upcoming productions include Arena Stage's world premiere of Sovereignty, and Oregon Shakespeare Festival's world premiere of Manahatta. Both are scheduled for 2018. In 2019, the Rose Theater (Omaha, NE) will produce her new play Return to Niobrara. Nagle has received commissions from Arena Stage (Sovereignty), the Rose Theater (Return to Niobrara, Omaha, Nebraska), Portland Center Stage (Mnisose), Denver Center for the Performing Arts, and Yale Repertory Theatre. Nagle's Manahatta received a 2017 Edgerton Foundation New Play Award for the Oregon Shakespeare Festival world premiere production.
Manahatta
By Mary Kathryn Nagle Directed by Laurie Woolery World Premiere
Runs through October 27, 2018 at the Thomas Theatre of Oregon Shakespeare Festival. For tickets visit:Â https://www.osfashland.org/productions/2018-plays/manahatta.aspx
Manhatta is a timely world-premiere drama by celebrated playwright, activist and attorney Mary Kathryn Nagle, past and present intertwine. Nagle's story illuminates the tragic consequences of commercial exploits, including the removal of Native American people and the attempted eradication of their culture, that gave rise to the America we know today. Securities trader Jane Snake is torn between worlds. Her return to Wall Street in 2008 brings her to Manahatta ("island of many hills" in Lenape), the homeland her Native American ancestors were violently forced to leave in the 1600s. Meanwhile, her family in Oklahoma struggles to save their language, their culture and their over-mortgaged home. Jane Snake's return to Manahatta defiantly demonstrates that the Lenape are still here. Directed by Laurie Woolery (The River Bride).
Length: Approximately 95 minutes with no intermission