Rajneeshpuram: What Price Paradise?
Dmae presents Rajneeshpuram: What Price Paradise? her very first full-length radio documentary produced in 1986 that she thought she had lost forever. Thanks to KBOO's archive project and archivist Selena Chau, it has been found! Hear the broadcast of this historic documentary complete with original archival recordings of the Baghwan Shree Rajneesh, Ma Anand Sheela and many Rajneeshees and Wasco County residents recorded during the 1980s by radio reporters Tom Goldman, Tony Brooks, Mark Roberts and Jas Saud. This documentary also includes an interview with Jeannie Senior of The Oregonian who wrote many news stories about Rajneeshpuram.
(Airs 11am 4/10/18 on KBOO 90.7 FM or always on stagenstudio.com and always on  iTunes)
Backstory: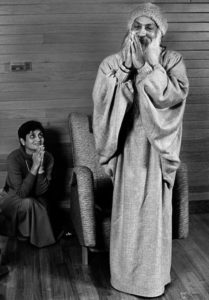 In 1986, Dmae Roberts produced her first one-hour documentary fresh out of college as she began her career as a freelance producer. She pitched a big idea: to document the decline and fall of the  experimental commune of Rajneeshpuram.  She wrote a wrote a proposal and received a National Public Radio's Satellite Program Development Fund grant from the Corporation for Public Broadcasting to produce the documentary. The now defunct SPDF gave a lot of independent producers their first start. This was a daunting project for a newbie producer attempting her first full-length documentary.
Thanks to the archival tape recorded by radio reporters, Tom Goldman, Tony Brooks, Mark Roberts, Jas Saud, this documentary is now a document from the 1980s that captured a unique time in Oregon history. This one-hour documentary also includes interviews with Oregonian reporter Jeanie Senior who covered the growing saga of the Rajneeshees from the very beginning when they first came to Antelope, Oregon and collided with the residents and the state.
Though she got her journalism degree at the University of Oregon, it was at community station KLCC in Eugene where she got her real radio journalism  training.  With her first engineer and co-producer Ron Royer with original music by Trey Gunn and narrated by Bill Douglas, Rajneeshpuram: What Price Paradise? is a one-of-a-kind document of this failed commune. It's  full of  archival recordings that made headlines–the busing in of homeless, voter fraud, salmonella outbreak and the verbal conflicts between Ma Anand Sheela and the townspeople of Antelope.
But the recovery and broadcast of this documetmentary would not have been possible with KBOO's archival project and and its archival consultant Selena Chau. Dmae  had given up on finding the original reel-to-reel master of her first documentary. After more than three decades and many moves from Eugene to Portland, I searched and searched all the tape reels in the boxes in my basement, and had resigned myself it was forever lost. Then Selena emailed her me saying she had found it from the KBOO broadcast archives from 1986.