Invisible Spectrum + Angel Island
Dmae presents Elina Lim, creator of Invisible Spectrum Stories, a show with storytellers of color sharing their stories. Lim first began this storytelling series after experiences as the only Person of Color in other storytelling shows. She started Invisible Spectrum to create opportunities for PoC storytellers. And in the later part of the show, Dmae re-airs her story about the Angel Island Immigration Station in San Francisco, a radio piece that was part of the Peabody-winning Crossing East series.   Angel Island was a detention center that focused mostly on Asians trying to immigrate to America and who faced unfair exclusionary laws that mirror the current tragic events of detention and criminalizing of immigrants today. 
(Aired 11am 6/12/18 on KBOO 90.7 FM or always on stagenstudio.com and always on  iTunes)
Podcast: Play in new window | Download
Invisible Spectrum Stories 2018 presents four storytelling shows, the first kicking off during Pride month, featuring storytellers from their community workshop as well as LGBTQ storytellers. Invisible Spectrum stories main mission is to focus on storytellers of color in Portland.
This year their theme is IDENTITY. Claiming it back. Finding it. Discovering it. Seeing it from the other side. Seeing someone else's identity. Who are we. And choosing this is who I am.  Invisible Spectrum Stories  states they believe in the power of reclaiming a person's truth through storytelling and the power in sitting down to witness another person's truth. 
Show: Doors 7pm, Show 8pm. Ticket price: $10 .The next show is at the Secret Society at https://secretsociety.net/  
To purchase tickets visit:  https://www.ticketfly.com/purchase/event/1692310?utm_medium=api
If you'd like to tell a story at one of our next events, Invisible Spectrum accepts pitches at their website:  http://invisiblespectrumstories.com/contact/
Future event dates are: August 20, October 22 and December 17.
__
More about Angel Island from the Crossing East series.  
From 1892 to 1924, 20 million immigrants were welcomed to America  through Ellis Island of New York City. But on the other side of the country, at the Angel Island Immigration Station in San Francisco Bay, thousands of immigrants faced detention for weeks and months.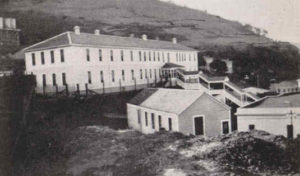 From 1910-1940, during the time that the Angel Island Immigration Station was in operation, Asian immigrants were locked up in stark barracks and many endured lengthy interrogations by officials.  This was not the welcome most had envisioned.   
More about the Angel island Immigration Station: https://www.aiisf.org/