Vera Starbard + Our Voices
Dmae features Alaska Native Playwright Vera Starbard and her play Our Voices Will Be Heard that was first produced at Perseverance Theatre and adapted into a radio play by Native Voice One. The play focuses on the journey of a mother and daughter and infuses Alaska Native storytelling traditions to tell a story of childhood sexual abuse. We'll hear an interview with Vera Starbard she Dmae recorded at KNBA in Anchorage and a clip from the radio play. The following week on June 27th 11am-noon, you'll hear the full 59-min. play on Stage & Studio. Thanks to Loren Dixon of KNBA & Rasmuson Foundation for making it possible for this interview opportunity.
Podcast: Play in new window | Download
(Aired 11am 6/19/18 on KBOO 90.7 FM or always on stagenstudio.com and always on  iTunes)
(Radio play airs 11am-noon  6/26/18 on KBOO 90.7 FM or always on stagenstudio.com and always on  iTunes)
Author: Vera Starbard was born in Craig, Alaska with an Alaska Native heritage (Tlingit and Dena'ina Athabascan.)  She was editor of the Anchorage Native News for six years, and was a contributor to the University of Alaska Anchorage's Book of the Year, "Alaska's Native People: A Call to Understanding." She completed a historical fiction book in 2010 with an Individual Artist Award from the Rasmuson Foundation, and has received numerous awards for writing and editing from the Public Relations Society of America, Alaska Professional Communicator's Society, Alaska Press Club, and the Alaska Federation of Natives.
Vera Starbard is currently the Editor of First Alaskans Magazine, and owner of Writing Raven Communications. She, along with her husband Joe Bedard and three playwrights from the Alaska Native Playwright Project, founded an Alaska Native theatre company called Dark Winter Productions in 2013. She is also a founding member of the Alaska Native Media Group.
Vera's play, "Our Voices Will Be Heard," had its World Premiere in January 2016 with Perseverance Theatre. It was seen in Juneau, Hoonah, and Anchorage. In October 2016, it had special partially-staged readings in Fairbanks during the 50th Anniversary of the Alaska Federation of Natives Convention. In 2016, Vera was selected for the Andrew W. Mellon Foundation's National Playwright Residency Program. It is a three-year salaried residency with Perseverance Theatre, in which she will write three new, full-length Alaska Native plays.
From Theatre to Radio:Â Â Our Voices Will Be Heard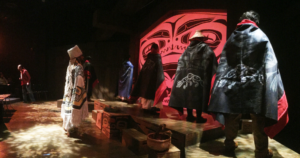 Our Voices Will Be Heard is a 59-min radio theater adaptation of a play  written by Tlingit/Dena'ina Athabascan writer Vera Starbard and directed by Larissa Fasthorse. This play is a powerful mother-daughter journey revealing how generations face the choice of continuing to perpetuate – or disrupt – childhood sexual abuse. This play is distributed by Native Voice One.
Through the lens of fiction, and the palette of Alaska Native Storytelling, Our Voices Will Be Heard weaves together legend and truth in a fierce call for healing and forgiveness.
In 2016, the play Our Voices Will Be Heard had its world premiere in Juneau, Alaska, at Perseverance Theatre, followed by performances in Hoonah, Alaska, and Anchorage, Alaska at the Performing Arts Center, Sydney Laurence Theater.
The play began as a short story Starbard wrote when she was 18 years old, an allegory about the sexual abuse she had experienced at the hands of her uncle, and the journey she and her mother took. The story was called "The Eyes of Love."
Over a decade later, Vera was accepted into the Alaska Native Playwright Project through the Alaska Native Heritage Center. She chose to turn "The Eyes of Love" into a play, but this time look at the story from her mother's perspective. The setting was a 19th century Tlingit village, and Vera was inspired by the Tlingit stories her mother told her growing up to weave in and out of the play.
After an initial reading at the Alaska Native Heritage Center in 2013, the play was accepted into a workshop through Native Voices at the Autry. In 2014, Vera spent 10 days in Los Angeles workshoppping the play with Native Voices, followed by readings at The Autry in Los Angeles, and the La Jolla Playhouse in San Diego.
Perseverance Theatre began to look at the play for production, and brought Vera to Juneau for the first reading in Southeast Alaska, where the play is set. Perseverance then did a reading at the Lark Play Development Center in New York City, and started getting ready for production.
In 2015, Our Voices Will Be Heard was selected for an honorable mention on The Kilroy List, a list of plays from across the nation highlighting female authors.