Milagro's 35th Season
Dmae talks with Roy Arauz, producing creative director of Milagro Theatre. We'll find out about thier world premiere show ¡Alebrijes! a Día de Muerto Tale written and directed by Georgina H.L Escobar  We'll also find out more about the rest of their 35th season.
(Aired 11am 10/23/18 on KBOO 90.7 FM or always on stagenstudio.com and always on  iTunes)
Podcast: Play in new window | Download
Milagro presents the World Premiere of…
¡Alebrijes! a Día de Muerto Tale
Written and directed by Georgina H.L Escobar
Milagro kicks off their 35th season with the world premiere of ¡Alebrijes!. It's their 23rd Día de Muertos celebration and production at Milagro Theatre.
The show runs through November 11, 2018
Thursday – Saturday at 7:30 PM, Sunday at 2 PM
All shows at: Milagro Theatre, 525 SE Stark Street, Portland, OR, 97214
Adult tickets are $27 in advance, $32 at the door.
Discount for students, seniors, veterans, groups 15+, and with the Oregon Trail card through the Arts for All program.
Senior tickets are $25 in Advance, $30 at the door.
Student/ Veteran tickets are $20 in Advance, $25 at the door.
Tickets and more info at milagro.org or 503-236-7253 or https://milagro.org/event/alebrijes/
Synopsis: When a young bride and groom-to-be discover the largest Día de Muertos altar they've ever seen, they suddenly notice something's run amuck, literally. A little creature, known as an alebrije, sweeps into the room and takes the bride's imagination, forcing past and present to meld together in this playful homage to Pedro Linares, the creator of the alebrije. Set in present day San Luis Potosí, in Xochimilco in 1936, and in an afterlife that looks too much like a psychedelic Oaxacan jungle, young Pedro realizes his artistic potential through his relationship to his pets as totems, his love for painting, and a close encounter with death.
Ensemble:
Robi Arce | PEDRO
Yesenia Lopez | ALEJANDRA/LILLIAN
Patricia Alvitez | MS. OBREGON/LA MUERTE
Giovanni Alvitez | ANTONIO/FELIPE
Matthew Sepeda | MANUEL/BARTOLOME
Tara Hershberger | FLORINDA
Creative Team:
Georgina Escobar | Playwright/Director
Luis Guerra | Composer
Emily Wilken | Scenic Designer
Trevor Sargent | Lighting Designer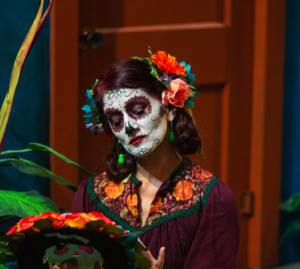 Jessica Bobillot | Costume Designer
Sarah Andrews | Props Master
John Epperson | Sound Designer
Mindy Escobar-Leanse | Puppet Maker
Lindsey Bruno | Assistant Director
Sam Levi | Stage Manager
Catherine Miller | Board Operator
Nelda Reyes | Dialect Coach
One Blue Cat Productions | Mask and Puppet Design