Oct 29, 2018
Comments Off

on We Can Listen
Dmae presents three different stories from Portland theatre artists that was recorded for the We Can Listen series. Presented by the Old Church Concert Hall, the talk was recorded by Darren Oberg and hosted by Jane Vogel founder of Advance Gender and Equity in the Arts.  The topic was "Why Do I Keep Having These Difficult Conversations: De-marginalizing the margins, a Spotlight on Equity in Theatre." We'll hear stories from Damaris Webb, co-director of Vanport Mosaic, Rusty Tennant, Artistic Director of Fuse Theatre Ensemble and Yasmin Ruvalcaba is the Community Engagement Coordinator of Advance Gender Equity in the Arts.
(Aired 11am 10/30/18 on KBOO 90.7 FM or always on stagenstudio.com and always on  iTunes)
Featured music by Portland musician and composer Joe Kye at JoeKye.com.
Guest Moderator & Host
Jane Vogel
is an actor, an activist, and recently retired clinical psychologist. Jane founded Advance Gender Equity in the Arts (AGE), a social justice movement that empowers women in the arts. Founded in 2014, AGE has awarded $100,000 to Portland professional theatres that produce art through an intersectional equity lens. This means that leadership roles in theatre, such as playwriting, directing, acting and designing, include women, older women, women of color, trans and nonbinary persons, and women with disabilities. Jane was born in Indonesia, lived in the Netherlands, and became a naturalized US citizen in 1967. Her world view and passion for equity are informed by her life experience as a refugee/immigrant and a trauma psychologist.
Guest Speakers & Panelists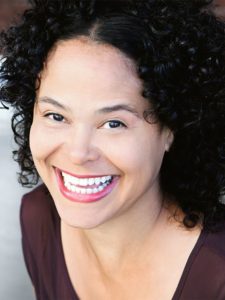 Damaris Webb is a theater maker as social justice advocate. She has created new works for the stage with diverse communities around the US and internationally; her work lives in the intersection of contemplative dance, improvisational performance art, and contemporary theater. It is often seen in non-traditional performance venues such as late night parties, warehouses and church basements, it is sometimes epic and may involve zombies or superheroes or sock puppets. Ms Webb holds her MFA in Contemporary Performance from Naropa University, and her BFA from The Experimental Theater Wing of New York University. Recent Portland directing/producing credits include The Box Marked Black: Tales of a Halfrican-American Growing up Mulatto. With sock puppets!, American King Umps: A Midsummer Night's Melodrama on the Tragedy of Slavery, Cottonwood in the Flood, Left Hook and The August Wilson Red Door Project's Cop Out. She is the co-director of The Vanport Mosaic. www.damariswebb.com
Rusty Tennant is the Artistic Director of Fuse Theatre Ensemble. They have an MFA in Directing and Performance from the University of New Orleans. Rusty serves as the Technical Director at Reed College and is a regular adjunct faculty and guest artist at multiple local colleges and universities. They are also the Producing Artistic Director of The OUTwright Theatre Festival, a celebration of the LGBTQI+ contribution to theatre that is held annually in Portland, OR.
Yasmin Ruvalcaba is the Community Engagement Coordinator of Advance Gender Equity in the Arts (AGE). She earned a BA from Williams College where she directed and acted in plays for the student-run theatre, Cap&Bells. Yasmin realized the lack of diversity and representation within the Williams' theatre department and chose to direct plays such as El Nogalar by Tanya Saracho, Ma Rainey's Black Bottom by August Wilson, and Los Vendidos by LuisValdez. Yasmin recently joined the Bag & Baggage Productions team as the Problem Play Project Manager and has directed play readings for Milagro Theatre.