A Clockwork Orange at B&B
Dmae features  A Clockwork Orange, a stage adaptation with music of Anthony Burgess' own 1962 dystopian satirical novel of juvenile delinquency.  She'll talk with artistic director Cassie Greer and associate artist Joey Copsey of Hillsboro's Bag&Baggage Productions about how the stage play follows more closely to the novel than the film version and how the themes still comments on societal violence and toxic masculinity.  The show runs through Oct. 27th at the Vault Theatre. We'll  hear details about this production and the rest of the 2019/20 season.
(Aired 11am-noon 10/15/19 on KBOO 90.7 FM or always on stagenstudio.com and always on  iTunes.)
Podcast: Play in new window | Download
Bag&Baggage Productions continues its  2019/20 Season with a stage adaptation of Anthony Burgess' classic A Clockwork Orange through October 27th at the Vault Theater in Hillsboro. First published and staged in 1987, Burgess adapted his own 1962 novel of the same name.  Burgess' play includes a Beethoven-inspired soundtrack and an ensemble cast of nine actors playing over 40 characters. The Bag&Baggage show is directed by Artistic Director Cassie Greer and choreographed by B&B Associate Artist Mandana Khoshnevisan,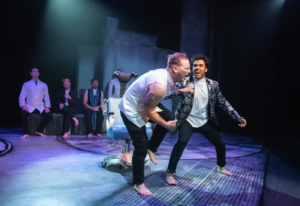 Story synopsis: Alex and his vicious teenage gang revel in horrific violence, mugging and gang rape. Alex also revels in the music of Beethoven. The Gang communicates in a language which is as complicated as their actions. When a drug-fueled night of fun ends in murder, Alex is finally busted and banged up. He is given a choice – be brainwashed into good citizenship and set free, or face a lifetime inside.
A Clockwork Orange by Anthony Burgess
Directed by Cassie Greer, Choreographed by Mandana Khoshnevisan
The Vault Theater, 350 E. Main Street, Hillsboro
The show continues October  17, 18, 19, 20, 24, 25, 26, and 27, 2019
Thursday, Friday, Saturday at 7:30pm; Sunday at 2:00pm
Box Office: 503-345-9590 or online at bagnbaggage.org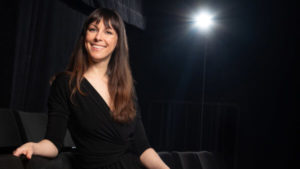 Cassie Greer has worked with theaters, arts organizations, and training programs across the country, connecting with communities, facilitating events, educating actors, and helping to build frameworks that allow these organizations thrive. As a performer herself, Cassie received her training in the MFA Acting program at Florida Atlantic University, the BA Theatre program at Goshen College in Indiana, and in the 9th Certification Group of Fitzmaurice Voicework® instructors; she has worked as an actor, director, and theatre educator in many theatres, schools, and institutions in Indiana, Florida, and Oregon. Cassie first began working with B&B as an actor in the summer of 2011, shortly after moving to Oregon, and is a proud founding member of B&B's Resident Artist Company. She has been the artistic leader of the company since the spring of 2019.
Joey Copsey received his primary theatrical training at Hiram College in Ohio. Having grown up on the southern Oregon coast, Joey returned to Oregon after college and has worked on stage intermittently in the years since around the Portland area. This is his fifth season as an Associate Artist with Bag&Baggage. Previously Joey performed in B&B's Richard III, The Best of Everything, Moby Dick Rehearsed, Emma, Parfumerie, and Brontë. Some notable productions at other institutions over the years include All My Sons (as Chris Keller); Judevine (as David); and Antony and Cleopatra (as Antony). Joey lives in Portland and when not acting spends as much time as he can with his incredible friends and family, and just generally tries to be useful.
Bag&Baggage Productions' 2019/20 Season also includes:
The Game's Afoot or Holmes for the Holidays (December 5-23, 2019)
The Measure of Innocence (March 5-22, 2020)
Fallen Angels (April 30 – May 17, 2020)