A Xmas Cuento Remix
Dmae talks with Playwright Maya Malán-González  and Director Alexandra Meda about A Xmas Cuento Remix at Milagro Theatre (Nov. 29-Dec. 22). The show gives a Latinx twist to the classic Dickens story A Christmas Carol.
ABOUT THE PLAY: A modern-day, Latinx take on Dickens' classic Christmas Carol, this new adaptation provides a fresh perspective on time-honored holiday traditions. Combining strong female leads, modern music, and holiday cheer, join us for a new Christmas cuento for today!Anita Chapa has lost her job on Christmas Eve and with her family about to lose their house she must seek out help from her estranged Tia Dolores. Dolores Avara won't be getting any sleep this Xmas Eve as she'll be visited by some edgy carolers who will work to change this Scrooge from bad to good, reminding her of the importance of family and traditions.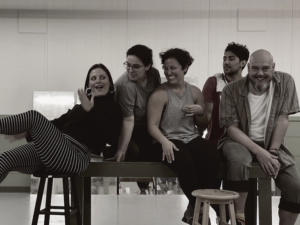 A Xmas Cuento Remix is part of the National New Play Network Rolling World Premiere. The other participating theatres are Cleveland Public Theatre in Cleveland, OH and 16th Street Theatre in Berwyn, IL.
A XMAS CUENTO REMIX
Written by Maya Malán-González
Directed by Alexandra Meda
A National New Play Network Rolling World Premiere
SHOWDATES: November 29 – December 22, 2019
Opening Night/Post-Show Reception: Friday, Nov. 29 at 7:30 PM – Post-Show Reception to follow, catered by La Bonita .
Thursday – Saturday at 7:30 PM, Sunday at 2 PM
Closing Performance: Sunday, Dec. 22 at 2 PM
Milagro Theatre, 525 SE Stark Street, Portland
Adult tickets are $29 in advance, $32 at the door.
Senior tickets are $25 in advance, $30 at the door.
Student/ Veteran tickets are $20 in Advance, $25 at the door.
Special Pricing: Preview tickets are $18 in advance, $22 at the door
Additional discounts for groups 15+, and welcomes Arts for All pricing.
Buy tickets: 503-236-7253 or milagro.org or https://milagro.org/event/xmas-cuento/
ENSEMBLE:
Andrés Alcalá | Abuelo Javíer, Ensemble
Tricia Marie Castañeda Guevara | Anita, Ensemble Gina Cornejo | Ixchel, Ensemble
Emily Hogan | Young Dolores, Ensemble
Shaleesa Moreno | Gina, Ensemble
Veronika Nuñez | Dolores
Gustavo Ramirez | Thomas, Ensemble
Matthew Sepeda | Dominique, Ensemble
CREATIVE TEAM: Playwright | Maya Malán-González Director | Alexandra Meda
Scenic Designer | José González Lighting Designer | Jon Farley Costume Designer | Sydney Dufka Sound Designer | Lawrence Siulagi Stage Manager | Michael Cavazos Production Manager | Rachele Holm Board Operator | Indy Miller