La' Tevin Alexander
Dmae features La' Tevin Alexander, actor, director and artistic director of Confrontation Theatre, a  company he founded which is co-producing Pipeline by Dominique Morisseau with Portland Playhouse. The show, directed by Vanport Mosaic's Damaris Webb, runs February 19th through March 15th.  Find out more about that show and about what's it like to create and sustain a theatre of color in Portland.
(Airs 11am-noon  2/18/2020 on KBOO 90.7 FM or always on stagenstudio.com and always on  iTunes.)
Podcast: Play in new window | Download
More about La'Tevin Alexander: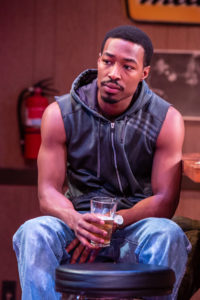 A native of Perry, FL, La' Tevin Alexander has had a hunger to tell stories, impersonate icons, reenact historical events, and impress his mama with his best A Low Down Dirty Shame & Mighty Morphin Power Rangers reenactments since he was a toddler.  Upon receiving his Bachelors of Arts from Florida A&M University, La' Tevin learned to combine cultural elements, black artists, and diverse ideas into an authentic and impactful theatrical experience. His work in undergrad as a stage manager for a touring company, recruiter and advocate for his theatre program, sound engineer, lead theatre camp counselor, director, and actor has broadened and honed his skills and experiences.
La' Tevin returns to Portland Playhouse. This time as a co-producing partner. He was last seen in Profile Theatre's' Sweat; before that, Well & Let Me Down Easy; directing at Oregon Children's Theatre is up next. Some previous acting credits include: IFC's Portlandia (S.8 Ep. 5 'Most Pro City'); NBC's GRIMM (S.5 Ep. 9 'Starcrossed'); Topdog Underdog (Lincoln); And in This Corner Cassius Clay (Clay); Fences (Corey Maxson); & Hands Up 7 Playwrights, 7 Testaments (Actor "How I Feel"). Previous directing credits are: Henry V (Fort Vancouver High); Sibling Rivalry (Confrontation Theatre); Much Ado About Nothing (Metropolitan Learning Center); & The Every 28 Hours Plays (Confrontation Theatre).
PIPELINE
FEBRUARY 19 – MARCH 15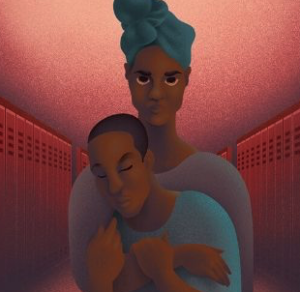 By Dominique Morisseau
Directed by Damaris Webb
A co-production with Confrontation Theatre (more info at Confrontation Theatre.org)
Synopsis: Nya, an inner-city public high school teacher, is committed to her students but desperate to give her only son Omari opportunities they'll never have. When a controversial incident at his upstate private school threatens to get him expelled, Nya must confront his rage and her own choices as a parent. But will she be able to reach him before a world beyond her control pulls him away?
With profound compassion and lyricism, Pipeline brings an urgent conversation powerfully to the fore. Morisseau pens a deeply moving story of a mother's fight to give her son a future — without turning her back on the community that made him who he is.
Wednesday – Friday, Feb 19-21: Preview performances. Tickets just $19!
Saturday, Feb 22: Opening Night. Tickets – $55. All Opening Night patrons are invited to the post-show reception with the cast, creative team, and crew.
Wednesday, Mar 4: ASL Interpreted performance. Tickets – $25. For tickets and more info visit:Â Portland Playhouse.org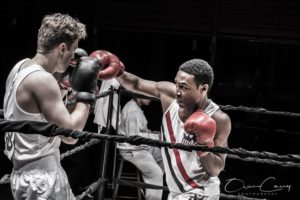 Cast:
Nya – Ramona Lisa Alexander
Omari – La' Tevin Alexander
Jasmine – Tyharra Cozier
Xavier – Reggie Lee Wilson
Laurie – Alissa Jessup
Dun – Jasper Howard
Creative Team:
Playwright – Dominique Morisseau
Director – Damaris Webb
Assistant Director – Andrea Vernae
Directing Apprentice – Taylor Stark+
Stage Manager – Lilo Alfaro*
Asst Stage Manager – Riley Lozano+
Scenic Designer – Ruben Arana-Downs
Costume Designer – Wanda Walden
Lighting Designer – Blanca Forzan
Sound Designer – Phil Johnson
Properties Designer – Kyra Sanford
Master Carpenter – Molly Gardner
Master Electrician – Jeff Ruggiero
Electrician/Carpenter – Melanie Owens
Sound Engineer – Rory Breshears
Scenic Artist – David Pritchard
Design Apprentice – Bei Yi Teo+