Shelley B Shelley, Portland to Africa
Dmae talks with Portland theatre artists Shelley B Shelley who has worked on Portland stages in the late 1990's. We'll talk about her thoughts on the evolution of local theatre and recent moves by Portland theaters toward creating anti-racism policies. We'll also find out about her Africa project she's currently fundraising for her Africa Project.
(Aired 11am  8/11/2020 on KBOO 90.7 FM or always on stagenstudio.com and iTunes.)
Featured music: David Ornette Cherry
Podcast: Play in new window | Download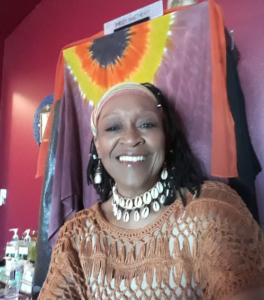 Shelley B Shelley arrived on the Portland scene in 1987 as a recently-separated single mother. Far from her mind was anything having to do with theatre. She put herself through Portland State University, graduating in 1991.  She landed at the Metropolitan Arts Commission as the Technical Assistance & Outreach Program Manager, where her first assignment was to compile a database and printed directory of ethnic minority artists and arts organizations in Greater Portland. She became involved with the Interstate Firehouse Cultural Center, the Homowa Festival, Sojourner Truth Theatre, and Hyalite Historical Society.
As an actor, Shelley in the late 90's landed a role in Nightly Comes The Hurting Time with Bridge City Productions. She hadn't acted in 15 years. After that Shelley was privileged to work on stages throughout Oregon, as well as appearances in Texas, Missouri, and Colorado.
Some of her more memorable roles are Bessie DeLaney in Having Our Say (Jubilee Theatre), Mary Black in Gospel of Lovingkindness, Grandma in Smoldering Fires, and Cecilia Gilchrist in A Sunbeam (PassinArt Theatre), Viola Pettus in American Night: The Ballad of Juan Jose (Teatro Milagro), Shakeina in My Walk Has Never Been Average (August Wilson/Red Door), and Beryl in Slipped in Between Things (Well Arts).
Shelley's film credits include The Music Within, Mama Earth, and The Sacred.  Her television credits include two episodes of Grimm. Her commercial work includes Dr. Pepper, Consumer Cellular, Courtesy Ford, Legacy Health, Oregon Lottery, and Kroger/Fred Meyer.
Shelley is particularly honored to work again with MediaRites, first playing numerous roles in the production of The Time Between and currently in the role of Vonnie in the touring production of The –Ism Project.