Gerardo Galderon
Dmae features longtime Portland musician and composer Gerardo Calderon  who performs both traditional Mexican music and Pre-Columbian Indigenous music. He's part of a two-night live stream called Dreams Deferred Live by a collective called The Immigrant Story. The first event is five Latinx storytellers on Sept. 12th at 7pm and and the second is Gerardo's concert on Sept 17th at 7pm. Find out more at The Immigrant Story.
(Aired 11am  9/08/2020 on KBOO 90.7 FM or always on stagenstudio.com and iTunes.)
Podcast: Play in new window | Download
Gerardo Calderon is a composer, teaching artist, producer and multi-instrumentalist. Born in Mexico City. He grew up surrounded by music, dance and culture. Gerardo is the musical director of Grupo Condor and Nuestro Canto, and has pursued his interest in learning about traditional Mexican music, Latin American folk music and Pre-Colombian music. He has performed with folk music ensembles in Mexico, Canada, New England, and the Pacific Northwest, and He has also toured with choir and world music ensembles through out the USA. Gerardo has composed music and designed sound for contemporary Ballet companies, documentaries, short films, commercials, theater companies, and cultural organizations. Gerardo has been sharing his talent as a teaching artist for over 25 years and has continuously served the northwest community. More at: https://gcgartsproduction.com/
The Immigrant Story:  In partnership with the City of Beaverton, The Immigrant Story presents "DREAMs Deferred Live," a two-day livestreamed event featuring one night of music and one night of storytelling.
Saturday Sept. 12 at 7pm: the first night of DREAMs Deferred Live hear five compelling stories told  by undocumented or formerly undocumented members who grew up with American values without feeling valued by their country. Storytellers are : Bernal Cruz (Guatemala), Liliana Luna (Mexico), Miguel Rodriguez (Mexico), Petrona Dominguez (Guatemala), Heriberto Bolanos (Mexico).
Thursday Sept. 17 at 7pm: a musical performance featuring a unique combination of vocals, instrumentals and rhythms of folk musical traditions of Mexico and Central America by Gerardo Calderon and his ensemble including Sofia Molina, Gise Rodz and Carlos Antonio Uribe (see photo below).
More at:
https://theimmigrantstory.org/dreams-deferred-live/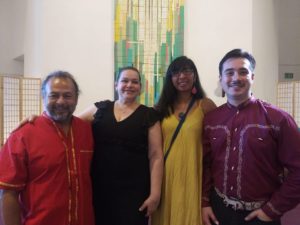 Watch live:
https://www.facebook.com/events/202308510939025/