LaRhonda Steele
Dmae talks with Portland's First Lady of Blues, LaRhonda Steele. We hear her talk about the struggles as a Black woman in Portland's Blues scene. It's tough times for Portland's musicians who depend on live performance for a living, and even tougher for Black artists during this time of change, but LaRhonda keeps hope alive through her music. Tune in for a moving, honest and endearing conversation with an extraordinary artist.
We'll preview LaRhonda Steele's newest album "Spirit of Freedom," get a voice lesson, and hear about the star-studded Hallowed Ground Presents, a live drive-in (and audio streamed/broadcast) concert with many of Portland's finest Black musicians/singers on Sept. 20th at 6pm with support from Portland Playhouse.
This is a KBOO Membership Drive Special. All donations will be matched through Sept. 20th by the Ronni S. Lacroute Fund through the Oregon Community Foundation. Donate now at: KBOO.FM/Give. 
(Aired 11am  9/15/2020 on KBOO 90.7 FM or always on stagenstudio.com and iTunes.)
Podcast: Play in new window | Download
LaRhonda Steele currently enjoys Directing the Portland Interfaith Gospel Choir, serving as music director for the Portland Center for Spiritual Living. Her work with B3 organist "King Louis" Pain. Their CD "Rock me Baby" received 4 out of 5 stars in Downbeat Magazine and is currently being played throughout Europe. She also enjoys working with her own band The LaRhonda Steele Band in which her husband Mark is the keyboardist and co-producer of their collaboration "Artistic Differences." The CD features 12 original songs written and co-written by the duo. Her CD "My Soul's Song" features some of her gospel favorites. Her latest CD "Spirit of Freedom" with songs from the Civil Rights Era.
All her CDs and downloads are available at: http://www.larhondasteele.com.
More about Hallowed Ground Presents
A collective of artists featuring Darrell Grant, Marilyn Keller, LaRhonda Steele will bring 75 minutes of music, song, and spoken word to an intimate drive-in event at an undisclosed location in North Portland. Performances by the founding artists along with spoken word from Emmett Wheatfall,  music from DJ Gila River Monster (Jack Malstrom), Ben Jones, Edwin Coleman III, and Noah Simpson  and sound design from Sharath Patel will inspire unity and understanding, a confirmation of the things we have in common and celebration of our own individual stories.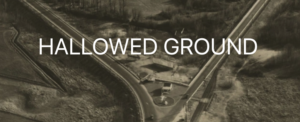 Hallowed Ground Presents is a series of artist-led, socially-distanced, drive-in performances aimed at building community, sharing stories and amplifying our shared humanity. Tickets are not available for purchase nor are they reserved for sponsors.. Instead, all who contribute to the event, starting at $1.00, will be entered into a drawing to win a parking spot for their vehicle or a seating area at the socially distanced  in-person event.
Audiences will connect with the performers in person through a limited number of socially-distanced parking spots at an undisclosed location in NE Portland. The rhythm and beats will be heard far and wide as our broadcast partner X-Ray FM simulcasts the show on the radio and live-streamed audio.
Supported by a coalition of Portland arts organizations including Portland Playhouse, X-Ray FM, and Oregon ArtsWatch, Hallowed Ground shows bring together members of Portland's music, theater, dance, spoken word, film and visual art communities to tell the stories and mark the places that continue to tell our complex story as a city and region.
Proceeds from this Hallowed Ground Presents event will benefit the Black United Fund of Oregon whose mission is to assist in the social  and economic development of Oregon's underserved communities and to  contribute to a broader understanding of ethnic and culturally diverse  groups.
Hallowed Ground Presents
September 20, 2020, 6:00-7:15 pm at an undisclosed location in Northeast Portland and on XRAY 91.1 FM and live streamed on Xray.fm
Tickets: Every person who contributes to the event fund will be entered to win one of a limited number of spots at the live event. Contributions can be made at PortlandPlayhouse.org.
__________________________
Also at Portland Playhouse…in a co-production by Many Hats Collaboration…
Matter
Written and performed by Charles Grant
Directed by James Dixon
Film by Tamera Lyn
Inspired by recent (and not so recent) events, Matter follows the quest of one young Black man looking to find answers to police brutality and gun violence. Determined to save Black lives, he seeks to sort out the noise of opposing viewpoints and social division with a methodical examination of facts. As his theatrical investigation uncovers patterns of senseless violence and clues lead him to the likelihood of his own death, the reality and tragedy  of lives lost begins to truly hit home.
Matter will be available for free viewing at PortlandPlayhouse.org and on ManyHatsCollaboration.org from September 25 – October 1.