The Storytellers
For Indigenous Heritage Month in November, Dmae presents selections from The Storyteller series, a collection of Alaska Native  folktales revived from the audio archives at KNBA radio station and the Anchorage Museum in Anchorage, Alaska.
Podcast: Play in new window | Download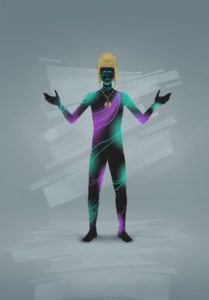 The Storyteller is a series of ten stories and folktales revived from the audio archives at KNBA in Anchorage, Alaska, as well as new stories from today's Alaska Native culture bearers. The traditional stories provide cultural memories and lessons we can use in everyday life. The series is hosted by Canaar, the spirit that has arrived. Follow along as Canaar presents life lessons and cultural values that have been carried for generations by Alaska's original people.
Find out more about the series distributed by Native Voice One at: https://www.nv1.org/the-storyteller/
The storytellers are Alberta Stephan (Athabscan) and Patricia Wade (Athabscan), Polly Andrews (Yup'ik), Rachel Craig (Inupiaq), William Frost Tocktoo (Inupiaq) and John Active (Yup'ik).  The series is produced by John Sallee (Iñupiaq, Mexican).
We'll also hear music from Alutiiq musicians  from a CD called Generations produced by the Alutiiq Museum in Kokiak, Alaska. More about the CD at: https://alutiiqmuseumstore.org/shop-all/generations-cd/