Ajai Terrazas Tripathi
Dmae talks with Ajai Terrazas Tripathi, Portland actor, director, producer and playwright.   is collaborating on two Shakespeare virtual projects: A Midsummer Night's Dream at Northwest Children's Theater & School (Nov. 12 – Dec. 6) and Macbeth (Nov 11, 12, 13) at Speculative Drama.  We hear about his experiences growing up in Corvallis, OR as a biracial Indian American and Latino, his work performing Tenali, the Trickster and about the challenges of virtual theatre.  He reads from his original solo play Osho Returns about Bagwan Shree Rajneesh and as MacDuff in MacBeth.
(Aired at 11am  11/10/2020 on KBOO 90.7 FM or always on stagenstudio.com and iTunes.)
Podcast: Play in new window | Download
(Right-click to download)
Intro music by Joe Kye at JoeKye.com.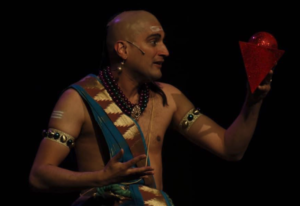 Ajai Terrazas Tripathi is an Actor, Director, Producer and Playwright from Corvallis, where he graduated from OSU with a BA in Theatre Arts.  In Corvallis he has directed Bringing It All Back Home, Doric Wilson's Street Theater, No Exit, Rhinoceros, and Bengal Tiger at the Baghdad Zoo. In Portland he has worked at Teatro Milagro as an Education Director, Tour Manager, and Teaching Artist, assisting in production and curriculum development for Milagro's Arts and Educational programs, appearing in over fifteen productions including Searching for Aztlán, Frida: un retablo, Duende de Lorca, and El Payaso, writing three bilingual shows for young audiences: ¡Corre! ¡Corre!, Sueños de Fútbol, and Mijita Fridita, and touring throughout the country leading theatrical workshops for students of all ages. He is an Acting Coach, and Online Education Consultant for Northwest Children's Theatre & School, where he also played Tenali in Tenali: The Royal Trickster. He is also on the administrative team for PDX Playwrights, where he produced his one person show Osho Returns, and is currently working on a short play The Madness of Dionysus.  In addition he has played with and performed with companies, including Theatre Vertigo, Salt and Sage Productions, Original Practice Shakespeare, and Speculative Drama. His work is guided by the mission of centering marginalized communities, decolonizing theatre and academia, and advocating for inclusive practices in the arts.
Northwest Children's Theater & School presents:Â 
A Midsummer Night's Dream: An Original Adaptation
November 12 – December 6, 2020
In partnership with Anita Menon.
Tickets are $5 per episode or $30 for all access to bonus content and premiere virtual party. Recommended for ages 8 and up.
For more info and tickets visit: https://nwcts.org/shows/midsummer/
Synopsis: Journey through a wooded Fairyland where the powers of magic, mischief, and love rule. Artistic Director Sarah Jane Hardy and award-winning choreographer Anita Menon of the Anjali School of Dance join forces to bring this abridged version of Shakespeare's comedy to life in a virtual episodic way blending classic English literature with Indian dance and culture, and featuring an all-youth cast.
A ticket to the show unlocks all four episodes of this NWCT Online original. You have the option to watch all of the episodes in one sitting, or watch them at your leisure. There's no limit to how many times you can watch each episode! Your ticket also grants you access to BONUS content, hosted by Karthika Appiah (The Jungle Book) and Ajai Tripathi (Tenali: The Royal Trickster). These exclusive videos include a deep dive into the story, and interviews with the cast and creative teams.
Estimated run time: 4 episodes, 10-15 minutes each, plus BONUS content
______________________________
Speculative Drama presents 
Shakespeare's Macbeth
an online production
Known for  innovative and immersive theatrical performances, Speculative Drama, presents a unique production of mixing live performance, digital presentation with an "audience POV" camera style, and real-time engagement in an immersive production you can enjoy in your own (haunted) house!
The continues it's run  Nov 11, 12, 13th at 6pm Pacific
Content Note: A strobe effect is used during this production. Sliding Scale: $15 suggested.
Director: Myrrh Larsen. Cast: Jonathan Miles as Macbeth, Megan Skye Hale, Ajai Tripathi, Elizabeth Neal, Myia Johnson, and Matthew Sunderland.
With Isabella Buckner, Michael O'Neil, Leif Schmitt, and Caitlin Lushington.
More info at: https://www.facebook.com/events/650990532282189/