Yasmin Ruvalcaba
Dmae features a conversation with Yasmin Ruvalcaba, a Latinx theatre artist and community engagement advocate who works in the Portland-metro and Washington County area. She also works as a program manager for Advance Gender Equity in the Arts (AGE) and is a prolific playwright. She has been adapting one of  her theater projects into a 40-minute film which wil have two debuts on Nov. 1st and 2nd.
In this interview Yasmin talks about the importance of connecting theatre to cultural communities and about "normalizing" Latinx characters and situations in American theatre rather than focusing entirely on issues or holiday themes. She also speaks of the importance in mentoring new generations.
(Aired 11am  10/27/2020 on KBOO 90.7 FM or always on stagenstudio.com and iTunes.)
Podcast: Play in new window | Download
More about Yasmin Ruvalcaba:Â  Yasmin is a Portland based director, writer, and arts advocate. She centers her work around advancing equity, honoring mentorship and education, and promoting community outreach and engagement. Yasmin is currently working at Advance Gender Equity in the Arts (AGE) as the Program Manager. Yasmin has also engaged with her community through directing. She was honored to be the assistant director for La Ruta (Artists Repertory Theatre) and La Isla En Inviero/The Island in Winter (Bag&Baggage Productions). Yasmin is also an active writer in the community. Two of her monologues are currently featured in MediaRites' The -ism Project, one of which is being adapted into a short film.
"Es dificil olvidarte"
A Dia de Los Muertos feature, EL JIMADOR. The main character, Fernando, lives his everyday routine until when he meets Don who needs help. Fernando embarks on several quests, leading him on a mysterious journey. Reality is tested as Fernando reconnects with spaces he once knew and as his quests bring him closer to his loved ones.
Two virtual viewings of the film with  Community Partners:
Centro Cultural
Sunday, November 1st | 6:00pm
Accompanied by additional Dia de Los Muertos programming
See the film live:Â 
https://www.facebook.com/CentroCultural.org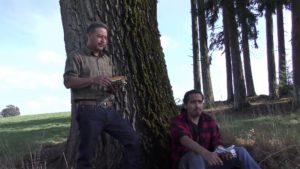 Bag&Baggage Productions
Monday, November 2nd | 7:00pm
Followed by a Q&A with the artists
Funded in part by the Regional Arts & Cultural Council
More about both events at: https://www.facebook.com/events/349943576212029