Damaris Webb
Dmae gets caught up with Damaris Webb is an actor, director, teaching artist and the co-director of The Vanport Mosaic. She's directing a film version of the first act of Martha Bakes: a Biography of a Revolution and Insurrection that never happened, a by Don Wilson Glenn for the Fertile Ground Festival this year which is all virtual. (Festival dates: Jan 28 – Feb 7, 2021 FREE on YouTube & Facebook)
We hear about this play but also about Damaris' speech for a Black Lives Matter rally last summer and how she's been during the Pandemic and recent insurgency at the US Capitol.
Featured music: David Ornette Cherry and Joe Kye.
Podcast: Play in new window | Download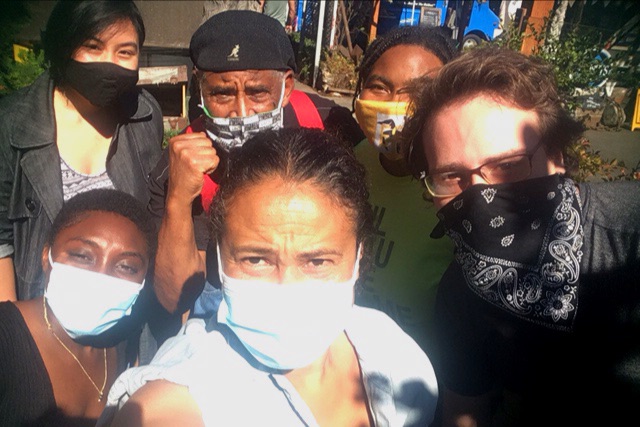 Damaris Webb is a theater maker as social justice advocate. She has created new works for the stage with diverse communities around the US and internationally; her work lives in the intersection of contemplative dance, improvisational performance art, and contemporary theater. Recent Portland directing credits include Pipeline (Portland Playhouse/Confrontation Theater), SOUL'D: the economics of our black body (The Project/Vanport Mosaic), Cop Out (Red Door Project), Left Hook (Vanport Mosaic) and boxing choreography for And in this corner: Cassius Clay (Oregon Children's Theater) and The Wolf Play (Artist's Rep). She is the co-director of The Vanport Mosaic: a multidisciplinary non-profit, dedicated to presenting, celebrating and preserving the silenced histories of the pacific Northwest in order to better understand our present and create a place where we all belong. More at: damariswebb.com
Martha Bakes: a Biography of a Revolution and Insurrection that never happened, a new play written by Don Wilson Glenn, directed by Damaris Webb and featuring Adrienne Flagg as Martha Washington. Presented by The Vanport Mosaic for the Fertile Ground Festival.
Live premiere: Sunday 1/31, 4:30pm
Open Access: 2/1 – 2/14 Run time: 1hr
Access MARTHA BAKES through Fertile Ground's YouTube & Facebook) at fertilegroundpdx.org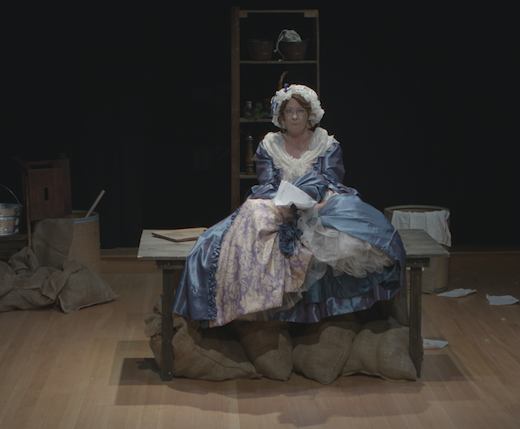 Martha Bakes takes a satirical lens to American Colonial HerStory. Part historical biography, part cooking show, we are invited into the relationship between Martha Washington, our original First Lady, and her dower slave Oney Marie Judge during an imagined slave revolt on Mount Vernon. The play begins with Martha, the fresh widow of George Washington, socially distancing herself during a fictitious slave uprising on Mount Vernon. Enduring her new found circumstances with a pleasant disposition, Martha bakes us a three-course meal during the revolt, as she barricades herself in the kitchen and with each preparation reflects on her influential role with scant representation in the creation of our Nation. That the suffrage and abolition movements are not always easy bedfellows echo the legacies of racism, sexism and voter suppression that our Nation is still struggling to unpack today.