Lillian Pitt-10,000 Years Through Art
Dmae Roberts first met Lillian Pitt when noted writer Cheryl Strayed curated an artists  section of a TEDx talk in 2013 that included Roberts and Pitt. Though she was familiar with Pitt's work, it was a pleasure for Roberts to finally meet her. In her TEDx talk, Pitt shared the stage with Tomas Villa, a young artist she was mentoring.
In her new art show she is again sharing space with Villa and other Native American artists, two others she's also mentored. That is the giving spirit of Lillian Pitt. Her new show Lillian Pitt Solo Show: Ancestors Known and Unknown runs through May 1st at the Columbia Center for the Arts  in Hood River.
Pitt features her glass art based on petroglyphs for this exhibit. Other artists and artwork she curated for this show include photography by Joe Cantrell (Cherokee Nation) and contemporary paintings by Sara Siestreem (Hanis-Coos Tribe),  large-scale mixed media wood carved masks by Toma Villa (Yakama Nation), found-object sculptures by Debora Lorang (friend of the Columbia Gorge Native Americans) , and  aesthetically rich oils on canvas by Analee Fuentes (Mexican Heritage).
COVID-19 safety restrictions are in place at the Center. More info at: https://www.columbiaarts.org/ancestors-known-and-unknown/.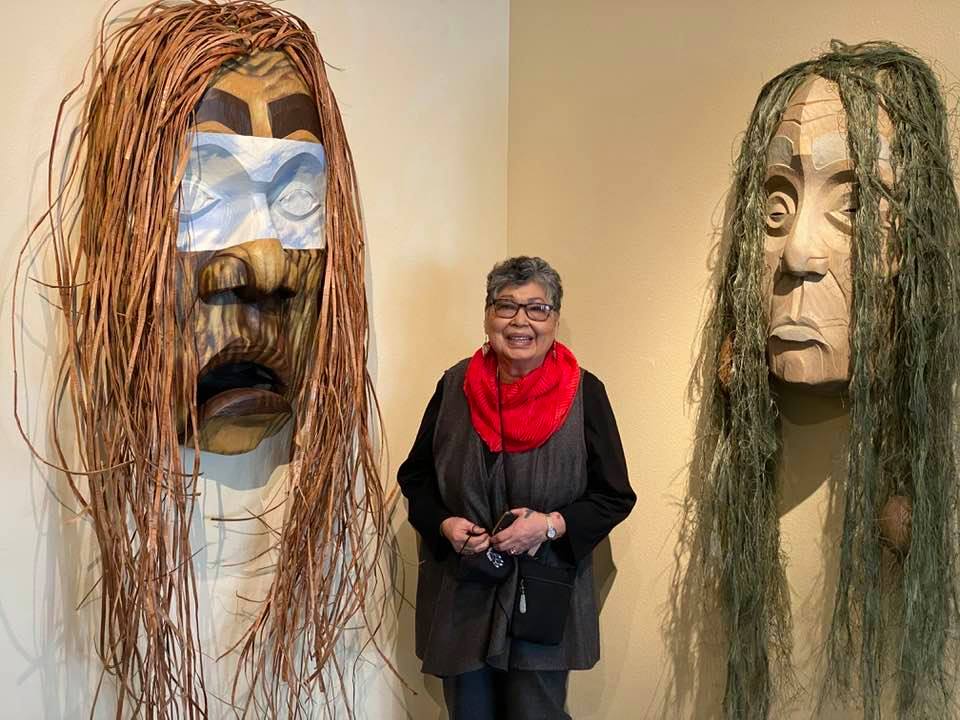 Podcast: Play in new window | Download
In this podcast, Pitt talks about her early history growing up on the Warm Springs reservation, the effects of COVID-19 on her community, the value of mentorship which she learned from her own mentor, the revered Navaho nation artist RC Gorman, and has passed on to other artists some who are featured in this new show. She also details how she is honoring 10,000 years of Native American peoples on the Columbia Gorge and the importance of Celilo Falls as an historic meeting place for Indigenous communities.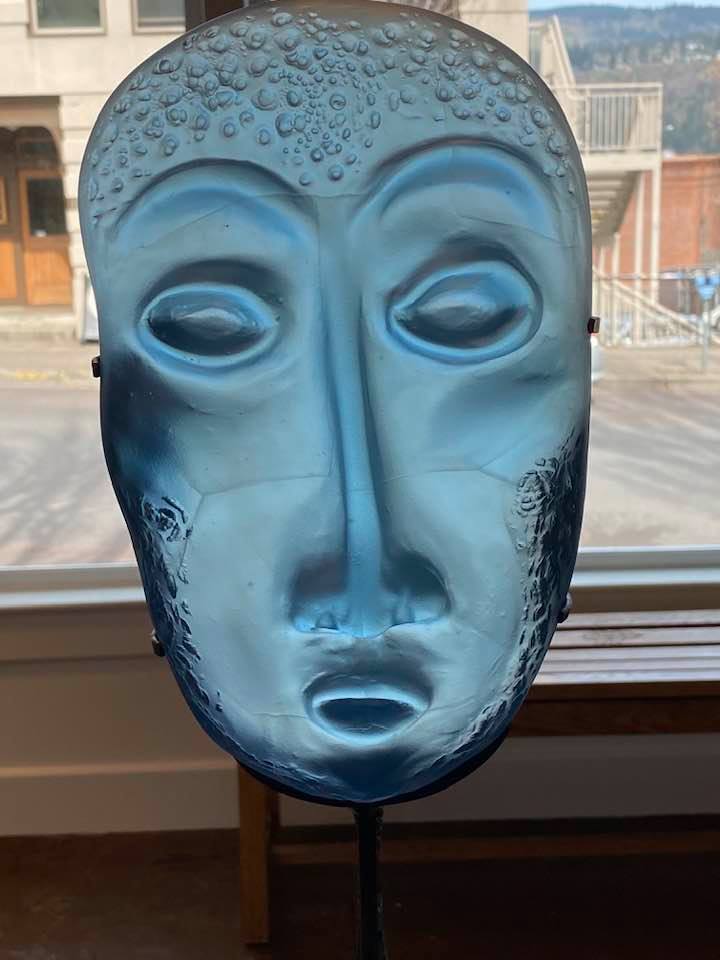 More about Lillian Pitt:  A Pacific Northwest Native American artist, Pitt was born and raised on the Warm Springs reservation in Oregon and  is a descendent of Wasco, Yakama, and Warm Springs people. Her ancestors lived in and near the Columbia River Gorge for more than 10,000 years. The Columbia River was called, simply, the Big River, or the Nch'i-Wana, by her ancestors. It was the backbone of one of the largest trade networks in all of Native America. Pitt's works have been exhibited and reviewed regionally, nationally and internationally, and she has been the recipient of numerous awards and distinctions. Her awards include the 2007 Earle A. Chiles Award for Lifetime Achievement, and the 1990 Governor's Award of the Oregon Arts Commission, which declared that she had made "significant contributions to the growth and development of the cultural life of Oregon."
Primarily a sculptor and mixed media artist, Lillian's lifetime of works include artistic expressions in clay, bronze, wearable art, prints, and most recently, glass. Art by Lillian Pitt can be found in personal collections, art galleries, and museums. Her works are also displayed in numerous public spaces including parks, schools, and cultural institutions.