Subashini Ganesan-Creative Laureate Checks In
What is the current state of Portland's creative community? One person who has had their finger on the pulse of the needs and challenges for Portland's artists is Subashini Ganesan and she's checking in with Dmae Roberts.
(Photos: Intisar Abioto)
In 2018, Ganesan was selected to become the Creative Laureate of Portland, the first woman of color to represent the city's creative community. As the cultural ambassador of Portland, she conducted surveys to help artists define needs for affordable space, organized arts and culture communities an event, "Walk with Refugees and Immigrants." She also co-founded and organized an emergency relief fund for artists during March through July in 2020 as the arts community struggled to adapt to COVID-19.
An unpaid position with a stipend for expenses, Ganesan became an advocate for arts practitioners as she has worked to bring together funders, business people and artists to improve the health of the arts community. She's about to step down on June 30th as the city searches for its next Creative Laureate, the application deadline at Portland.gov is April 30th if you're interested.
Dmae Roberts has a frank conversation with Ganesan that addresses affordability, COVID-19 relief funding, community healing, the likelihood that EDI initiatives will stick and the forecast for the next 18 months. Ganesan also gives advice to the next Creative Laureate.
So listen in right now on this episode of Stage & Studio to learn more about her stint as Creative Laureate. Ganesan's next plans is to establish a community healing space on Portland.gov that will highlight for artists events and resource sharing for artists.
Podcast: Play in new window | Download
(Theme music by Clark Salisbury.)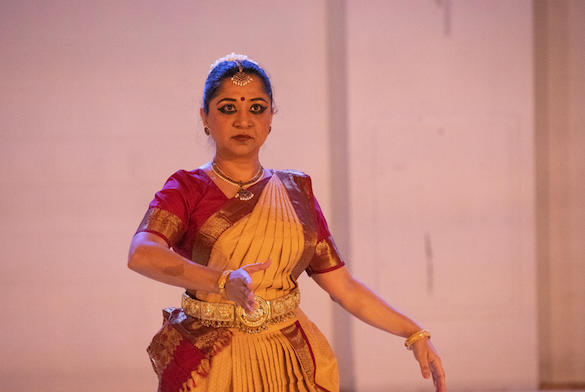 Subashini Ganesan is an artist, arts administrator, and the Creative Laureate of Portland. Ganesan choreographs and performs potent and universally relevant expressions drawn from her foundation in Bharatanatyam. Over the years, Ganesan's original works have been presented by local arts organizations such as PICA, Conduit, Performance Works NW, Ten Tiny Dances, Portland Center Stage, Third Angle New Music, and Risk/Reward. Ganesan also collaborates extensively with many artists including Mike Barber, Anita Menon, Michelle Fujii, Sabina Haque, and Yashaswini Raghuram.
In 2010, Ganesan founded New Expressive Works (N.E.W.), a performing arts venue in Portland that celebrates multicultural independent performing artists who teach, are in residency, and create new works. N.E.W. and its founder Subashini Ganesan received RACC's 2018 Juice! Award and White Bird's 2019 Community Engagement Award for making affordable space possible to artists and arts organizations.
Ganesan is a member of the Teacher Advisory Council of the Portland Art Museum and is a Community Advisory Committee member of the Interstate Firehouse Cultural Center's (IFCC). She serves as a Board of Director for the James F. & Marion L. Miller Foundation and the Portland Parks Foundation. As the Creative Laureate of Portland, Ganesan serves as the official ambassador for the broader creative community in Portland.