BlaQ Out
In this week's Stage & Studio podcast, Dmae Roberts talks with James R. Dixon and Tyler Andrew Jones about producing the first-ever BlaQ Out.For
Pride Month,  Fuse Theatre Ensemble and The OUTwright Theatre Festival is celebrating its decade of producing their mission of what they describe as "paradigm shifting theatre." Fuse's new project is an incubator for Black and Queer artists to nurture and grow their work. It's called  BlaQ OUT–the brainchild James R. Dixon who is the producing artistic director of this new incubator.
BlaQ Out features three plays: The Children of Edgar and Nina by Jarrett McCreary (June 24 at 7pm), The White Dress by Roger Q. Mason (June 25 at 7pm) and Apologies to Lorraine Hansberry (You too, August Wilson) by Rachel Lynett (June 26 at 7pm) as well as a  BlaQ OUT Tea Session with all the playwrights on Sunday, June 27 at 7pm which is moderated by Shareen Jacobs.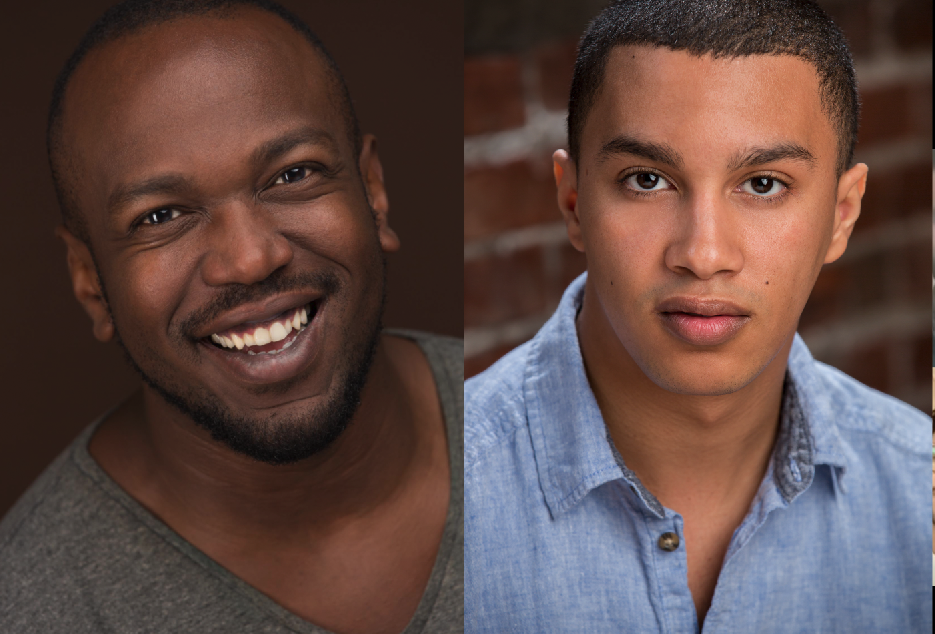 James R. Dixon, producing artistic director of BlaQ Out, is a Portland-based director, actor and arts administrator. He's also an intersectional equity facilitator, a member of the Accountability Collective and an active member of Fuse Theatre Ensemble where he directed the hit show Bootycandy  by Robert O'Hara. Other directorial credits includeThe Mysterious Affair at Styles with LineStorm Playwrights, MATTER by Charles Grant at Portland Playhouse and  a film documentary called Gender-fication centered around transgender, femme, and non-binary humans of color in honor of the 50th anniversary of Stonewall. Favorite acting credits include Bakkhai with Shaking the Tree and Two Trains Running and The NO Play at PassinArt.
Tyler Andrew Jones, associate producer of BlaQ Out. As an actor Jones has toured Egypt as Matt in The Fantasticks for Artist Repertory Theatre's RA Project production. He's played Jack in Into The Woods at Broadway Rose Theatre. He was in Boom crackle fly at Milagro Theater and originated the role of X-Ray in the world premiere production of Small Steps at Oregon Children's Theatre. Jones is also an alum of Third Rail Repertory Theatre's Mentorship Company and he's currently creating his first solo cabaret, Little Dark Star, set to premiere in early 2022. Jones also co-hosts a podcast with Brittany Myles called Family Meeting, a podcast celebrating and exploring Black intersectionality. IG: @t.andrew.jones
Podcast: Play in new window | Download
Theme music by Clark Salisbury.
In this podcast hear about the three plays and about…
What it means to be a producer of color:Â 
James R. Dixon:Â  "Something (else) to consider for the producers and directors out there, it's the way you present the work. You know, when we had our, our auditions were asking for people that can play these characters authentically. So we're allowing, people to self-identify for roles that, that are specifically gendered. We're allowing actors to come in in the way that they were portrayed this character where, we're making sure that we're inviting as many folks as possible. If you've got a headshot, great. If you can snap it with your phone, that works too. If you don't have a resume, that's okay. Just come, come and read the place. We have to make it more accessible for folks. That way we can show people that we want them to tell their stories and offer mentorship along the way, because we have to grow the talent within our own communities. So that's, I'm hoping that grows."
Tyler Andrew Jones:Â  "I am also a playwright, and I wrote a show that I produced at the New York international Fringe Festival in 2017. And I hated it so much. Producing was so hard. And honestly, you know I love this project so much because I'm learning a new way of doing it. I had said at that time, I'm never going to do that again. It was hard for me. I, so I've emotionally come to this kicking and screaming in my head when James was like, would you like to be associate producer? I was like, oh, is that what I'm doing? That's amazing. Cause it's, you know, in this project, this is just like, it's, it's just so much joy and I didn't realize that it could be a part of it.
The secret to casting BIPOC talent:
James R. Dixon: It's about building relationships. I have lived experience. These are people that I know, even for the documentary I, directed, centering trans, fem, and non-binary folks of color in the Pacific Northwest. These are people that I know. I've built up trust with them. And, and a lot of the work that we're doing moving forward is about trust and love and creating a container where we can, we can take care of each other, even in this process. I start by bringing up our ouch and oops protocol, just giving, letting actors know, Hey, we're talking, we're discussing some tough topics. If we have to stop for a moment and unpack something, or if something didn't feel right, let's talk about it as a group and make sure that everyone's taken care of in this process. That really, really means a lot to me. And I think that's the magic and having the right cast and having the right artistic team. So I feel really lucky."
The spirit of collaboration in  producing and directing virtually:
Tyler Andrew Jones says:Â  "I think you have to embrace the zoom, embrace that you're going to be on screens. You just have to acknowledge it. Say I see you and like, move on and try to build from there. I will say one of the most exciting parts of it for me has been because I'm, co-directing with Charles Grant and we've got five cast members and, we have someone reading our stage directions as well, and it's just become more collaborative because there really isn't a way to be in charge. There's a host, obviously, of the zoom. But it's allowed a space of collaborative-ness, which has been really exciting."
James R. Dixon: "There are certain people that need to be at the table when certain conversations happen. So even, even as a Black artist, I did not pick these plays on my own. I asked my colleagues like, Hey Tyler I have a decision to make, what do you think about this? I text, I texted him. I'm like, I can't make this decision by myself. And not that I'm not capable. I just want to keep the community involved. I want to make sure I'm holding myself accountable by inviting other voices into the conversation because there's always, everyone has something to add. Everyone needs to be involved. And what that leadership looks like. Even if it's telling you what stories you want to produce, and I make the final decision or whatever that looks like we have to be more inviting and that's not happening. That's not happening. We have to find folks that want us to succeed and find folks that want to give us opportunities and allow us to, to lead in a place from where we are and our skillsets and allow us, to learn from each other."
Tyler Andrew Jones: "And one of my favorite things that James says is lateral mentorship. And, you know, it's the truth is if we want our work done, we got to do it together and we have to hold each other up. You know, you got to say names in rooms that haven't been in that room yet. And a lot of this process has been us reaching out to our friends, the people that we, you know, love and work with and more maybe haven't had the opportunity to work with. So it's been a lot of community and then, and really growing from that, with that place."
More about the plays:
The Children of Edgar and Nina
by Jarrett McCreary
June 24 at 7pm
About The Children of Edgar and Nina: Felix and Luc are wandering through different paths of what it means to be black. When those paths cross, what they learn may be more than meets the eye. Fall through time as Venus uses her magic of music and poetry to explore emotion, intimacy, and what it truly means to be vulnerable in the modern world. Directed by: James R. Dixon
Starring: Monique Aldred, Kenzi James, and Tyler Andrew Jones
The White Dress
by Roger Q. Mason (Kilroys List playwright) June 25 at 7pm
About The White Dress: Jonathan wears dresses, kisses girls, shames his family, and banishes the gender binary to hell. Crush the Cistem! Directed by: Zeloszelos Marchandt Starring: James R. Dixon, Nate Owens, Janelle Rea, Kat Templeton, and Sam Dinkowitz
Apologies to Lorraine Hansberry(You too, August Wilson)*
*Winner: Yale Prize in Drama
by Rachel Lynett (Kilroys List playwright) June 26 at 7pm
About Apologies…: Set in the fictional world of a post-second Civil War, Bronx Bay, an all-black state (and neighborhood) is established in order to protect "blackness." It's a utopia but enforcing utopia proves to be tricky when it comes to defining who is Black and who isn't. Co-directed by Charles Grant and Tyler Andrew Jones. Starring: Cris Eli Black, Dephon DJ Curtis, Brianna Freeman, Shareen Jacobs, and Gabie Mbenza-Ngoma
BlaQ OUT Tea Session
Sunday, June 27 at 7pm
Moderated by Shareen Jacobs
BlaQ OUT playwrights Rachel Lynett, Roger Q. Mason and Jarrett McCreary sit down with Fuse Theatre Ensemble member Shareen Jacobs to talk about their plays and the state of Black/Queer theatre.
More about Fuse Theatre Ensemble and The OUTwright Theatre Festival:
Fuse Theatre Ensemble is celebrating over a decade of producing paradigm shifting theatre in Portland, OR, and around the world. The recipient of six 2019 Drammy Awards, Fuse has become a stalwart of socially motivated theatre in the Portland community. Fuse is the recipient of the 2019 Regional Arts and Culture Council Project Grant, 2019 MCCC grant, 2017 Regional Arts and Culture Council Arts Equity Grant, and 2007 Regional Arts and Culture Council Project Grant. They have traveled the world with their production
of Suburban Tribe, won Drammy Awards for their productions of Cabaret, Tether: ADHD+BDSM, and Under the Influence and for their props design for Artist Rep's The Lieutenant of Inishmore. Fuse has been an ambassador of the Pacific Northwest theatre touring to New Orleans, San Francisco, Los Angeles, Bali, Adelaide, Australia, and Avignon, France. In less than a decade, Fuse has fostered the creation of 18 original works.
OUTwright Theatre Festival began in 2011 when  Fuse Theatre Ensemble produced the Gay Pride Reading Series. After immense popular demand, Fuse rebranded it as the much more ambitious and inclusive OUTwright Theatre Festival. OUTwright's 2018 production of Cabaret garnered 11 Portland Area Theatre Alliance Drammy Nominations and took home six awards including Outstanding Ensemble in a Musical and Outstanding Production of a Musical. In 2016, OUTwright's production of Under the Influence, by Ernie Lijoi, won the Drammy Awards for Best Original Score and Best Actor. Along with reconnecting us with classic LGBTQIA+ texts, OUTwright has paved the way for numerous scripts to receive fully staged productions at theaters across the world. This year's Feature Production, The Pursuit of Happiness, by Ernie Lijoi, started out as a workshop in last year's festival.