Experiencing Beyond Van Gogh
"Madness, pain, ear-cutting despair, desolate poverty, Van Gogh's myth tells the tale of a melancholic martyr who took his own life in an ultimate act of revulsion. By contrast, to follow the evolution of Van Gogh's works is to go from darker shades to the discovery of light and explosion of pure pigments."
So begins one of the opening panels that welcome visitors to Beyond Van Gogh: The Immersive Experience which just opened at the Oregon Convention Center. To say it's a multimedia presentation of about 200 Van Gogh paintings belies the immersive quality of this experience. Imagine being at a museum when suddenly all the paintings grow so large they engulf all four walls and the floor with you in the center of the swirling prism of color. The music enhances the out of body quality of stepping into Van Gogh's works. That is Beyond Van Gogh.
Dmae Lo Roberts, in her first field recorded interview since the pandemic, took a tour of the exhibit with Fanny Curtat, an art historian who's finishing a PhD in contemporary art.  She has been a consultant and art historian for the creative team at Montreal's Normal Studios led French-Canadian Creative Director Mathieu St-Arnaud.
Podcast: Play in new window | Download
You'll hear Curtat talk about the creation of the exhibit and what people can expect. She also details paintings both famous and not as well-known.
About Starry Night:Â 
"The whole show has different ways of organizing each scene. So in some scenes you're going to have a composition. They're going to be more static. So to also to give the eye a rest so that it's not too disorienting. And then some paintings are going to have a focus on them and just really explore the universe. Of course, Starry Night, it would be almost cruel to do an experience like this without Starry Night in it. And so it deserves this focus, but you have other paintings that were chosen to also be just in the main light and to have this experience of, for example, when we have Starry Night at the Rhone, which is another painting, you sort of have this impression of what it would have been like for him to be surrounded entirely by this landscape."
About the Ear-cutting Incident:
"And if you look at this particular painting, it's a painting of self portrait with bandaged ear here. And it was, of course did right after the ear cutting incident. And you can see on the portrait that he has his ear covered with a bandage. And that's to say to his brother, I am healing, Behind him, you can see a white canvas that's to say, I am working. And on the other side of him, you have a Japanese woodblock printing, which is to say I am inspired. And so this whole self portrait was to say to his brother Theo. I know I scared you. I'm okay. I'm recovering. I'm going to be fine. Don't worry."
About The Experience:
"It is massive. And it's really to give you this impression that you're entirely surrounded by it, that the floor is taking you with you. And it's a great opportunity when you see the exhibit with kids inside, especially in the scene, we're in where they're just following the brushstrokes, following the light, flowing around them, twirling with the colors. It's just magical."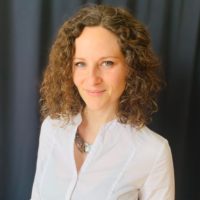 About Fanny Curtat: Curtat is a young art historian and PhD candidate at the Université du Québec à Montréal. Though most of her studies were completed in Montreal, Curtat also spent a year studying in Paris at the Université Paris 1 Panthéon-Sorbonne. Both her master's degree and PhD were supported by merit-based scholarships granted by the Social Sciences and Humanities Research Council in Canada. Curtat participated in different projects, from exhibitions to conference cycles. She was a member of the organizing committee for the Hypotheses lecture series in Montreal, in partnership with the Montreal Museum of Fine Arts. Most of her postgraduate studies focused on the presence and perception of sacredness in art practices of recent years. However, her researches led her to explore a wide range of themes and subjects. Her work therefore combines her interests in history, philosophy and museum practices.
About Normal Studio: Pushing the boundaries of performing arts, entertainment, and public installations since 2009, Normal Studio uses multimedia elements to transform spaces into full-on immersive experiences, Normal Studio tells stories in new and different ways by reimagining what's possible.
Exhibit Details:
Tickets start at $24.99, for children five and up, to $93.99 for the VIP package. Kids four and under are free.
Hours: Tuesday through Sunday, Nov. 19 to Jan. 9. Monday – Sunday: 10am – 10pm (last entry 9pm)
Holiday Hours:
Thanksgiving Day: 12pm – 10pm (last entry 9pm)
Christmas Day, New Year's Day: 12pm – 6pm (last entry 5pm)
Christmas Eve: 10am – 6pm (last entry 5pm)
The visit will take around one hour.  Up to 200 people will be allowed into the space for an hour at a time. Weekday options might make social distancing easier.
Location: Oregon Convention Center: 777 NE Martin Luther King Jr Blvd, Portland OR 97232
Health and Safety:Â  Masks are mandatory at all times within the Oregon Convention Center and Beyond Van Gogh exhibition. Guests are required to remain physically distanced from other groups while inside the exhibition.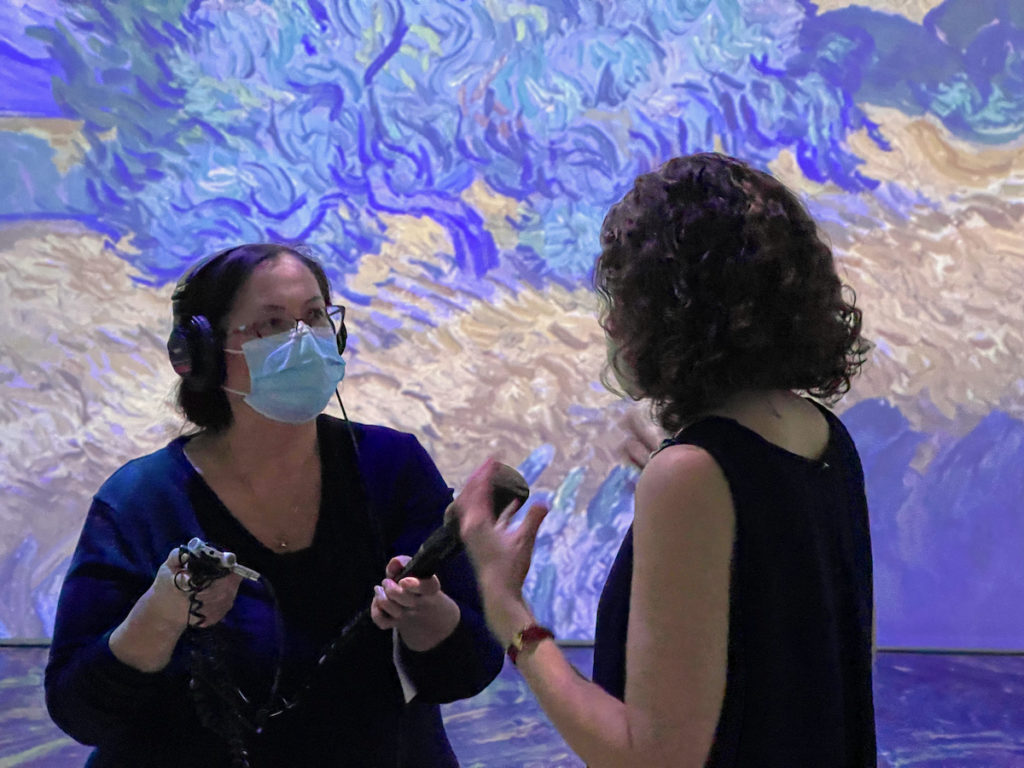 In addition to state mask requirements, guests 12 and older are required to observe at least one of the following safety measures: provide proof of full vaccination or a negative COVID-19 PCR test result within 48 hours prior to attending the event. Children 11 years of age or younger are exempt and should wear a mask and observe social distancing of at least six feet between individuals.