Joe Kye- Music, Community & Tiger Tiger
Since he moved to Portland in 2016, Joe Kye has made a name for himself in the music scene as a respected musician and composer but also has created strong bonds with the AAPI artist and creatives community. A classically trained musician, Joe Kye became a violinst-looper while still in school. With a skeletal framed electric violin, Kye creates layers of melodies recording digital repetitions in real time that fill the room with rich sounds. Kye also has a beautiful singing voice and has performs live internationally and has recorded several albums
After the Atlanta Spa shooting in 2021, Kye decided he wanted to have more connections with AAPI communities and bring them together through art.  His recent collaboration is called TIGER TIGER,  (named for the Year of Tiger) a Portland-based event he is self-producing with community support as an effort to promote AAPI joy and nurture healing by bringing together AAPI musicians, creatives, and organizations. Kye is also debuting his new band Joe Kye & The Givers.
Podcast: Play in new window | Download
In this podcast, Joe Kye describes (plays live) his transition from classical musician to violinist-looper and his experiences as a stay at home new dad with twin toddlers during the pandemic leading to a new venture for him creating music videos for youth. We'll hear his thoughts about the rise of anti-AAPI violence and racism and what led to creating TIGER, TIGER. (Featured Music by Joe Kye – "Stick On Me" and "Ice Cream Truck" with Bula.)
TIGER, TIGER details: Sun, July 17, 2022 at 4:00 PM – 9:00 PM PDT at Fernhill Park (6010 Northeast 37th Avenue,Portland, OR 97211)
Learn more at https://www.tigertigerpdx.com
RSVP at EVENTBRITE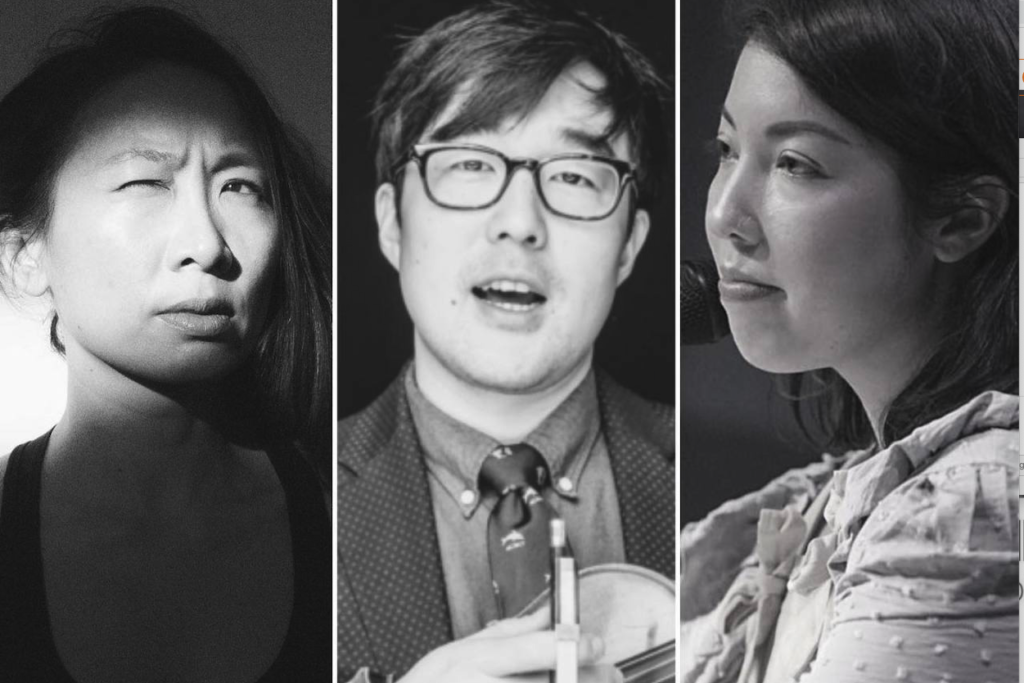 Featured artists: Portland's indie chamber-folk artist June Magnolia, LA electro-pop band SURRIJA, and Portland's joyful violin-looping outfit, Joe Kye & the Givers, among others.
AAPI creatives will share their stories including poet-writer Ami Patel and poet/community organizer Kevin Aipopo.
Featured Food will be available for purchase by AAPI chefs Richard and Sophia Le of Matta PDX (Oregonian's Best New Cart 2019), Ethan and Geri Leung of Baon Kainan (PDX Monthly Greatest New Food Cart 2021), Lisa Nguyen of HeyDayPDX (Portland Monthly's 'Bakeries You Should Try Right Now'), and others.
Families welcome.  (Alcoholic beverages for personal consumption are permitted only during concert starting at 6pm.)
More about Joe Kye:  Portland-based violinist-looper and vocalist Joe Kye "discharges world[s] of emotion" and delivers "divine messages" with his lush string loops and eclectic style (Guitar World). Drawing upon his immigrant upbringing, Kye blends indie-rock, jazz, and pop to create a unique sound that "leaves everyone in awe" (Sacramento News & Review). With his innovative use of digital effects and looping, Kye weaves together diverse textures, catchy melodies, and rich, "song-bird sweet voice" (PopMatters) to create songs that groove, uplift, and empower listeners. A powerful storyteller with an inclusive sense of humor, Joe's performances weave his immigrant narrative through his show, inspiring audiences to compassion and empathy in these divisive times: "…the American dream as it should be, [with] Kye reaching across the divide with music to try and heal it – for everyone" (PopMatters). Audiences will "learn about life as an Asian-American" (New York Times) and "believe anew that something glorious awaits the lovers, the dreamers and you." (Willamette Week).