Carey Wong & The World Transformed
As a veteran scenic designer, Carey Wong made magic happen in 300 productions throughout the Northwest and beyond for more than 45 years. He got his start professionally in the 1980s as the resident set designer at Portland Opera for eight seasons. Then he moved to Seattle where he's designed for major theatre and opera companies there while still designing for Oregon Shakespeare Festival-Portland which would become Portland Center Stage and also at Oregon Children's Theatre.
Podcast: Play in new window | Download
Wong always kept a close relationship with Portland where he grew up and where his family owned a laundry business in Chinatown. Wong used to work summers there when he was in high school when it was a thriving community for Asian Americans. As the designer of the permanent exhibit "Beyond the Gate" at the Portland Chinatown Museum which details the history of the two Chinatowns that existed in Portland, he remains connected to this area. He now serves the museum as an art adviser.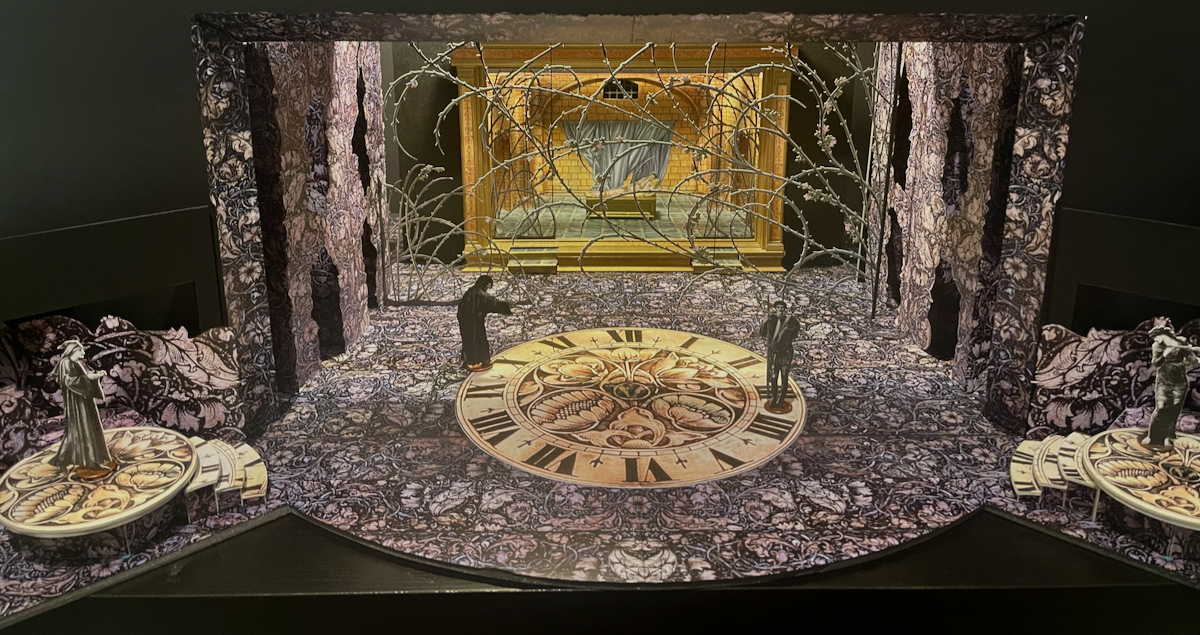 Sixteen of Wong's designs take center stage at the museum now in The World Transformed.  An impressive retrospective of a master scenic designer, this exhibit is a wall through his growth as an artist but also shows his influences and perspectives as one of the first BIPOC scenic designers in the performing arts.
Dmae Lo Roberts talked with Carey Wong at the Portland Chinatown Museum located a few blocks away from of his family's former laundry business.
Carey Wong: The World Transformed through Sept 10th at the Portland Chinatown Museum, 127 N.W. Third Ave. 11 a.m.-3 p.m. Friday-Saturday. Admission is $8 adults, $6 seniors, $5 students, free for ages 12 and younger.
More information at 503-224-0008 or portlandchinatownmuseum.org.
The World Transformed is an exhibit of 16 scenic designs and set models spanning the past four decades of theatrical designer Carey Wong's career.  Designs featured include six shows with Asian or Asian-American settings as well as set models for designs he created for Portland Opera and Portland Center Stage in its inaugural season.  In addition to scale models of each production, the exhibit will include text panels explaining each design along with research images, original artwork, and production photographs to provide the viewer with an understanding of how scenic designs evolve from concept to realization.  Projected images and video clips from other productions designed by Carey Wong will be shown in an adjacent smaller gallery space.
The exhibit shows how a scenic designer not only transforms the everyday world into unique physical and psychological landscapes onstage, but also how those onstage environments can themselves be engineered to undergo a visual metamorphosis or transformation during the course of the performance that enhances a viewer's understanding of the overarching theme or viewpoint of the dramatic work.
Carey also designed Beyond The Gate, the museum's permanent exhibit about historic Chinatown.
Carey Wong has designed sets and/or costumes for over 300 operas, plays, ballets, and themed environments.  Theatre credits include the Seattle Repertory Theatre, Berkeley Repertory Theatre, Portland Center Stage, Arizona Theatre Company, Center Stage Baltimore, Syracuse Stage, Intiman, Seattle Children's Theatre, The Village Theatre, Mixed Blood Theatre, Marin Theatre Company, Prince Music Theater, Hey City Theater and Spain's Nearco Producciones.  He has been Resident Designer for Portland Opera, Opera Memphis, and Wildwood Park for the Arts.  Opera credits include Seattle Opera, Spoleto Festival USA, New York's Valhalla Wagnerfest, Pittsburgh Opera, Vancouver Opera, San Francisco Opera Center, and the Beijing and Macao Music Festivals.   He was exhibition designer for Beyond The Gate: A Tale Of Portland's Historic Chinatowns, the permanent exhibit at the Portland Chinatown Museum.