Priti Gandhi & Thumbprint
Priti Gandhi came to take the helm as artistic director of Portland Opera during the fall of 2021. She inherited a dynamic season that began with one of her favorite operas Carmen and followed by newer operas Thumbprint and ABSENCE: Terrance Blanchard and not as well-known work Dvořák's Rusalka – or the Mermaid Opera.  A year and a half later, Gandhi has made a mark in both the opera world and Portland's Asian American community by reaching out to artists like Subashini Ganaesen-Forbes who she enlisted to choreograph for Thumbprint. She also gathered an all South Asian cast of singers of this opera with music composed by Kamala Sankaram with libretto by Susan Yankowitz.
Podcast: Play in new window | Download
In this podcast you'll hear Gandhi talk about her early career as a singer…
"I was auditioning for the role of Cinderella, Rossini's opera, one of my favorite roles to sing…the general director said to me, 'well, we were really hoping for a blonde for this role, but go ahead and sing for us anyway since you flew this whole way.' And I remember not being all that shocked…Because it was just…the koolaid, you had to drink in order to survive. And I'm so glad that, that the generation coming up now doesn't have to be subject to having to be okay with such statements like that. But, but when I was in the field, as so many other singers of color and artists of color will say it was normal taken for granted."
…the power of opera…
"Singing opera is like the Olympics of vocalism. It is an incredible physical feat. Years of training; every singer goes through thousands of dollars of voice lessons and coaching, diction and language study, and acting, and movement and breath control and support. People have no idea what an opera singer goes through in order to make their vocal chords create without amplification in a 3000-seat house…the power of a human voice. That's the power of opera."
…and her hand in casting a South Asian cast for Thumbprint including a contemporary Indian-American veteran singer she'd never met before.
"Indira Mahajan is singing the role of the mother in this opera, and I was so excited to cast her . And I told her agent…I'm dying to meet her.  Because since the beginning of my singing career, she's the only other Indian American I knew. And her agent wrote back and said, she said the exact same thing about you, and she cannot wait to meet you. And so the first day rehearsals, we hugged each other. It was really an emotional moment to, to meet this other woman who'd been in the industry and we'd never been able to be in the same room together."
More about Thumbprint: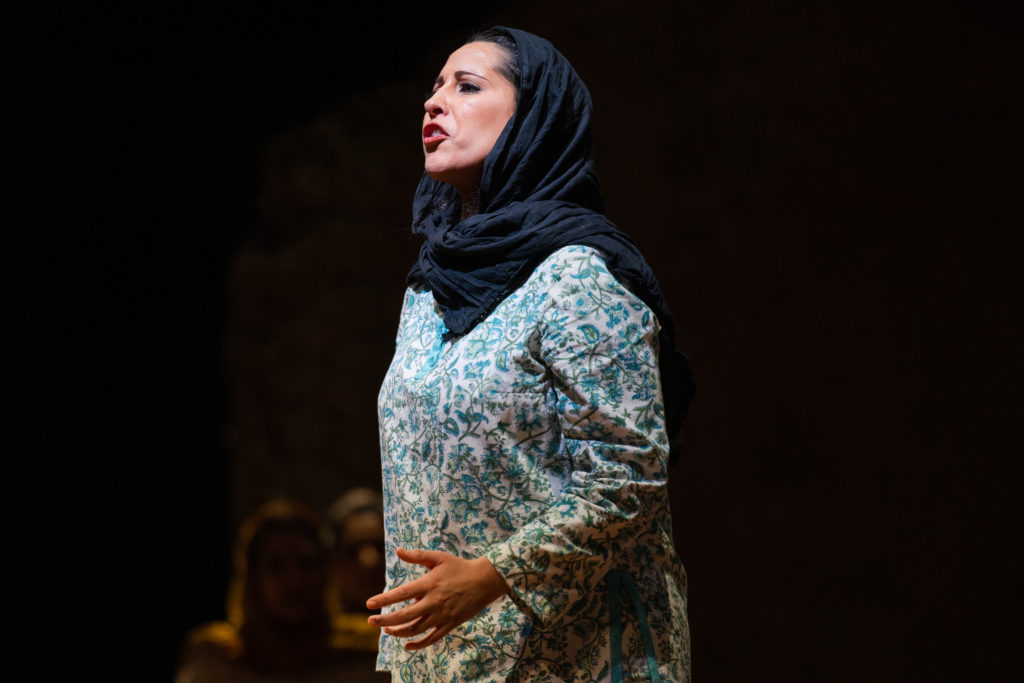 The story of Thumbprint is based on the remarkable Pakistani activist Mukhtar Mai who survived sexual violence perpetrated by a local tribal council in retribution for her brother's alleged crimes, In a decision to not only just live but to change her world, she started a village school for girls to teach literacy. Thumbprint evokes the humiliation Mai endured because she couldn't read or write and had to sign name with only a thumbprint.
The libretto, written by Susan Yankowitz, originates from a series of interviews with Mai, paired with a score by Kamala Sankaram that is a dynamic collision of Hindustani and European opera influences.
Portland Opera presents performances of Thumbprint, March 18, 22, 24, 26m, 2023 at the Newmark Theatre. Digital access will also be available for a limited time on Portland Opera Onscreen, beginning in April, 2023.
Mukhtar Mai is still striving for change, justice, and safety. Learn more about The Mukhtar Mai Women's Organization and her activism at https://mukhtarmai.org/mukhtar-mai/.
Priti Gandhi grew up in the San Diego area when her Indian father took an engineering job and moved the family from Mumbai (Bombay) to the East Coast and then to Southern California when she was 3 years old. Most recently, she comes from a three-year similar artistic director stint at the Minnesota Opera and before that, the San Diego Opera. A 20-year opera singer who often performed at Seattle Opera, as well as in Europe and on the East Coast, she is an enthusiastic flamenco dancer. She learned while performing Mercedes in San Diego Opera's 2011 Carmen after the director cut the ballet dancers and told the singers to learn flamenco.