Author Grace Lin
Grace Lin, a Taiwanese-American author and illustrator of more than 30 children's books. She is a Newberry, Geisel and Caldecott honoree living in Northhampton, Massachusetts. Dmae Lo Roberts talked with Lin for the Stage and Studio podcast about her childhood, career and her drive to create Asian American characters in her works.
Podcast: Play in new window | Download
In this podcast you'll hear music from stage production by Min Kahng and more:
Grace Lin grew up in upstate New York where she and her sisters were the only Asian American kids in her elementary school.  She didn't see herself reflected in the books she read or the television she watched. That experience led her to create her own books when she was a child.
"I felt this kind of strange sense of alienation books became kind of my friends and I loved books so much. And so, um, whenever there was a school project, I always made a book. You know, when, when there was a, a project on the Vikings? I remember my friend Jill made a, a Viking helmet and my friend Charlotte made a Viking boat, but I made a book about the Vikings because I just loved making."
She went on to pursue a career in art. Her parents, a scientist and botanist, reluctantly agreed, much to her relatives dismay. She carved a career for herself by putting Asian lead characters and Asian themes in her books so that other kids wouldn't feel like they were the only Asians in their classroom and it helped her own sense of identity.
"It was only through the making of these books for all these years, book after book, after book that I finally feel comfortable and confident with the Asian part of my identity. I really feel like I can claim the Asian part of my Asian Americanness, you know, and that is the gift that my books give me."
Her most well-known book is Where the Mountain Meets the Moon winner of the Newbery Honor in 2009 with an Asian girl heroine who goes on an epic quest to find good fortune for her family. She had a brief encounter with a Hollywood agent at the time to shop the book around to make a film adaptation but met a stone wall when he asked what her "dealbreaker" would be.
"I said, you can't change any of the characters from Asian to Caucasian. Right?  That's pretty basic," she recounted. "He said, oh, oh my gosh. And there was kinda this silence, and he said, well, I guess it will have to be animation then and then all of a sudden it seemed like all the interests died away."
Yet that didn't dissuade Grace Lin to agreeing to theater adaptations of her novel which she says she preferred.
Her new book due out in September is Chinese Menu which tells the legends and tales behind the creation of American Chinese food. Pre-order here. 
Grace Lin saw photos of the Oregon Children's Theatre production of Where the Mountain Meets the Moon and decided to fly her family to see the show on May 27th at 2pm. OCT and Green Bean Books are collaborating on a book signing after that performance. She says she was inspired to go to Souzhou China to do research for the book after visiting the Lan Su Garden. 
More about Grace Lin:  Before she worked as  an award-winning and NY Times bestselling author/illustrator of picturebooks, early readers and middle grade novels, Grace Lin was the only Asian girl (except for her sisters) going to her elementary school in Upstate NY. That experience has influenced her books—including her Newbery Honor Where the Mountain Meets the Moon, her Geisel Honor LING & TING, her National Book Finalist When the Sea Turned to Silver and her Caldecott Honor A Big Mooncake For a Little Star. But, it also causes Grace to persevere for diversity as an occasional New England Public Radio commentator and when she gave her TEDx talk "The Windows and Mirrors of Your Child's Bookshelf," as well as her PBSNewHour video essay "What to do when you realize classic books from your childhood are racist?." She continued this mission with a hundred episodes of the podcast kidlitwomen* and now currently hosts two other podcasts: Book Friends Forever and Kids Ask Authors. In 2016, Grace's art was displayed at the White House and Grace, herself, was recognized by President Obama's office as a Champion of Change for Asian American and Pacific Islander Art and Storytelling. In 2022, Grace was awarded the Children's Literature Legacy Award from the American Library Association. Grace is a graduate of the Rhode Island School of Design and lives in Northampton, Massachusetts with her husband, daughter and five chickens.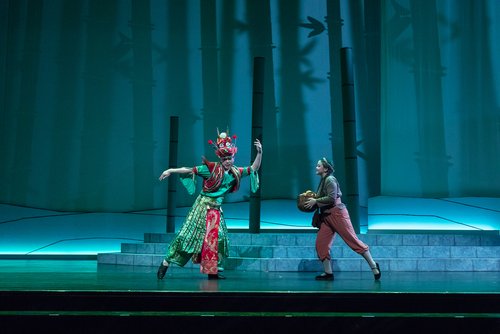 The stage production of Where the Mountain Meets the Moon is based on the Newbery award-winning novel by Grace Lin.  Created for the stage by Min Kahng, it's a musical theater production celebrating Chinese folklore and culture. The production features an all Asian American cast and Chinese Opera choreography and Chinese brush painting artwork.  (Read Bob Hicks' review on ArtsWatch)
Oregon Children's Theatre presents:
Runs through May 28, 2023
Saturdays at 2 pm & 5 pm
Sundays at 11 am & 2 pm
Newmark Theatre, 1111 SW Broadway, Portland
Recommended for ages 6 and up
Ticket prices range from $22–$45. $5 tickets available through the RACC Arts for All Program.