Chinglish at PCS
Join Dmae for a special look David Henry Hwang's Chinglish at Portland Center Stage with director May Adrales and actors Tina Chilip and Peter O'Connor. We'll hear about what's like to work on a bilingual Chinese/English play and about the cultural and language differences permeating this comedic look at international relations.
Delving deeply into language barriers is at the crux of "Chinglish," a bi-lingual play about a white American businessman who travels to China hoping that local officials will hire his company to create signage in English for visitors. "Chinglish" not only deals with language problems but also cultural misinterpretations. The complications of the business deal intertwine with a love story between the businessman, Daniel Cavanaugh, and the female lead Xi Yan, the Vice Minister of Culture. Through "Chinglish" Hwang deftly depicts cultural assumptions people make that lead to miscommunication. Dmae talks with the director who recently went to China to research the play and two actors who play the main love story.
Podcast: Play in new window | Download
[Read more about Chinglish and Tony Award-winning playwright David Henry Hwang at this link. and read Dmae's feature story on Hwang at Oregon ArtsWatch.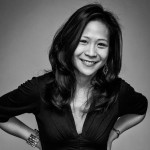 May Adrales (director) is a freelance theater director based in New York City and has helmed several world premieres including JC Lee's Luce (LCT3); Katori Hall's Whaddabloodclot!!!(Williamstown Theater Festival); In This House at Two River Theater Company; A. Rey Pamatmat's Edith Can Shoot Things and Hit Them (Actors Theatre of Louisville); Thomas Bradshaw's Mary (The Goodman Theatre); Tommy Smith'sThe Wife (Access Theater) and The Bereaved (Partial Comfort Productions). She recently directed David Henry Hwang'sThe Dance and the Railroad at Signature Theatre and the Wuzhen International Theater Festival in China, and Katori Hall's The Mountaintop at Milwaukee Repertory Theater. Upcoming Projects: Breath and Imagination (Cleveland Playhouse) and Deathtrap (Pioneer Theater). www.mayadrales.net
Tina Chilip (Xi Yan) makes her Portland Center Stage debut with her fourth David Henry Hwang play. She has previously been in M. Butterfly (Guthrie Theater), Yellow Face(TheatreWorks in California) and twice in Golden Child (Signature Theatre in New York – dir. Leigh Silverman; and the Cultural Center of the Philippines). Other New York credits: A Dream Play (National Asian American Theater Company), Flipzoids (Ma-Yi Theater Company), Joy Luck Club (Pan Asian Repertory Theatre), Sweet Karma (Queens Theatre in the Park), Twelfth Night (Leviathan Lab).  www.tinachilip.com
Peter O'Connor (Daniel Cavanaugh) Past theatre credits include Annie Baker's The Aliens (West Coast premiere at San Francisco Playhouse; The Studio Theatre, D.C., dir. Lila Neugebauer), Jailbait (Obie Award, The Cherry Lane; The Cherry Pit), And Miles to Go ( dir. Hal Brooks), so go the ghosts of mexico (Ellen Stewart Award, La MaMa, dir. Meiyin Wang), Robert O'Hara's Fuckmate, Laura Mark's 50 Shades, Jon Caren's YES (Partial Comfort), O'Neill's Beyond the Horizon (Center Stage), Sexual Healing (The Mint), Balaton (Urban Stages), Sexual Neuroses of our Parents (Wild Project), A Bitter Taste, Echo Echo and Behind the Blind (Ensemble Studio Theatre), Kidstuff, Letters to the End of the World (Theatre Row),Shape of Things (New York Innovative Theatre Award Nomination). www.vimeo.com/peteroconnor ____________________________________________________________________
"Chinglish"  runs January 11 – February 9, 2014. Opening Night: Friday, January 17, 7:30 p.m.  On the Main Stage at The Gerding Theater at the Armory. Showtimes: 7:30 p.m. Tuesday through Friday; 2 p.m. matinees and 7:30 p.m. evenings on select Sundays and Saturdays; matinees at noon on select Thursdays. Complete schedule: http://www.pcs.org/"Chinglish"/
Preview tickets start at $29. Regular tickets start at $33. Discounts for students, those under 25 and groups. Online: www.pcs.org By Phone: 503.445.3700, 12–6 p.m. In Person: PCS's box office is at 128 NW Eleventh Avenue
Rush Tickets: $20. Groups: Discounts for groups of 10 or more at 503.445.3794. Please Note: Recommended for ages 16+; mature content, language and sexuality.
More info:Â http://www.pcs.org/Chinglish
________________________________________________________________________
You can hear Stage & Studio on: