David Henry Hwang, Master Playwright
Dmae features David Henry Hwang, Tony award-winning playwright of M. Butterfly, The Dance and the Railroad and Chinglish which soon opens on Jan. 11-Feb. 9 at Portland Center Stage.  For the last 30 years, Hwang has had a prolific career on the stage and screen and expanded into opera projects with Phillip Glass and musical theatre adaptions like Disney's Aida with Elton John and Tarzan with Phil Collins, but he generally gravitates to "the same patch of soil"—as he calls it—of stage plays based on Asian and Asian American themes. Many Asian American theatre artists regard Hwang as the August Wilson of his generation.
Photo credit: Lia Chang
Interview features music by Jon Jang from his "Two Flowers On A Stem" CD. Find out more at JonJang.com
Podcast: Play in new window | Download
David Henry Hwang remains the most well-known and successful Asian American theatre artist in the country.  Throughout his career he's been an outspoken theatre activist starting in the 90s when he protested the casting Jonathan Pryce as an Asian in the Broadway production of Miss Saigon. M. Butterfly remains Hwang's best known and most produced work. Based on a true story of a French diplomat who had a 20-year relationship with a Chinese Opera star he believed to be female. Winner of the Obie award for FOB, Hwang was also a finalist for the Pulitzer for M. Butterfly and for The Dance and the Railroad. 
Hwang's newest play is Kung Fun about the life of Bruce Lee featuring martial arts with original music. The play opens Feb. 11-March 23 at Signature Theatre in NYC. 
The last Hwang play produced in Portland was M. Butterfly at Oregon Shakespeare Festival – Portland in 1992. With Chinglish, Hwang delves deeply into language and cultural barriers.  The plays is bi-lingual and centers on the story of a white American businessman who travels to China hoping he can convince local officials to hire his company to create signage in English for visitors in China.
Chinglish not only deals with language problems but also cultural misinterpretations. The plot surrounds the complications of business deal while mixing a love story between the businessman, Daniel Cavanaugh, and the female lead Xi Yan, the Vice Minister of Culture. Through Chinglish Hwang deftly depicts cultural assumptions people make that lead to frustrations and miscommunication.
Chinglish opens soon at Portland Center Stage (Jan. 11-Feb. 9). Chinglish also signals the return of a David Henry Hwang play since OSF-Portland produced M. Butterfly back in 1992. Dmae Roberts talked with Hwang  to ask him about his career and what Chinglish means to him.
Ticket and Performance Information | Chinglish 
When: January 11 – February 9, 2014 
Preview Performances: January 11, 12, 14, 15, 16, 7:30 p.m. Opening Night: Friday, January 17, 7:30 p.m.
Showtimes: 7:30 p.m. Tuesday through Friday; 2 p.m. matinees and 7:30 p.m. evenings on select Sundays and Saturdays; matinees at noon on select Thursdays. Complete schedule: http://www.pcs.org/chinglish/
Where: On the Main Stage at The Gerding Theater at the Armory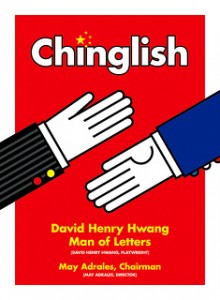 Preview tickets start at $29. Regular tickets start at $33. Discounts for students, those under 25 and groups.
Online: www.pcs.org
By Phone: 503.445.3700, 12–6 p.m.
In Person: PCS's box office is at 128 NW Eleventh Avenue
12 p.m. – curtain on performance days
12–6 p.m. on non-performance days
Rush Tickets: $20
Groups: Discounts for groups of 10 or more.
Group tickets can purchased at 503.445.3794.
Please Note: Recommended for ages 16+; mature content, language and sexuality.
More info at: http://www.pcs.org/chinglish/
________________________________________________________________________
You can hear Stage & Studio on:
______________________________________________
Read the full feature story on David Henry Hwang here or at Oregon ArtsWatch. 
_______________________________________________
For many Asian American theatre artists, Tony Award-winning playwright David Henry Hwang is as revered as the late August Wilson. Hwang resists any comparison to Wilson, because he says his process has been "less deliberate" than Wilson's challenge to chronicle each decade of African American history in the 20th century. For the last 30 years, Hwang has written for the screen and opera projects with Philip Glass and with Elton John on Disney's "Aida." But his "personal writing" generally gravitates to "the same patch of soil"—as he calls it—of Asian and Asian American themes.
I didn't know much about Hwang until I understudied "M. Butterfly" at Oregon Shakespeare Festival/Portland (the previous incarnation of Portland Center Stage) in 1992. "M. Butterfly" was produced on Broadway in 1988 and won the Tony award. No other Hwang play had been done professionally in Portland until that time. And in pre-internet days it wasn't as easy to learn about other plays particularly by Asian Americans let alone see their work produced locally.
"M. Butterfly" remains Hwang's best-known and most-produced work. Based on a true story of a French diplomat who had a 20-year relationship with a Chinese Opera star he believed to be female, Hwang deconstructed Puccini's opera "Madama Butterfly" in a biting and tragic commentary of orientalism and Asian festishism.
Most of Hwang's plays have been based on Asian American history and themes. Others include:
"FOB" dramatized the conflicts between Fresh Off The Boat immigrants and established Asian Americans and won the Obie award in 1980.
"Dance and the Railroad" in 1981 documented a strike by Chinese railroad workers in 1867 through the nuances of Chinese Opera (recently revived at Signature Theatre in NYC).
"Golden Child" in 1996 detailed the lives of an early 20th century Chinese family.
And Hwang's partly autobiographical 2007 play "Yellow Face" showed subtle conflicts about the politics of casting racially.
With "M. Butterfly" Hwang turned his focus to larger international themes. He does so once again with "Chinglish" about the difficulties of language and culture. The play opens soon at Portland Center Stage (Jan. 11-Feb. 9). "Chinglish" also signals the first return of a David Henry Hwang play to Portland since that "M. Butterfly."
LANGUAGE AND CULTURE
It's not uncommon for children of immigrants to feel guilt because they aren't fluent in their parent's original languages. I can attest to that myself as the daughter of a Taiwanese immigrant. Hwang parents both emigrated from different parts of Asia to live in Los Angeles where Hwang grew up. His father, a banker, originally came from Shanghai and his mother, a piano teacher, was Fujinese Chinese from the Philippines. So he says English became the "lingua franca" in the Hwang household.
"This was the 60s and people were pretty assimilationist," says Hwang. "They did a token effort for my sister and me to take Chinese, but being kids, we didn't want to and they didn't fight very hard, so my Chinese to this day is almost nonexistent which is something I'm still quite ashamed of and struggle with."
Most children of immigrants grow up hearing different languages, especially in Asian communities. Hwang spent "a lot of my life trying to navigate the language barrier" with relatives who didn't speak English. Something as simple as figuring out whether someone "already" went to the market or is "planning to go" to market can be a chore if one doesn't speak the language.
"It came naturally to me," says Hwang, "to write about linguistic differences and struggling across that barrier."
"CHINGLISH"
Delving deeply into language barriers is at the crux of "Chinglish," a bi-lingual play about a white American businessman who travels to China hoping that local officials will hire his company to create signage in English for visitors. "Chinglish" not only deals with language problems but also cultural misinterpretations. The complications of the business deal intertwine with a love story between the businessman, Daniel Cavanaugh, and the female lead Xi Yan, the Vice Minister of Culture. Through "Chinglish" Hwang deftly depicts cultural assumptions people make that lead to miscommunication.
"Even when you speak the same language," Hwang says, "particularly when you get into love, get into business it's very easy to misunderstand each other and in some sense none of us speak the language perfectly."
In one funny scene in "Chinglish," Xi Yan is trying to tell Daniel that his translator did a favor for the Minister of Culture by getting his son into a university in Bath, England. But Daniel takes it to mean a literal bath and physical backdoor until Xi starts shouting.
Xi:                    Bath! Is City! In England!
Daniel:            Oh, Bath is a city!
Xi:                    With university!
Daniel:            Peter got Cai's son into a university in England?
Xi:                    Yes! Through backdoor!
A play like "Chinglish" does not translate to instant success. Very few Broadway plays, if any, have been produced as bilingual productions, especially with actors who speak in Mandarin Chinese (with projected translation titles) for a quarter of the play.
"And yeah, we're also going to need a white actor who's fluent in Mandarin," Hwang laughs when he describes his play as if he were pitching it. "Hope we find someone!"
But he did. And the risk paid off for Hwang and the producers of "Chinglish." The Broadway production cost about $3.5 million according to a NY Times article by Patrick Healy (10/20/11). As Hwang jokes, with "Chinglish" he has written a Broadway play even "straight guys want to go to." The play toured around the country and internationally and, according to Hwang, draws both Westerners and Chinese.
Part of the appeal are the actual English language signs Hwang found during visits to China: "Deformed Man's Toilet" for a restroom for handicapped patrons, and a sign in a ladies' restroom reading, "Wash After Relief."
Though the play also points out the problems with translation that English speakers can have in China, Hwang was well aware that this kind of humor has a price.
"I think there's a risk of having it become just an excuse to denigrate the Chinese people or Asians," says Hwang. "So I hope I make an effective effort to have a lot of Western characters who are screwing up Chinese from their end as well, starting with the actual example of a Western academic magazine that tried to put Chinese poetry on its cover and ended up putting a call girl ad from Shanghai."
The effort to poke fun equally paid off when the play toured the Broadway production of "Chinglish" earlier in March 2013 to the Hong Kong Arts Festival.  The audience was about 75 percent Asian. Hwang's plays usually draw more Asian audiences in America but this one was bilingual. They got ALL the jokes—something he found exhilarating."
"We've always gotten big laughs," Hwang says, "but in Hong Kong there was that sense 'oh we recognize that, I know what they're talking about and they put that on stage and that's so funny.' There's a moment in the second act of "Chinglish" when a character starts to go on this big rant against the Chinese government. In Hong Kong when the actor did that, the audience starting cheering, which was surprisingly kind of edgy and more subversive than when it plays in the States."
STRANGER THAN FICTION
The play's edginess might have dissuaded the government of China to host a production. To date few of Hwang's plays have been done there. While Hwang was in negotiations with China about producing "Chinglish" there, the April 2012 story of Bo Xilai, a former high-ranking politician in Chongquing accused of corruption, broke in the press.  His wife Gu Kailai, a lawyer and businesswoman was subsequently convicted of murdering British businessman Neil Heywood.
While parallels to the Bo Xilai an Gu Kailai case helped "Chinglish" in most parts of the world, it got a little "too close to actual events" for Chinese producers. Hwang received a flood of emails comparing "Chinglish" to the scandal, and Tina Brown, then editor of Newsweek and The Daily Beast asked him to write about it in an opinion piece aptly called "Stranger Than Fiction."
In some ways, Hwang felt exonerated by the case because many Chinese nationals had objected to his portrayal of a wife of a Chinese official entering into an affair with a foreigner. They thought it was insulting and unlikely. Hwang calls that "wishful thinking." Gu Kailai was rumored to have had an affair with Neil Heywood.
"I was trying to deal in "Chinglish" with some patterns that generally exist in China," says Hwang. "When someone is put on trial for corruption, it's almost never about the corruption. There is another kind of power struggle going on and the corruption charge becomes a means to take down your enemy. I put that in "Chinglish" because it's generally true."
WRITING FROM A CULTURAL PLACE
Hwang never intended to become a playwright documenting Asian Americans. In college he was in a band with friend and playwright Phillip Kan Gotanda, who was writing a musical for his play at East West Players. Before his senior year, he took workshops with playwrights Sam Shepard and Maria Irene Fornes.
"They taught us to write from our subconscious," says Hwang. "These stories and themes started appearing on the page—things like being Asian American, immigration, assimilation, clash of cultures. So some part of me was incredibly interested in these issues, but my conscious mind hadn't figured that out yet."
In the last 30 years his themes have changed with the evolution of Asian American identity.  When Hwang first started writing in the 1980s, Asian Americans wanted to to distance themselves from the stereotype of the "perpetual foreigner," he says.
"You know one's fore-bearers can be in this country for several generations," says Hwang "and people still say 'oh you speak really good English.' Back in the '80s we really didn't want to be associated with the root culture. Things have changed a lot in the last 30 years, and my sense of the zeitgeist of the Asian-American community right now is that multiculturalism has been overtaken by an idea sometimes called trans-culturalism, which is this notion that we can acknowledge all the differences that make us who we are."
For the longest time, Hwang was the only Asian American playwright to be produced on Broadway. Though he says Broadway chooses plays for commercial viability, many of his plays also have been hits first at off-Broadway and in not for profit and regional theatres where he believes the best work happens.
He also says he's not the only Asian American playwright on Broadway anymore. Rajiv Joseph's play "Bengal Tiger at the Bagdad Zoo" ran in the Richard Rodgers Theatre on Broadway in 2011.
ACTIVISM IN THEATRE
Hwang has also been a theatre activist. In the 90s he protested the casting of Jonathon Pryce as an Asian in the Broadway production of "Miss Saigon." Hwang later included some of that experience in his play "Yellow Face."
In 2012 he moderated an industry roundtable called "RepresentAsian" by the Asian Performing Artists Action Coalition in New York City. The group released a report revealing the number of Asian Americans cast in city theaters had dropped from 3 percent five years earlier to 1 percent. According to APAAC's report, 20 percent went to minorities of all kinds, but Asian actors were least likely to be employed. With more than 18 million Asian Pacific Americans nationally, the population is quickly becoming the fastest growing minority in America, and Hwang says theatres are not thinking ahead when casting.
"I think in any other industry we would have to consider that a pretty appalling record, and it's not good business anyway," says Hwang. "That means that theatre is increasingly catering to and drawing from a segment of the population that is continually shrinking. So the American theatre is becoming more and more like the American Republican party."
Hwang believes theatres need to rethink old notions and advises unless there's a specific reason to cast a Caucasian actor it should be open to everyone. "And conversely," he says, "when you write a part for an actor of color, if you cast a Caucasian actor in that part, you're not doing anything to improve the 20 percent figure."
FUTURE WORK
Meanwhile Hwang is creating a great leading man role for young actors in 'Kung Fu," his newest play, which is based on the life of Bruce Lee. The play features martial arts and original music. Hwang thinks of it "as a dance-ical not a musical" because there are musical numbers without the singing. "Kung Fu" opens Feb. 11-March 23 at the Signature Theatre where they devote an entire season to the work of one playwright.
Soon Hwang will have another connection to Oregon through Oregon Shakespeare Festival's "American Revolutions: the United States History Cycle." He's been commissioned to write a new play. He'll be focusing on his mother's life in the Philippines, a place he's visited as a child. He's in the research phase but looking forward to working with a "huge cast," which is not "something American playwrights get to do nowadays."
LEGACY
When asked for advice by young writers, Hwang encourages them to find what's new and different from their point of view. Young Asian American writers like Young Jean Lee and Mike Liu impress him. He says they identify as Asian American but also write from outside that experience. To them, he says, their Asian American identity still "permeates what they write whether or not the subject matter is explicitly Asian."
And as he looks back on his 30 years of work as a playwright, David Henry Hwang becomes more philosophical.
"I hope that what I've done is to do what any good artist should do, which is chronicle my times and my experiences and the period that I lived in as fully and as theatrically as I can. And if that ends up being meaningful to people to future generations then I guess my work will survive and if not then it's not going to be necessary anymore and that's okay too."